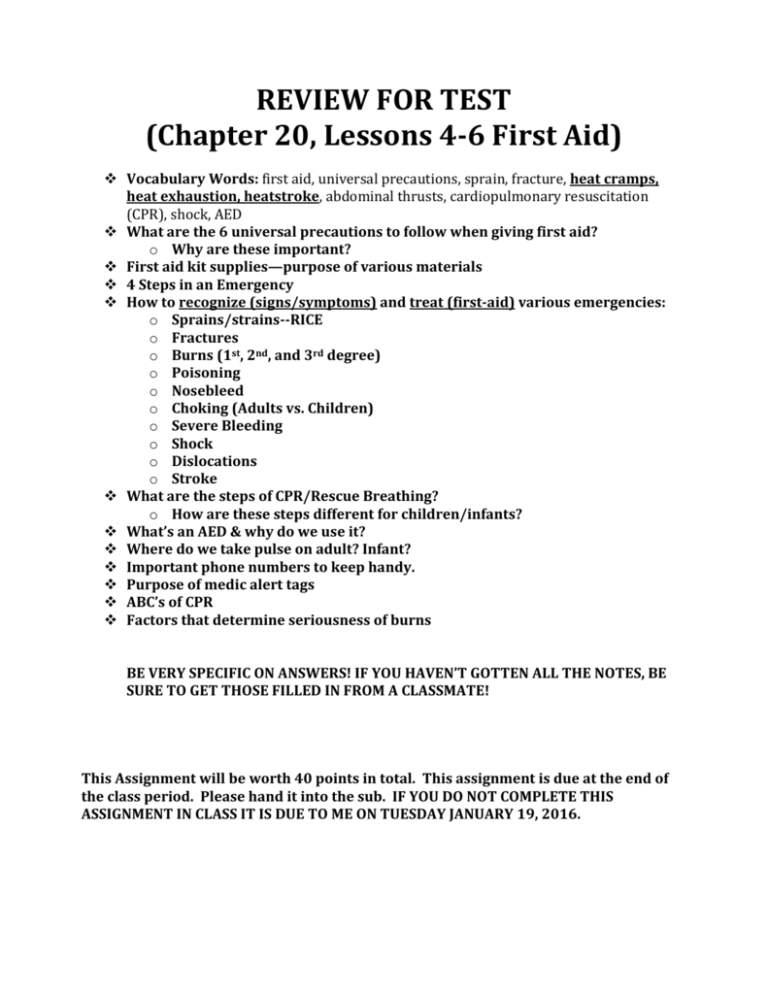 REVIEW FOR TEST
(Chapter 20, Lessons 4-6 First Aid)
 Vocabulary Words: first aid, universal precautions, sprain, fracture, heat cramps,
heat exhaustion, heatstroke, abdominal thrusts, cardiopulmonary resuscitation
(CPR), shock, AED
 What are the 6 universal precautions to follow when giving first aid?
o Why are these important?
 First aid kit supplies—purpose of various materials
 4 Steps in an Emergency
 How to recognize (signs/symptoms) and treat (first-aid) various emergencies:
o Sprains/strains--RICE
o Fractures
o Burns (1st, 2nd, and 3rd degree)
o Poisoning
o Nosebleed
o Choking (Adults vs. Children)
o Severe Bleeding
o Shock
o Dislocations
o Stroke
 What are the steps of CPR/Rescue Breathing?
o How are these steps different for children/infants?
 What's an AED & why do we use it?
 Where do we take pulse on adult? Infant?
 Important phone numbers to keep handy.
 Purpose of medic alert tags
 ABC's of CPR
 Factors that determine seriousness of burns
BE VERY SPECIFIC ON ANSWERS! IF YOU HAVEN'T GOTTEN ALL THE NOTES, BE
SURE TO GET THOSE FILLED IN FROM A CLASSMATE!
This Assignment will be worth 40 points in total. This assignment is due at the end of
the class period. Please hand it into the sub. IF YOU DO NOT COMPLETE THIS
ASSIGNMENT IN CLASS IT IS DUE TO ME ON TUESDAY JANUARY 19, 2016.
Please Write The Entire Definition for the Vocabulary Word
First Aid:
Universal Precautions:
Sprain:
Fracture Both Open and Closed:
Heat Cramps:
Heat Exhaustion:
Heat Stroke:
Abdominal Thrusts:
Cardiopulmonary Resuscitation:
Shock:
AED:
Please List 3 of the 6 Universal Precautions:
1.
2.
3.
PLEASE KNOW HOW TO RECOGNIZE AND TREAT ALL VARIOUS
EMERGENCIES LISTED ON PAGE 1
o
o
o
o
o
o
o
o
o
o
o
Sprains/strains--RICE
Fractures
Burns (1st, 2nd, and 3rd degree)
Poisoning
Nosebleed
Choking (Adults vs. Children)
Severe Bleeding
Shock
Dislocations
Stroke
PLEASE LIST ALL STEPS TO CPR AND RESCUE BREATHING
1.
2.
3.
4.
PLEASE DESCRIBE AN AED MACHINE AND WHAT ITS USED FOR
WHERE DO WE TAKE A PULSE ON AN:
ADULT:
INFANT
WHAT DO THE ABC'S IN CPR STAND FOR
A:
B:
C:
WHAT FACTORIES DETERMINE THE SEVERITY OF A BURN
You are now going to create your own first aid kit. Below please list everything
that you would put into a first aid kit for you to keep in your vehicle. This list
must include atleast 25 items. This portion of the assignment is worth 25 points.
1.
2.
3.
4.
5.
6.
7.
8.
9.
10.
11.
12.
13.
14.
15.
16.
17.
18.
19.
20.
21.
22.
23.
24.
25.