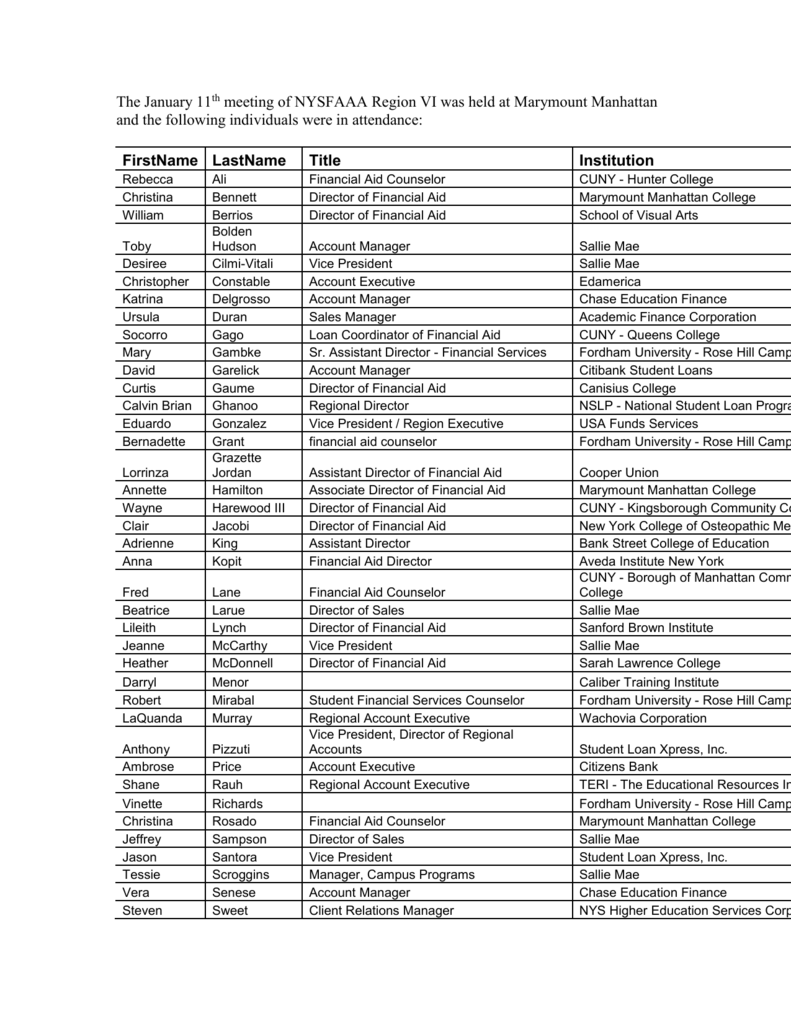 The January 11th meeting of NYSFAAA Region VI was held at Marymount Manhattan
and the following individuals were in attendance:
FirstName LastName
Title
Institution
Rebecca
Christina
William
Financial Aid Counselor
Director of Financial Aid
Director of Financial Aid
CUNY - Hunter College
Marymount Manhattan College
School of Visual Arts
Account Manager
Vice President
Account Executive
Account Manager
Sales Manager
Loan Coordinator of Financial Aid
Sr. Assistant Director - Financial Services
Account Manager
Director of Financial Aid
Regional Director
Vice President / Region Executive
financial aid counselor
Sallie Mae
Sallie Mae
Edamerica
Chase Education Finance
Academic Finance Corporation
CUNY - Queens College
Fordham University - Rose Hill Camp
Citibank Student Loans
Canisius College
NSLP - National Student Loan Progra
USA Funds Services
Fordham University - Rose Hill Camp
Lorrinza
Annette
Wayne
Clair
Adrienne
Anna
Ali
Bennett
Berrios
Bolden
Hudson
Cilmi-Vitali
Constable
Delgrosso
Duran
Gago
Gambke
Garelick
Gaume
Ghanoo
Gonzalez
Grant
Grazette
Jordan
Hamilton
Harewood III
Jacobi
King
Kopit
Assistant Director of Financial Aid
Associate Director of Financial Aid
Director of Financial Aid
Director of Financial Aid
Assistant Director
Financial Aid Director
Fred
Beatrice
Lileith
Jeanne
Heather
Darryl
Robert
LaQuanda
Lane
Larue
Lynch
McCarthy
McDonnell
Menor
Mirabal
Murray
Financial Aid Counselor
Director of Sales
Director of Financial Aid
Vice President
Director of Financial Aid
Cooper Union
Marymount Manhattan College
CUNY - Kingsborough Community Co
New York College of Osteopathic Me
Bank Street College of Education
Aveda Institute New York
CUNY - Borough of Manhattan Comm
College
Sallie Mae
Sanford Brown Institute
Sallie Mae
Sarah Lawrence College
Caliber Training Institute
Fordham University - Rose Hill Camp
Wachovia Corporation
Anthony
Ambrose
Shane
Vinette
Christina
Jeffrey
Jason
Tessie
Vera
Steven
Pizzuti
Price
Rauh
Richards
Rosado
Sampson
Santora
Scroggins
Senese
Sweet
Toby
Desiree
Christopher
Katrina
Ursula
Socorro
Mary
David
Curtis
Calvin Brian
Eduardo
Bernadette
Student Financial Services Counselor
Regional Account Executive
Vice President, Director of Regional
Accounts
Account Executive
Regional Account Executive
Financial Aid Counselor
Director of Sales
Vice President
Manager, Campus Programs
Account Manager
Client Relations Manager
Student Loan Xpress, Inc.
Citizens Bank
TERI - The Educational Resources In
Fordham University - Rose Hill Camp
Marymount Manhattan College
Sallie Mae
Student Loan Xpress, Inc.
Sallie Mae
Chase Education Finance
NYS Higher Education Services Corp
Jane
Mary
Jennifer
Michael
Rafael
Rodney
Shelley
Erin
Tom
Tartaro
TorresErickson
Trauman
Turner
Villalona
Walton
Worrell
Zagaski
Zarkos
Financial Aid Counselor
CUNY - Graduate School
Client Relationship Manager
Account Executive
Client Relations Manager
Regional Account Executive
Campus Relations Manager
Federal Direct Loan Coordinator
Account Executive
Manager Director Sales
M&T Bank
Access Group, The
NYS Higher Education Services Corp
Wachovia Corporation
PNC Bank
CUNY - Graduate School
Citizens Bank
Sallie Mae
Brian Ghanoo greeted everyone and wished everyone a Happy New Year!
Chris Constable gave the Treasurer's report - $15,847.14 balance with $5.39 interest.
The HECS update was given by Mike Turner. The following points were highlighted
and the entire update is attached for your perusal.
-08/09 College Data Survey will be sent out by email. The TAP Certifying Officers
will be able to update school information.
- If updates are not sent in by March 31st, they must be sent to
[email protected]
- TAP Earned Credit Reporting – HE8501 report – how many credits
students
getting TAP have earned.
- Lenders can go onto the HESC website to see credit checks. Students can also call
lenders and the lender can pull information for the student.
Jennifer Trauman presented strategies for helping undergraduates prepare for Graduate
School. The presentation is attached.
Maria Deinnocentiis talked about the Next Generation Committee and how they were
trying to reach out to new and old people for the purpose of getting involved with
NYSFAAA. Volunteers are needed for various positions and committees.
Volunteers are especially needed for the Election Committee
The Legislative Workshop will take place on March 3rd or 4th.
A Support Staff Work Shop is coming up.
Donations can be given to the Development Fund – think of NYSFAAA as an
organization to give to.
Heather McDonald and Curt Guame were special guests at the meeting.
The following points were mentioned:
- Heather congratulated Region VI members on a wonderful conference they hosted in
October.
- First draft of Slate should be available by March 1st.
- Heather and Curt have the same vision for NYSFAAA and Slate and want to know what
we need them to do for us.
- They both feel that Slate was written too quickly/language.
- NYSFAAA members will have to navigate a little differently and a lot of what's going
on is about perception
- CUNY & SUNY have been subjected already
- Training will take place once the Slate document is sent out
Upcoming Projects:
Novice – 1st full week of June in Suny Brockport. Lisa Simpson is the contact person for
Novice.
Legislative Forum – postponed to March because of the primaries
Region 3 Syracuse hosting next year's conference in Buffalo.
Next 10-15 years we'll be spending a lot of time in Buffalo and NYC – hotels can't
accommodate us.
We need a great slate of individuals who will take this organization forward!
Brian Ghanoo presented How to Calculate the EFC – Expected Family Contribution
He walked attendees through several calculations
Mary V. Torres-Erickson made a brief presentation on College Goal Sunday. Requests
were made for extra assistance for the Bronx to accommodate the 300+ students who are
registered and also made a plug for Yonkers. A plea for Chinese speaking volunteers was
made for our Flushing location.
Anna Kopit gave the closing remarks and asked everyone to save February 19th for the
Tax Workshop by James Briggs at BMCC.