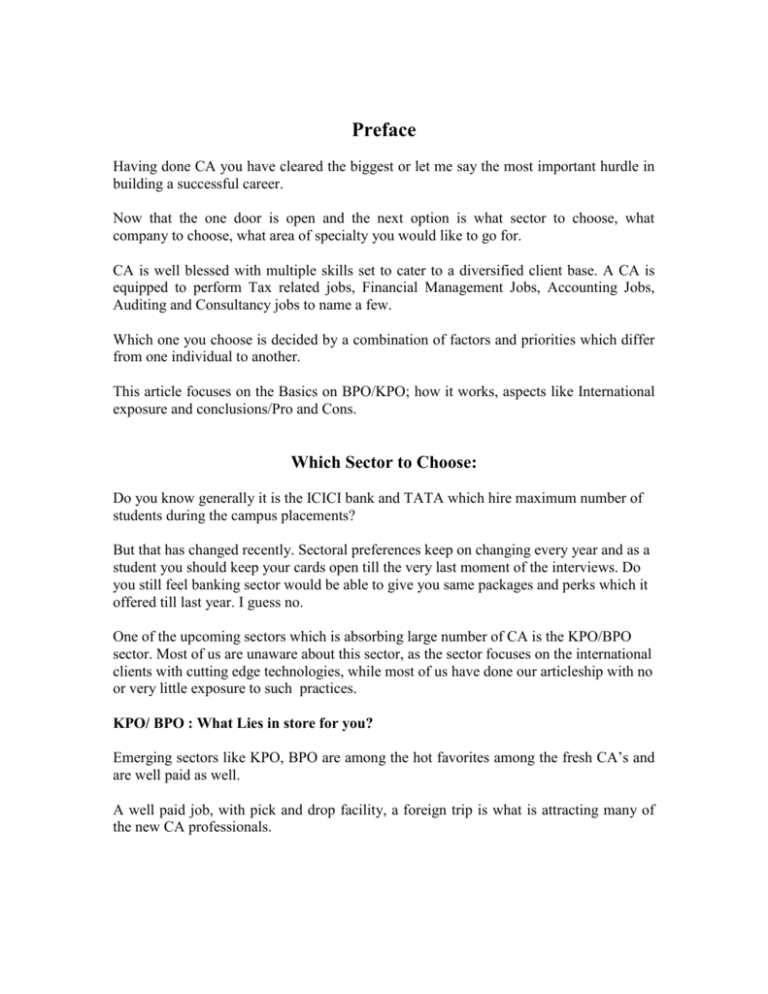 Preface
Having done CA you have cleared the biggest or let me say the most important hurdle in
building a successful career.
Now that the one door is open and the next option is what sector to choose, what
company to choose, what area of specialty you would like to go for.
CA is well blessed with multiple skills set to cater to a diversified client base. A CA is
equipped to perform Tax related jobs, Financial Management Jobs, Accounting Jobs,
Auditing and Consultancy jobs to name a few.
Which one you choose is decided by a combination of factors and priorities which differ
from one individual to another.
This article focuses on the Basics on BPO/KPO; how it works, aspects like International
exposure and conclusions/Pro and Cons.
Which Sector to Choose:
Do you know generally it is the ICICI bank and TATA which hire maximum number of
students during the campus placements?
But that has changed recently. Sectoral preferences keep on changing every year and as a
student you should keep your cards open till the very last moment of the interviews. Do
you still feel banking sector would be able to give you same packages and perks which it
offered till last year. I guess no.
One of the upcoming sectors which is absorbing large number of CA is the KPO/BPO
sector. Most of us are unaware about this sector, as the sector focuses on the international
clients with cutting edge technologies, while most of us have done our articleship with no
or very little exposure to such practices.
KPO/ BPO : What Lies in store for you?
Emerging sectors like KPO, BPO are among the hot favorites among the fresh CA's and
are well paid as well.
A well paid job, with pick and drop facility, a foreign trip is what is attracting many of
the new CA professionals.
So what exactly is a BPO/KPO???
Business process outsourcing (BPO) is a form of outsourcing which involves the
contracting of the operations and responsibilities of a specific business function to a
third-party service provider.
Traditionally, BPO is undertaken by manufacturing firms, for instance Coca Cola, where
almost the entire supply chain is outsourced and the company is essentially becoming a
marketing organization. More recently, it is also used by service oriented businesses,
such as the Bank of America, who outsourced their entire Human Resources function to
the BPO firm Exult Inc. (Source :Wikipedia.com)
Why Move work to India:
Essentially what is happening is most organizations to avail cost arbitrage or to take
benefit of Indian skilled workforce transfer the work to India. Often the tactical business
is transferred to India while retaining the strategic decision making at the business
partner/client side.
As per a study (during my MBA days) every penny saved as a result of outsourcing is
used to make the parent organization more lean and competitive.
What a CA does in a BPO/KPO:
The CA's are in great demand as large amount of Finance & Accounts work is being
transferred to India because of its tactical nature. I myself had spent great amount of time
on Financial Planning & Analysis profile, with some one the big names.
Key processes for which CA are in great demand in a BPO/KPO are:







Financial Planning and Analysis (FP&A)
Reinsurance/Insurance accounting.
General Accounting.
Corporate Accounting.
Financial Services related profiles.
Financial Analytics.
Business advisory roles.
Do you need to be trained in Voice and Accent?
Often BPO's are conceived as a ground for someone with great communication skills.
Trust me having good communication skills off course helps in interacting with clients.
However, I have at the same time seen people with very limited soft skills performing
well thanks a great understanding of the Processes/Projects.
Often BPO/KPO train new joinees in the Financial and Accounting processes as some
amount of interaction with the Business partners is involved at one or another level.
This does not imply that you need the same level of communication skills which the
calling associates are expected to have. Further, the training is not as detailed as the
organization would have for Voice Associates.
International Exposure vs. Service Agreement/Bond?
Most KPO's would send you abroad in the initial months of joining and may make you
sign a service agreement for a Year or more.
I had traveled to couple of places myself serving a bond of 2 years. Though international
exposure adds to your resume it comes at a price.
Fixed vs. Variable Components
When you decide to join a BPO/KPO, do not just get driven by the CTC- Also known as
Cost to the company.
What is important is the ratio of the Fixed as well as Variable components. If you are
lucky enough to get the Loan and Vehicle finance facility that would be an icing on the
cake.
Variable component is often decided by if you are able to meet your CTQ – Critical to
Quality parameters specified under SLA – Service level agreement.
To put it simply, if you have to fill a form with 10 parameters and you correctly enter
only 7 (Assuming SLA of 8), you would be assumed to have missed to CTQ and there it
goes completely or partially your variable component.
Often variable bonuses are discretionary and related to your relative ranking among your
team members. E.g Top 20 percentile often get the Highest Bonuses while the Bottom
10-20 percentile is not rewarded with any bonuses or minimum bonus.
Bottom-line is preferring a company offering you higher Fixed to Variable Ratio. What
matters is what you get in hand. This is my personal choice and opinion which I found
holds true for many.
What is a Process?
Often a KPO or BPO would have multiple assignments ofen names as Processes and
classified reflecting the relative importance and the skill set required. e.g. a Top BPO
categorizes its process as the P1,P2,P3 & P4.
Processes are group of task organized with a defined output. Processes are defined by:




Nature of Work – Say Reconciliation process.
Nature of Business – Say a Reinsurance Business
Kind of Output – Analytics.
Organizational Structure based – Corporate Finance.
It pays to understand which process you would land up into. Joining a great brand like
GENPACT, Barclays pays, but what is equally important is which process you would
like to land into.
What is a CoE?
This is one of the most common abbreviations you would come across when you join a
BPO/KPO.
CoE stands for the Center of Excellence. To refer to it in layman's terms CoE would
consist of various processes of similar nature/business with a common leader say a
VP/AVP/Service Delivery Leader.
Few Questions you should ask before joining a BPO/KPO:






What is the hierarchy in the Process/Organization?
What are the Shift timings?
Shifts are fix or rotating?
What is the Process Name and Functions?
Do you have any bond/ Service level agreement?
Criteria for Next promotions. Often companies do not promote unless you
complete 18 months in an organization.
Pro's and Con's?
Pros of Joining a BPO/KPO:




International Exposure.
Great Work environment.
State of the art technologies.
Pick n Drop.
Cons:





Limited exposure.
Service Agreement/Bond.
Repetitive nature of work.
Night Shifts.
No looking back. Trust me if you join a Wrong process like reconciliation and
end up spending good amount of time, you may find it difficult to join a new
process or go back to the core industry like Manufacturing, FMCG etc.
---------------------------------------------------------------------------------------------------------About the Author or say me:
I am KPO professional with MBA-Finance, PGDCA, PGDBM and CA-Final.
I have traveled extensively to US, Europe. Given my reasonable exposure to BPO/KPO
I decided to write this article.
You may identify me on Orkut by using my email address: gaurav.gecis@gmail.com.
If you have any questions or may be a nice opening ;-), do not hesitate to write to me at
the email address specified above.