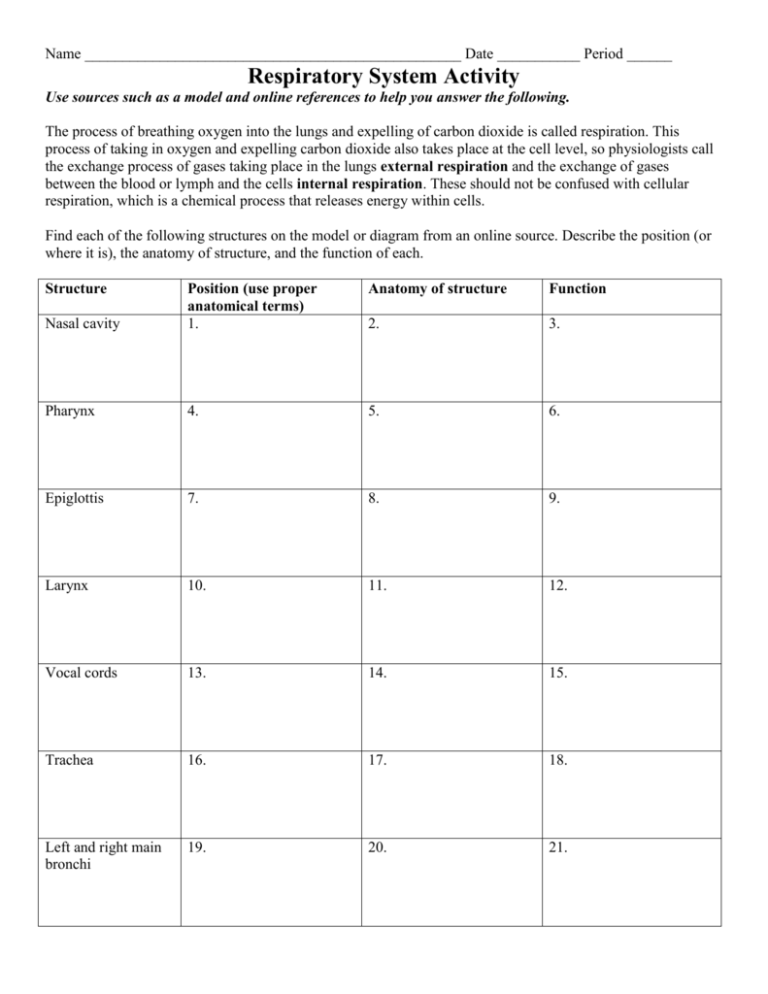 Name __________________________________________________ Date ___________ Period ______
Respiratory System Activity
Use sources such as a model and online references to help you answer the following.
The process of breathing oxygen into the lungs and expelling of carbon dioxide is called respiration. This
process of taking in oxygen and expelling carbon dioxide also takes place at the cell level, so physiologists call
the exchange process of gases taking place in the lungs external respiration and the exchange of gases
between the blood or lymph and the cells internal respiration. These should not be confused with cellular
respiration, which is a chemical process that releases energy within cells.
Find each of the following structures on the model or diagram from an online source. Describe the position (or
where it is), the anatomy of structure, and the function of each.
Structure
Anatomy of structure
Function
Nasal cavity
Position (use proper
anatomical terms)
1.
2.
3.
Pharynx
4.
5.
6.
Epiglottis
7.
8.
9.
Larynx
10.
11.
12.
Vocal cords
13.
14.
15.
Trachea
16.
17.
18.
Left and right main
bronchi
19.
20.
21.
22. The terminal bronchioles lead into the respiratory zone structures. List the structures that are included the
respiratory zone.
23. In the space below, sketch the breathing apparatus and use a green colored pencil to shade the structures
that are part of the respiratory zone.
24. All other passages are conducting zone structures that serve as conduits to and from the respiratory zone. In
your sketch above, use a blue colored pencil to shade the structures of the conducting zone.
23. Look up an image and description of the alveoli (air sacs). Draw an enlarged picture of and alveoli then
describe how the structure and characteristics of the alveoli are suited for gas exchange.