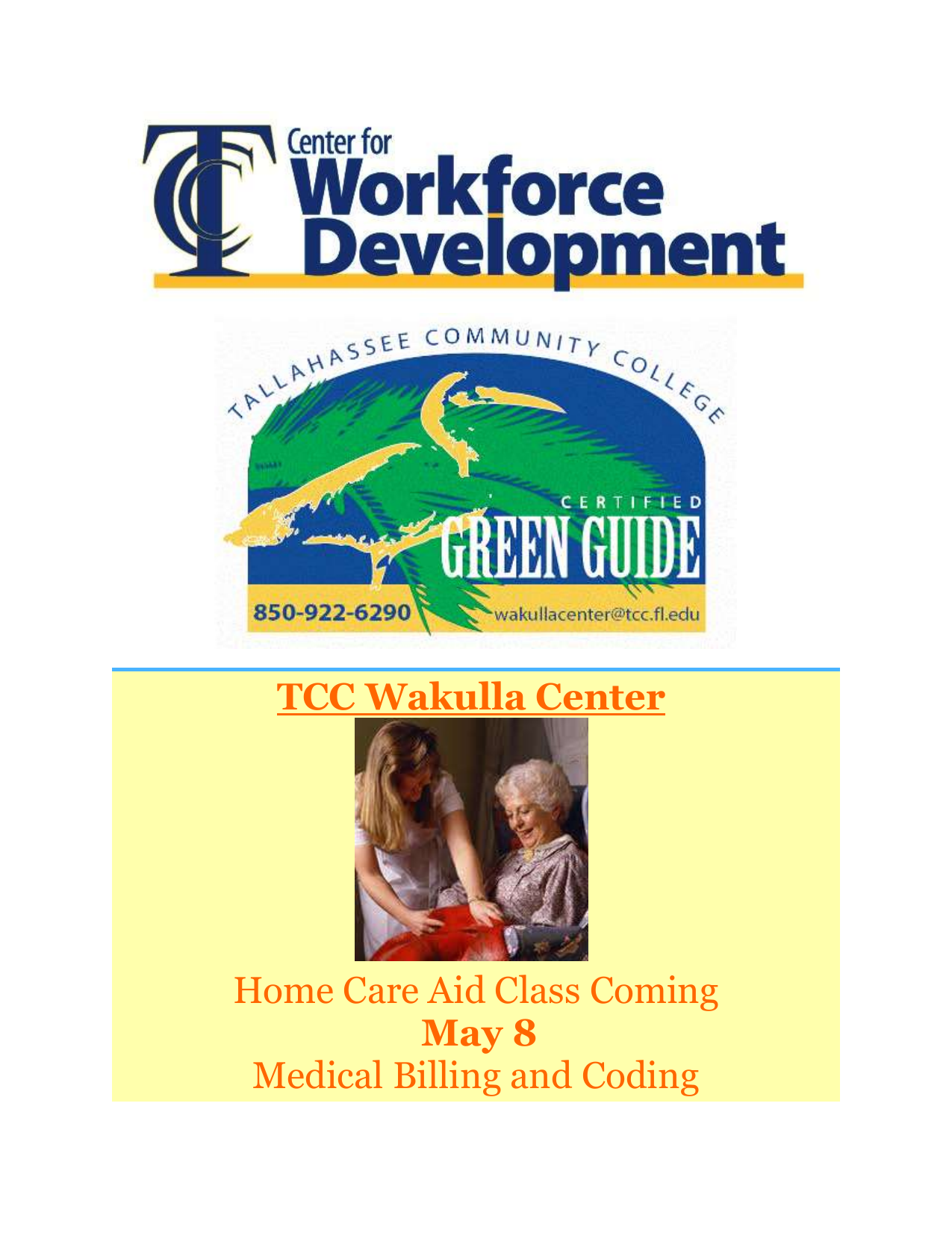 TCC Wakulla Center
Home Care Aid Class Coming
May 8
Medical Billing and Coding
Coming May 15
Medical Administrative Specialist Coming
May 22
Hurry!
There's still Time to Register for Refresher
Spanish
Production Technician
Training Program
Student Orientation on
Thursday, March 22, 10 a.m.
Enhance Your Basic Computer Skills for
Your Business or Pleasure With a
Class!
UPCOMING EVENTS
Refresher Spanish for Adults: This 10-
week course is designed for the adult
learner who has previously studied some
Spanish but needs review and
practice. The content of the course will,
to some extent, be determined by the
basic level and needs of the students in
it. This a non-credit course. Ends May 15,
the fee is $99. Please call 922-6290 for
information.
Home Care Aid: This course will cover
the skills and management practices
required to effectively care for elderly
individuals and/or those with special
needs in their home setting. This course
will enable the students to assist
individuals with Activities of Daily living
(IADL's), handle emergency situations,
and assist in providing a safe home
environment. Home Health Care Aides
can specialize in varying areas or one
aspect of home care, such as aiding
those inflicted with dementia. Begins
May 8, Fee is $299. Please call or email
Kathie Mackie, 922-6290 or
[email protected]
Medical Billing and Coding: This
introductory course prepares students to
code patients' medical records correctly
and optimize reimbursement for a full
range of medical services. Students are
Medical Adminsitrative Specialist:The
Medical Administrative Specialist
Certificate program introduces the
student to the concepts and skills
needed to effectively perform entry level
functions in many positions. They may
include medical front office assistant,
medical receptionist, appointment
scheduler, medical records clerk, and
authorization specialist. These support
office personnel work with daily business
operations in a variety of healthcare
settings including physician and dentitst
offices, medical centers, clinics,
hospitals, nursing homes, and
ambulatory care centers. The specific
duties will often vary from office to office
due to size, location, and
specialty. Begins May 22. Fee is $420.
Contact Kathie Mackie, 922-6290 or
[email protected]
Computer Classes: A bargain at $25
each. For a complete schedule click
here and go to page 10.
For instructions on registering for all
classes click here.
Advanced Manufacturing MSSC
Certification: The TCC Advanced
Manufacturing Training Center is
currently offering a Production
introduced to several techniques for
finding and applying the correct codes
in today's standard coding systems.
Begins May 15, fee is $810, includes cost
of certification exam. Please call or
email Kathie Mackie, 922-6290 or
[email protected]
Technician Training Program to persons
with industrial experience (i.e.
electricians, mechanics, construction,
manufacturing, etc.) and those seeking
a career change into those sectors. This
program will prepare these individuals to
sit for the MSSC Certification, making
them a more marketable candidate for
employment in the field. Prospective
student orientation, Thursday, March
22, 10 a.m., TCC Wakulla Center, 5
Crescent Way, Crawfordville. Contact
April Thomas, ETAM Outreach Specialist,
201-9722 or [email protected]
Classes are starting soon!