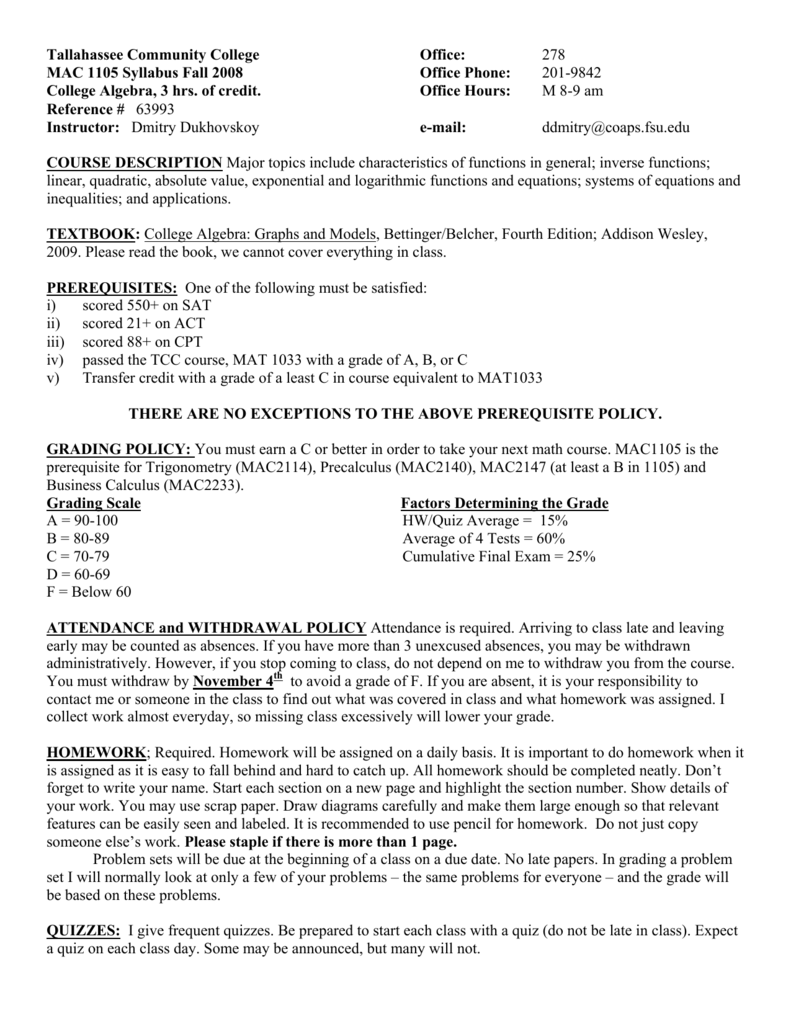 Tallahassee Community College
MAC 1105 Syllabus Fall 2008
College Algebra, 3 hrs. of credit.
Reference # 63993
Instructor: Dmitry Dukhovskoy
Office:
Office Phone:
Office Hours:
278
201-9842
M 8-9 am
e-mail:
[email protected]
COURSE DESCRIPTION Major topics include characteristics of functions in general; inverse functions;
linear, quadratic, absolute value, exponential and logarithmic functions and equations; systems of equations and
inequalities; and applications.
TEXTBOOK: College Algebra: Graphs and Models, Bettinger/Belcher, Fourth Edition; Addison Wesley,
2009. Please read the book, we cannot cover everything in class.
PREREQUISITES: One of the following must be satisfied:
i)
scored 550+ on SAT
ii) scored 21+ on ACT
iii) scored 88+ on CPT
iv) passed the TCC course, MAT 1033 with a grade of A, B, or C
v) Transfer credit with a grade of a least C in course equivalent to MAT1033
THERE ARE NO EXCEPTIONS TO THE ABOVE PREREQUISITE POLICY.
GRADING POLICY: You must earn a C or better in order to take your next math course. MAC1105 is the
prerequisite for Trigonometry (MAC2114), Precalculus (MAC2140), MAC2147 (at least a B in 1105) and
Business Calculus (MAC2233).
Grading Scale
Factors Determining the Grade
A = 90-100
HW/Quiz Average = 15%
B = 80-89
Average of 4 Tests = 60%
C = 70-79
Cumulative Final Exam = 25%
D = 60-69
F = Below 60
ATTENDANCE and WITHDRAWAL POLICY Attendance is required. Arriving to class late and leaving
early may be counted as absences. If you have more than 3 unexcused absences, you may be withdrawn
administratively. However, if you stop coming to class, do not depend on me to withdraw you from the course.
You must withdraw by November 4th to avoid a grade of F. If you are absent, it is your responsibility to
contact me or someone in the class to find out what was covered in class and what homework was assigned. I
collect work almost everyday, so missing class excessively will lower your grade.
HOMEWORK; Required. Homework will be assigned on a daily basis. It is important to do homework when it
is assigned as it is easy to fall behind and hard to catch up. All homework should be completed neatly. Don't
forget to write your name. Start each section on a new page and highlight the section number. Show details of
your work. You may use scrap paper. Draw diagrams carefully and make them large enough so that relevant
features can be easily seen and labeled. It is recommended to use pencil for homework. Do not just copy
someone else's work. Please staple if there is more than 1 page.
Problem sets will be due at the beginning of a class on a due date. No late papers. In grading a problem
set I will normally look at only a few of your problems – the same problems for everyone – and the grade will
be based on these problems.
QUIZZES: I give frequent quizzes. Be prepared to start each class with a quiz (do not be late in class). Expect
a quiz on each class day. Some may be announced, but many will not.
MAKEUP- POLICY:
No make-up for quizzes.
No make-up exams without a note from your doctor.
TESTS: There will be 4 tests during the semester and a 2-hour comprehensive final examination.
A test grade of zero will be replaced by the final exam grade if and only if:
1) The reason for missing the test is serious and within reason, verifiable.
2) You notify me in advance or as soon as you are able.
If the test is missed for an unexcused absence, the zero will be replaced by a percentage (penalty of 10-25%) of
the final exam grade. If you miss a test and show up in class as if nothing happened, expect a zero (0) grade.
Military Duty, Religious Observances, Court appearances, Jury Duty, and College Sponsored Trips will be
accommodated only if I am given proper documentation well in advance. In borderline cases, I reserve the right
to subjectively determine grades based on class attendance, participation, quality of work, etc.
TENTATIVE TESTS DATES:
09/15, 10/08, 10/29, 11/24
FINAL EXAM: There will be a comprehensive final exam on:
Tuesday December 9th 12:30 – 2:30 pm Class # - TBA You must have a photo ID.
CALCULATORS: You are required to have a graphing calculator for this course. Bring it to class every day.
No particular model is required; however, I will be demonstrating with a Texas Instrument TI-84. A TI-83 is
required for Statistics, STA2023. TI-89, TI-92 or any calculators that perform symbolic algebra are not
allowed. I will ask you to reset the memory before each test, so make sure you have a backup of programs and
games that you wish to keep. Formulas or notes stored in memory will be considered academic dishonesty.
OUTSIDE HELP: If you are having trouble in this course, you are encouraged to seek out-of-class help. I will
be glad to help you during my office hours as long as you are attending class regularly. You may also seek help
at The TCC Learning Commons (located in LC 30), provides one-stop convenient access to expanded learning
assistance and resources. The Math and Science area offers support in mathematics and science. Students can
work independently or in small groups while having access to resources including: trained tutors, specialists and
learning assistants, videos, textbooks, calculators, an open-access computer lab and much more.
The TCC Learning Commons is open:
Monday – Thursday
7:30 a.m. – 9:00 p.m.
Friday
7:30 a.m. – 5:00 p.m.
Saturday
10:00 a.m. – 2:00 p.m.
CLASS: Students are expected to be on time and to stay for the full class period. Please let me know before
class if you must leave early. Students are expected to wait fifteen minutes before leaving if the instructor is not
present at the scheduled start time of class.
CLASSROOM POLICY: No eating, drinking or smoking is allowed in classrooms. Please turn off beepers,
phones and all electronic devices that make any kind of noise.
Tallahassee Community College (TCC) is committed to making all programs, services and facilities accessible
to and usable by persons with disabilities in order for students to obtain maximum benefit from the educational
experience and to effectively transition to our college environment. Persons with disabilities are encouraged to
register with the TCC Disability Support Services Office, which is located on the first floor of the Student
Union.