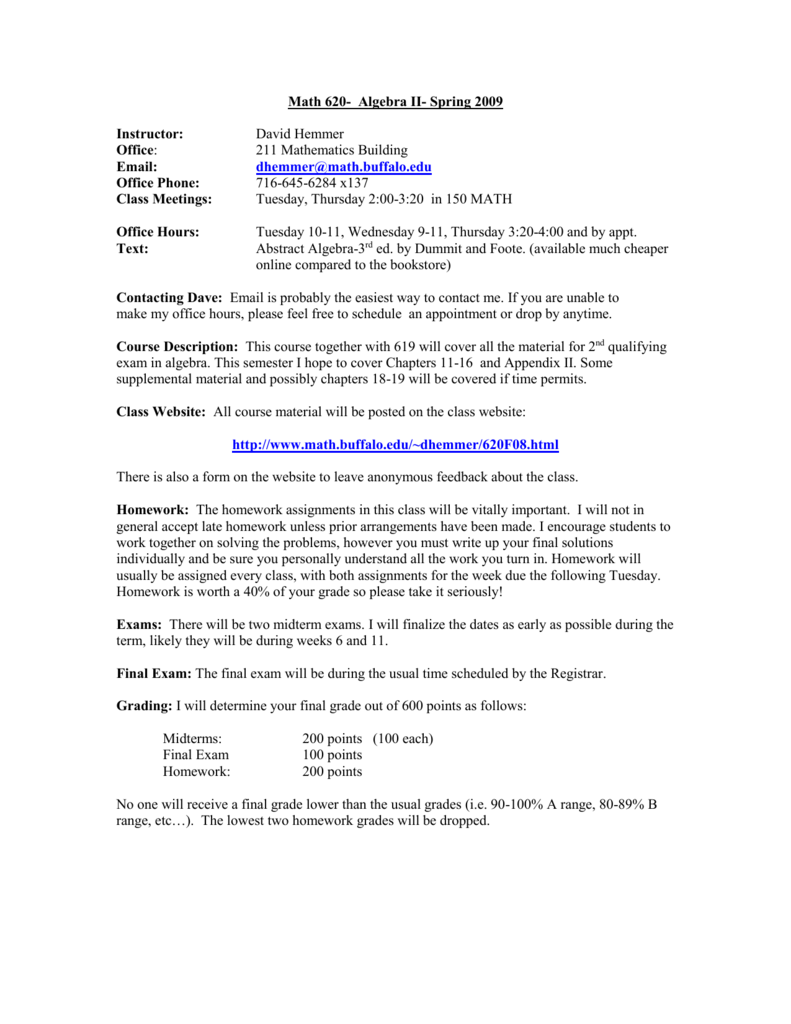 Math 620- Algebra II- Spring 2009
Instructor:
Office:
Email:
Office Phone:
Class Meetings:
David Hemmer
211 Mathematics Building
[email protected]
716-645-6284 x137
Tuesday, Thursday 2:00-3:20 in 150 MATH
Office Hours:
Text:
Tuesday 10-11, Wednesday 9-11, Thursday 3:20-4:00 and by appt.
Abstract Algebra-3rd ed. by Dummit and Foote. (available much cheaper
online compared to the bookstore)
Contacting Dave: Email is probably the easiest way to contact me. If you are unable to
make my office hours, please feel free to schedule an appointment or drop by anytime.
Course Description: This course together with 619 will cover all the material for 2nd qualifying
exam in algebra. This semester I hope to cover Chapters 11-16 and Appendix II. Some
supplemental material and possibly chapters 18-19 will be covered if time permits.
Class Website: All course material will be posted on the class website:
http://www.math.buffalo.edu/~dhemmer/620F08.html
There is also a form on the website to leave anonymous feedback about the class.
Homework: The homework assignments in this class will be vitally important. I will not in
general accept late homework unless prior arrangements have been made. I encourage students to
work together on solving the problems, however you must write up your final solutions
individually and be sure you personally understand all the work you turn in. Homework will
usually be assigned every class, with both assignments for the week due the following Tuesday.
Homework is worth a 40% of your grade so please take it seriously!
Exams: There will be two midterm exams. I will finalize the dates as early as possible during the
term, likely they will be during weeks 6 and 11.
Final Exam: The final exam will be during the usual time scheduled by the Registrar.
Grading: I will determine your final grade out of 600 points as follows:
Midterms:
Final Exam
Homework:
200 points (100 each)
100 points
200 points
No one will receive a final grade lower than the usual grades (i.e. 90-100% A range, 80-89% B
range, etc…). The lowest two homework grades will be dropped.