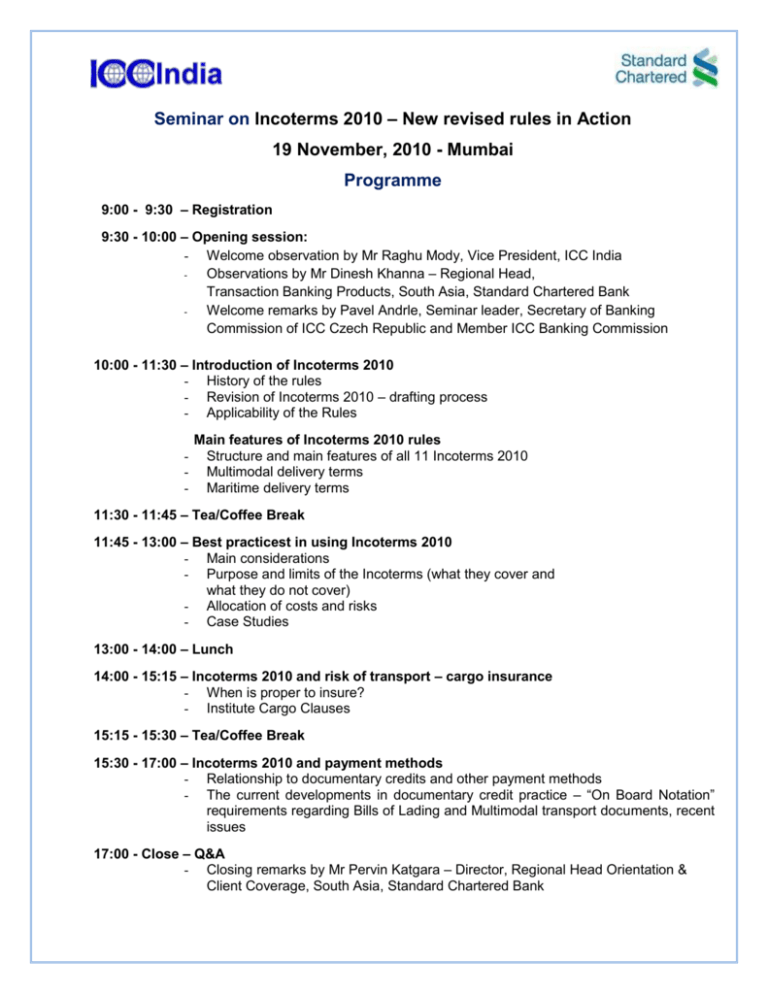 Seminar on Incoterms 2010 – New revised rules in Action
19 November, 2010 - Mumbai
Programme
9:00 - 9:30 – Registration
9:30 - 10:00 – Opening session:
- Welcome observation by Mr Raghu Mody, Vice President, ICC India
Observations by Mr Dinesh Khanna – Regional Head,
Transaction Banking Products, South Asia, Standard Chartered Bank
Welcome remarks by Pavel Andrle, Seminar leader, Secretary of Banking
Commission of ICC Czech Republic and Member ICC Banking Commission
10:00 - 11:30 – Introduction of Incoterms 2010
- History of the rules
- Revision of Incoterms 2010 – drafting process
- Applicability of the Rules
-
Main features of Incoterms 2010 rules
Structure and main features of all 11 Incoterms 2010
Multimodal delivery terms
Maritime delivery terms
11:30 - 11:45 – Tea/Coffee Break
11:45 - 13:00 – Best practicest in using Incoterms 2010
- Main considerations
- Purpose and limits of the Incoterms (what they cover and
what they do not cover)
- Allocation of costs and risks
- Case Studies
13:00 - 14:00 – Lunch
14:00 - 15:15 – Incoterms 2010 and risk of transport – cargo insurance
- When is proper to insure?
- Institute Cargo Clauses
15:15 - 15:30 – Tea/Coffee Break
15:30 - 17:00 – Incoterms 2010 and payment methods
- Relationship to documentary credits and other payment methods
- The current developments in documentary credit practice – "On Board Notation"
requirements regarding Bills of Lading and Multimodal transport documents, recent
issues
17:00 - Close – Q&A
- Closing remarks by Mr Pervin Katgara – Director, Regional Head Orientation &
Client Coverage, South Asia, Standard Chartered Bank
About the Trainer
Mr. Pavel Andrle is an acknowledged expert on ICC's trade facilitation rules and
was closely involved in the revision of UCP as a member of UCP 600 Consulting
group. he has delivered numerous seminars on the Incoterms 2000 and Incoterms
2010, both in Czech Republic and abroad.
He has worked for a number of leading local and international banks in various positions (for instance as trade
finance specialist, head of trade finance, trade finance risk manager, in-house trainer). Frequent Lecturer in
Documentary Credits, Bank Guarantees & Trade Finance and International Trade for Bankovni Instititut
Vysoka, Institute of Foreign Trade Transport & Forwarding, ICC CR and Economic Chamber of Commerce of
Czech Republic. Regular facilitator in seminars abroad in English for ICC National Committees world-wide.
Mr. Andrle has led or participated in number of seminars held in Cambodia, VietNam, Sri Lanka,
Philippines, Singapore, Sierra Leone, Zambia, Uganda, Mozambique, Bangladesh, South Africa, Nigeria,
Poland, Slovakia, Ireland, Lithuania, Latvia, Bulgaria, Turkey, Russia, Malta, Trinidad and Tobago etc. He
is author of the publication "Documentary Credits – a Practical Guide"published by Grada Publishing, a.s.
He has written a "Commentary to UCP500 in the light of ISBP and other ICC Banking Commission
documents" and "Commentary to UCP600" published by ICC CR.
Appointed ICC CR expert to reply to enquiries related to Documentary Credits, Bank Guarantees and Trade
and Structured Finance – development of technical assistance consultancy services of ICC CR to banks,
carrier, insurance companies and traders. It includes advissory services and in-house technical assistance in
banks and companies. DOCDEX Expert of ICC Centre for Expertise with ICC International Arbitration Court,
ICC Paris, arbitrator with Vilnius Arbitration Court, Lithuania. He is active trainer under Global Trade Finance
programme of IFC (International Finance Corporation – a member of World Bank Group) as a consultant for
the global training firm in international trade and finance GTI.