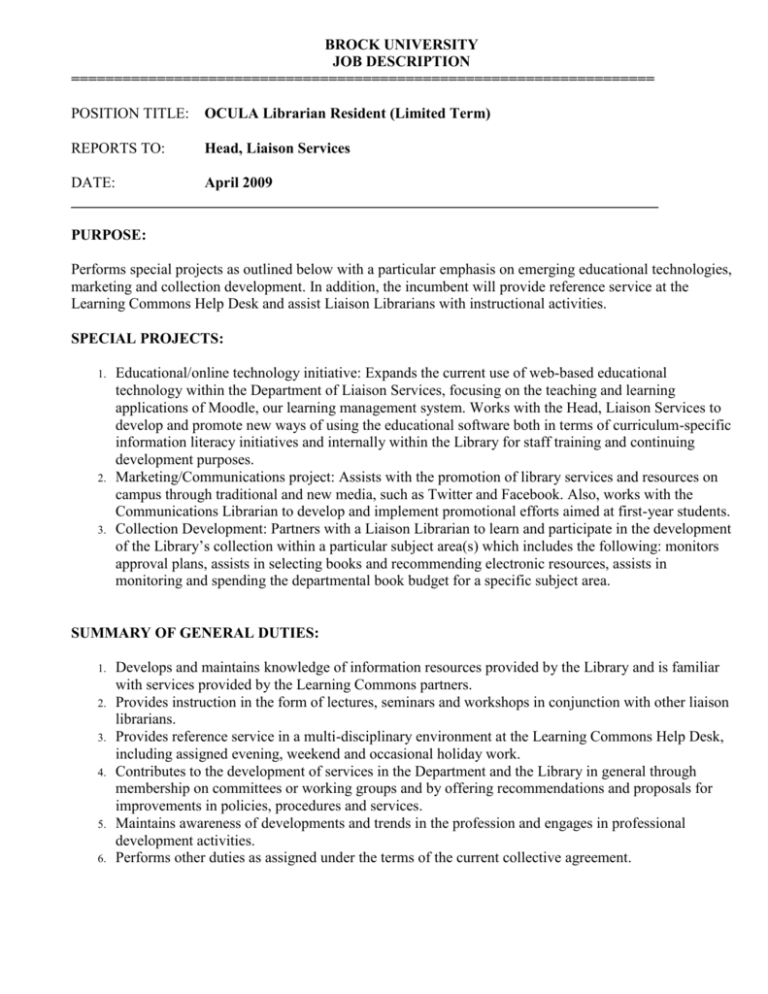 BROCK UNIVERSITY
JOB DESCRIPTION
====================================================================
POSITION TITLE:
OCULA Librarian Resident (Limited Term)
REPORTS TO:
Head, Liaison Services
DATE:
April 2009
______________________________________________________________________________
PURPOSE:
Performs special projects as outlined below with a particular emphasis on emerging educational technologies,
marketing and collection development. In addition, the incumbent will provide reference service at the
Learning Commons Help Desk and assist Liaison Librarians with instructional activities.
SPECIAL PROJECTS:
1.
2.
3.
Educational/online technology initiative: Expands the current use of web-based educational
technology within the Department of Liaison Services, focusing on the teaching and learning
applications of Moodle, our learning management system. Works with the Head, Liaison Services to
develop and promote new ways of using the educational software both in terms of curriculum-specific
information literacy initiatives and internally within the Library for staff training and continuing
development purposes.
Marketing/Communications project: Assists with the promotion of library services and resources on
campus through traditional and new media, such as Twitter and Facebook. Also, works with the
Communications Librarian to develop and implement promotional efforts aimed at first-year students.
Collection Development: Partners with a Liaison Librarian to learn and participate in the development
of the Library's collection within a particular subject area(s) which includes the following: monitors
approval plans, assists in selecting books and recommending electronic resources, assists in
monitoring and spending the departmental book budget for a specific subject area.
SUMMARY OF GENERAL DUTIES:
1.
2.
3.
4.
5.
6.
Develops and maintains knowledge of information resources provided by the Library and is familiar
with services provided by the Learning Commons partners.
Provides instruction in the form of lectures, seminars and workshops in conjunction with other liaison
librarians.
Provides reference service in a multi-disciplinary environment at the Learning Commons Help Desk,
including assigned evening, weekend and occasional holiday work.
Contributes to the development of services in the Department and the Library in general through
membership on committees or working groups and by offering recommendations and proposals for
improvements in policies, procedures and services.
Maintains awareness of developments and trends in the profession and engages in professional
development activities.
Performs other duties as assigned under the terms of the current collective agreement.
Knowledge and skills required









Principles and applications of librarianship obtained through the completion of an ALA accredited
Master of Library and Information Science degree.
Knowledge of information sources in a broad range of disciplines.
Knowledge of and ability to employ effective teaching techniques.
High level of computer literacy, and an understanding of educational technology and its applications
in higher education.
Flexibility and adaptability.
The ability to set goals, take initiative, and follow through effectively.
Strong communication skills, both verbal and written.
Strong organizational skills.
The ability to engage in teamwork in a collaborative environment.