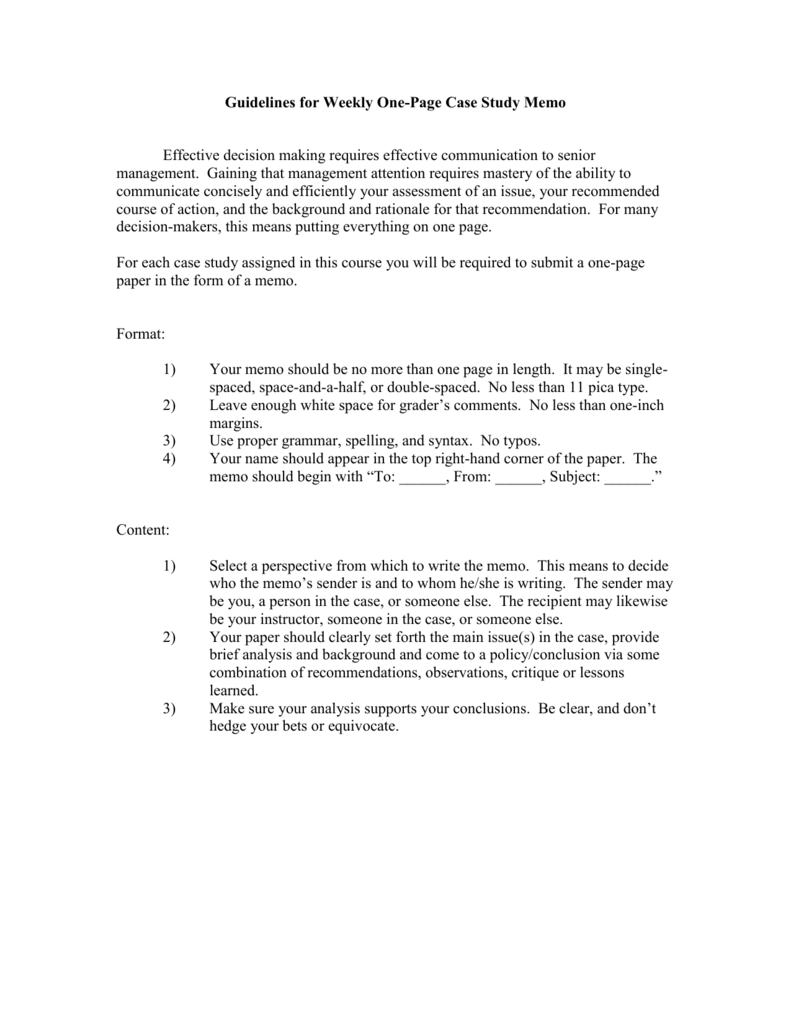 Guidelines for Weekly One-Page Case Study Memo
Effective decision making requires effective communication to senior
management. Gaining that management attention requires mastery of the ability to
communicate concisely and efficiently your assessment of an issue, your recommended
course of action, and the background and rationale for that recommendation. For many
decision-makers, this means putting everything on one page.
For each case study assigned in this course you will be required to submit a one-page
paper in the form of a memo.
Format:
1)
2)
3)
4)
Your memo should be no more than one page in length. It may be singlespaced, space-and-a-half, or double-spaced. No less than 11 pica type.
Leave enough white space for grader's comments. No less than one-inch
margins.
Use proper grammar, spelling, and syntax. No typos.
Your name should appear in the top right-hand corner of the paper. The
memo should begin with "To: ______, From: ______, Subject: ______."
Content:
1)
2)
3)
Select a perspective from which to write the memo. This means to decide
who the memo's sender is and to whom he/she is writing. The sender may
be you, a person in the case, or someone else. The recipient may likewise
be your instructor, someone in the case, or someone else.
Your paper should clearly set forth the main issue(s) in the case, provide
brief analysis and background and come to a policy/conclusion via some
combination of recommendations, observations, critique or lessons
learned.
Make sure your analysis supports your conclusions. Be clear, and don't
hedge your bets or equivocate.