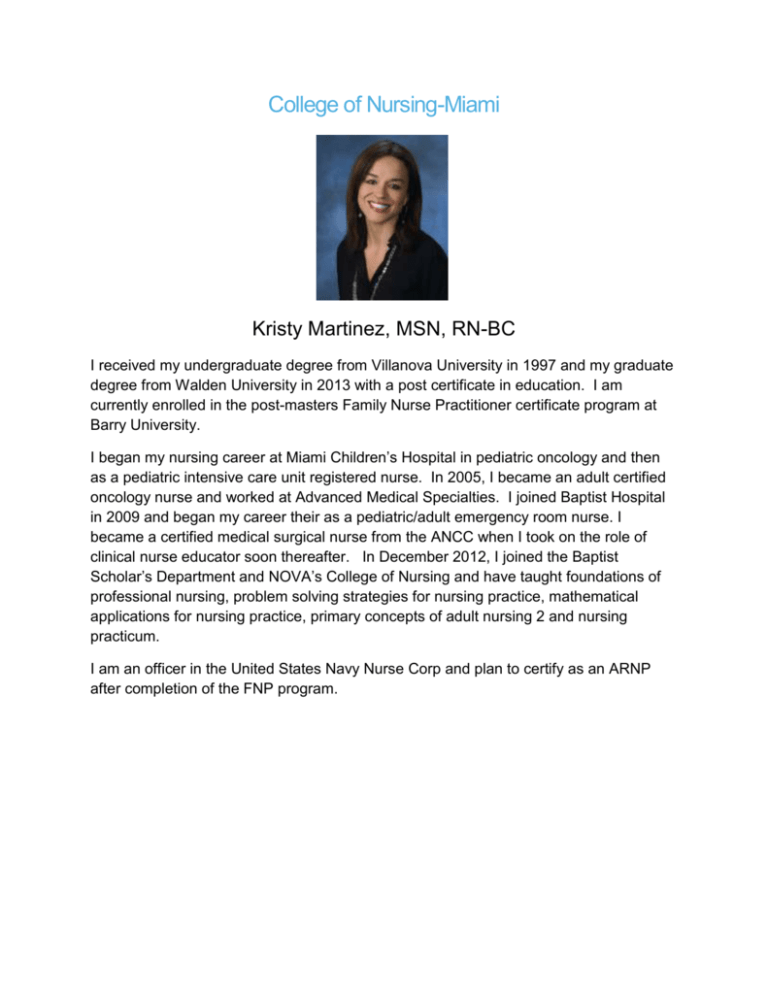 College of Nursing-Miami
Kristy Martinez, MSN, RN-BC
I received my undergraduate degree from Villanova University in 1997 and my graduate
degree from Walden University in 2013 with a post certificate in education. I am
currently enrolled in the post-masters Family Nurse Practitioner certificate program at
Barry University.
I began my nursing career at Miami Children's Hospital in pediatric oncology and then
as a pediatric intensive care unit registered nurse. In 2005, I became an adult certified
oncology nurse and worked at Advanced Medical Specialties. I joined Baptist Hospital
in 2009 and began my career their as a pediatric/adult emergency room nurse. I
became a certified medical surgical nurse from the ANCC when I took on the role of
clinical nurse educator soon thereafter. In December 2012, I joined the Baptist
Scholar's Department and NOVA's College of Nursing and have taught foundations of
professional nursing, problem solving strategies for nursing practice, mathematical
applications for nursing practice, primary concepts of adult nursing 2 and nursing
practicum.
I am an officer in the United States Navy Nurse Corp and plan to certify as an ARNP
after completion of the FNP program.