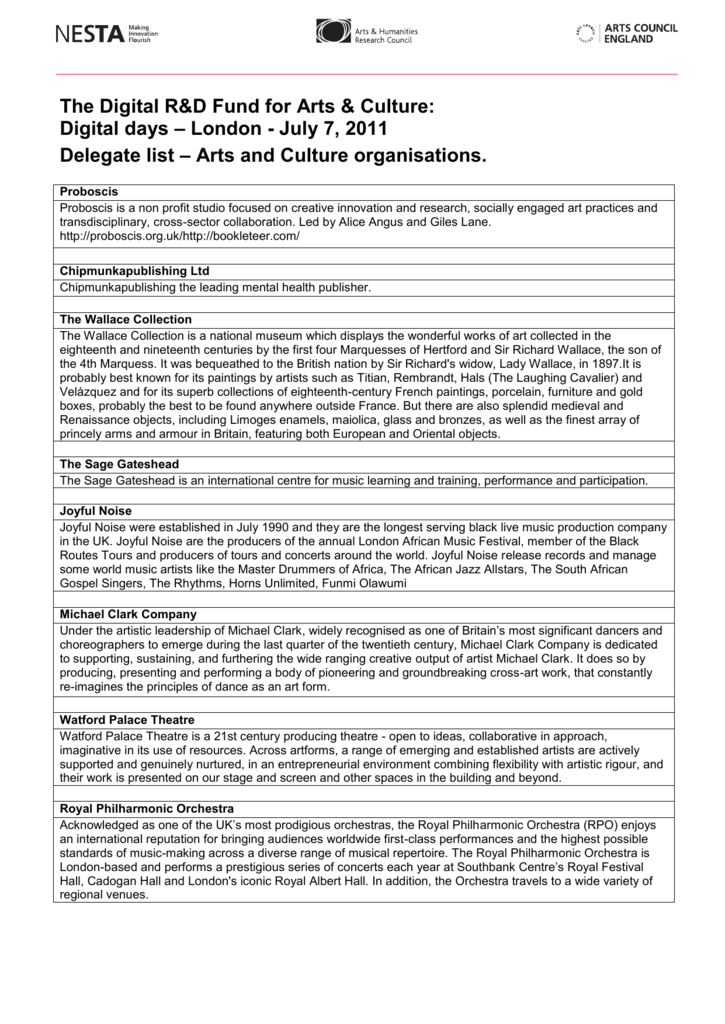 The Digital R&D Fund for Arts & Culture:
Digital days – London - July 7, 2011
Delegate list – Arts and Culture organisations.
Proboscis
Proboscis is a non profit studio focused on creative innovation and research, socially engaged art practices and
transdisciplinary, cross-sector collaboration. Led by Alice Angus and Giles Lane.
http://proboscis.org.uk/http://bookleteer.com/
Chipmunkapublishing Ltd
Chipmunkapublishing the leading mental health publisher.
The Wallace Collection
The Wallace Collection is a national museum which displays the wonderful works of art collected in the
eighteenth and nineteenth centuries by the first four Marquesses of Hertford and Sir Richard Wallace, the son of
the 4th Marquess. It was bequeathed to the British nation by Sir Richard's widow, Lady Wallace, in 1897.It is
probably best known for its paintings by artists such as Titian, Rembrandt, Hals (The Laughing Cavalier) and
Velázquez and for its superb collections of eighteenth-century French paintings, porcelain, furniture and gold
boxes, probably the best to be found anywhere outside France. But there are also splendid medieval and
Renaissance objects, including Limoges enamels, maiolica, glass and bronzes, as well as the finest array of
princely arms and armour in Britain, featuring both European and Oriental objects.
The Sage Gateshead
The Sage Gateshead is an international centre for music learning and training, performance and participation.
Joyful Noise
Joyful Noise were established in July 1990 and they are the longest serving black live music production company
in the UK. Joyful Noise are the producers of the annual London African Music Festival, member of the Black
Routes Tours and producers of tours and concerts around the world. Joyful Noise release records and manage
some world music artists like the Master Drummers of Africa, The African Jazz Allstars, The South African
Gospel Singers, The Rhythms, Horns Unlimited, Funmi Olawumi
Michael Clark Company
Under the artistic leadership of Michael Clark, widely recognised as one of Britain's most significant dancers and
choreographers to emerge during the last quarter of the twentieth century, Michael Clark Company is dedicated
to supporting, sustaining, and furthering the wide ranging creative output of artist Michael Clark. It does so by
producing, presenting and performing a body of pioneering and groundbreaking cross-art work, that constantly
re-imagines the principles of dance as an art form.
Watford Palace Theatre
Watford Palace Theatre is a 21st century producing theatre - open to ideas, collaborative in approach,
imaginative in its use of resources. Across artforms, a range of emerging and established artists are actively
supported and genuinely nurtured, in an entrepreneurial environment combining flexibility with artistic rigour, and
their work is presented on our stage and screen and other spaces in the building and beyond.
Royal Philharmonic Orchestra
Acknowledged as one of the UK's most prodigious orchestras, the Royal Philharmonic Orchestra (RPO) enjoys
an international reputation for bringing audiences worldwide first-class performances and the highest possible
standards of music-making across a diverse range of musical repertoire. The Royal Philharmonic Orchestra is
London-based and performs a prestigious series of concerts each year at Southbank Centre's Royal Festival
Hall, Cadogan Hall and London's iconic Royal Albert Hall. In addition, the Orchestra travels to a wide variety of
regional venues.
More2Screen Limited
More2screen is the world's leading independent distributor of non-film 2D and 3D content into digital cinemas.
Operating since 2006, its partners and clients include Robbie Williams, The Royal Opera House, Teatro La
Fenice, Mariinsky Theatre, Sony and many others. Working in the UK and internationally across the multiplex
and independent cinema landscape and with contracts with over 3000 digital screens worldwide.
Ming-Ai (London) Institute
Ming-Ai (London) Institute is a charity organisation that aims to promote the exchange of Chinese culture
between the UK and China.
Roundhouse
The Roundhouse is a Grade II listed former railway engine shed in Chalk Farm, London, England, which has
been converted into a multi-arts and concert venue. The Roundhouse is also a charity and each year the
Roundhouse works with over 3,000 11-25s enabling them to realise their creative potential, and offers audiences
of all ages new and extraordinary experiences in live music, circus, theatre and new media.
Crafts Council
The Crafts Council's aim is to make the UK the best place to make, see, collect and learn about contemporary
craft.
Upswing
Upswing is an aerial dance company founded in 2004 by Artistic Director Vicki Amedume. The company takes
the approach that serious, everyday and cultural issues can be explored in an entertaining way through circus
and that it is important to engage with people on many levels – visually, emotionally, intellectually - to exploit
circus's full potential as an art form. The company produces a mix of indoor touring productions, educational
projects and bespoke, site specific performance for touring, festivals, events and the commercial sector.
London Borough of Brent
Local authority museum and archives service passionate about broadening access to Brent's history to its
residents and beyond. Our collections reflect the working and domestic life in Brent from about 1850 to the
present day.
Poet in the City
Poet in the City is an innovative arts organisation which specialises in winning new audiences to poetry.
Festival Productions
Festival Productions creates award-winning syndicated new music radio, advertising campaigns, drama and
documentary series for BBC and UK commercial radio. Festival has helped redefine the radio medium through
syndicated new music formats, drama, features and campaigns for BBC & commercial radio, winning two Sony
Radio Silver Awards and an APG Gold for its campaign for the UK Health Education Authority.
Sheffield Doc/Fest
Sheffield Doc/Fest brings the international documentary family together to celebrate the art and business of
documentary making for five intense days in June. Doc/Fest is a film festival, industry session programme and
market place, offering pitching opportunities, controversial discussion panels and in-depth filmmaker masterclasses, as well as a wealth of inspirational documentary films from across the globe.
Watermans
Watermans has been able to focus many of its efforts in emerging arts. It has built a worldwide reputation for
Asian Arts and New Media/Digital Arts, forging strong relationships with centres of creative excellence from
South Asia and commissioning internationally recognized digital media installations. Future plans include a yearlong Digital Arts Festival with a series of installations to celebrate 2012.
Culture24
Culture24 is an independent charity that supports the arts and heritage sector to reach audiences on digital
platforms. Culture24 has thrived in the digital space for over 10 years. Originally conceived as just one website,
they have grown into the UK's digital hub for arts and heritage. Their network includes 4,400+ UK cultural
organisations (museums, galleries, libraries, archives, heritage sites and more) and their database holds
information on their events, exhibitions, resources and collections. They collect, curate and distribute this content
both to their own channels(www.culture24.org.uk and www.show.me.uk) but also package and share it across a
range of third parties services which include the BBC and more. Culture24 also coordinate the hugely
successful Museums at Night weekend of late night openings across the UK.
Circus Space
Circus Space is a leading provider in circus training. As well as offering the only BA Hons Degree in Circus Arts
in the UK we provide workshops and classes to those who want new skills, a new career or just a fun day's
activity.
Aurora Orchestra
Winner of this year's Royal Philharmonic Society's Ensemble Award, Aurora Orchestra has established itself
over just six seasons as the most significant new British chamber orchestra in a generation.
IJAD Dance Company
IJAD Dance Company specialise in Arabic, contemporary, neo-classical ballet-style dance, incorporating multimedia and technology. IJAD creates, educates and collaborates. We are curious, witty, conscientious, energetic
and fun – these traits exude throughout IJAD's work. In the last few years IJAD has created a national and
international portfolio of work and collaborated on a range of community education projects. We create
innovative and dynamic concepts within dance; redefining the relationship between dance technique,
performance space, visual art and technology to challenge audiences' expectations.
Complicite
Complicite is a world famous theatre company led by director Simon McBurney
Eastern Angles
Eastern Angles are a regional touring theatre company. Based in Ipswich the company have been creating new
theatre and taking it to hard to reach audiences across the East of England since 1982.
Book Works
Established in 1984, with the mission to disseminate visual art practice to as wide and diverse an audience as
possible, Book Works is a contemporary visual arts publisher, based in London. In addition to our main activity of
book publishing, we also produce text-based works, installations, multiples, videos and new media projects.
National Opera Studio
The NOS is Britain's premier opera training company. It has strong links with the six main British opera
companies and trains 12 singers per year.
Theatre Royal Stratford East
Theatre Royal Stratford East works to discover and develop new talent and new audiences.
Key Aims - Theatre Royal Stratford East will:
produce new work which draws from and reflects the talent; concerns and dreams of its local communities;
attract audiences to the work from all sections of the local population and further afield; lead in the development
of shows which reflect both specific ethnic identity and multiculturalism; present work to the highest standards;
broaden the Theatre Royal's and its work's current influence to include Britain as a whole and abroad; open
channels to participation in theatre; entertain and educate by remaining true to the social and educational values
of Theatre Workshop; run an organisation and building that welcomes, works for and appreciates both audiences
and employees from all the Theatre's communities and places equality of opportunity at its centre.
Project Pressure
Project Pressure is creating the worlds first Glacier Archive. Official collaborative include NASA and WGMS. We
are developing two digital platforms.
b3 media
Our Mission: B3 makes connections: between Britain's multi-cultural communities and its creative industries. We
do so by uniting the power of digital media with the creative potential of emerging digital artists, filmmakers,
visual artists and sound artists. Our activities - workshops, screenings, studio sessions, talks and networking
events - are all about nurturing new talent and creating industry connections. We help them develop, produce
and distribute their work, from the first spark of an idea through to the first screening and beyond.
www.b3media.net
Soho Theatre
Soho Theatre produces and presents new theatre writing, comedy and cabaret from its own venue in the heart of
London's West End.
South Hill Park Arts Centre
Digital Media & Creative Technology department of the largest Arts Centre in the South East. South Hill Park is
based in a Georgian mansion house, 25 miles West of London in Berkshire.
Candoco Dance Company
Candoco is the contemporary dance company of disabled and non-disabled performers. At the heart of our work
are our national and international productions, created by world class choreographers. Alongside these, through
our Learning and Development projects we provide access to the highest quality of work for people participating
in dance for pure enjoyment, or as part of a developing career. www.candoco.co.uk
ZENDEH
In 2012, ZENDEH joins Arts Council England's National Portfolio as a touring company. ZENDEH explores
hidden histories and modern identities; finding the compelling and epic in ordinary stories; creating culturally
eclectic productions. Our artistic practice is collaborative, poetic and innovative, combining art forms, text and
digital. We creatively engage in making intercultural and intergenerational learning experiences for a range of
participants. ZENDEH imaginatively, in a variety of spaces, connects and reaches broad audiences in the
greater north, nationally and internationally.
WONDERINC
A multi-platform production company focused on creating content for learning and development, particularly in
young people.
Together Productions
Together Productions is a new arts production company set up by Nicola Jennings and Holly Jones to enable
more people to participate in and benefit from the arts. We initiate arts projects which bring organisations from
different sectors and art-forms together with non-professional participants, involving these individuals from the
start in setting the creative agenda. Our first project, Oramix, brought together the Science Museum, National
Youth Theatre and City University for a series of site specific performances at the museum in late March and
early April 2011.
Film and Video Umbrella
Film and Video Umbrella commissions, curates and produces film, video and other moving-image works by
artists, which are presented in collaborations with galleries and other cultural institutions. www.fvu.co.uk
Vortex Jazz Club
The Vortex Jazz Club is a leading club for jazz and related music, based in Dalston, with live events every night.
It is currently working on extending its reach beyond live events using digital means, collaborating with musicians
and international partner venues.
Iniva
Iniva situates itself at the intersection of society and politics, working with artists who explore key aspects of the
contemporary world. Through exhibitions, learning, publishing and research we operate as a visual think tank,
particularly supporting diverse artists and voices of difference who discuss the important issues of today.
Arts & Business
We spark new partnerships between commerce and culture. We connect companies and individuals to cultural
organisations and provide the expertise and insight for them to prosper
English PEN
English PEN is the founding centre of a worldwide writers association. We promote the Freedom to Write and the
Freedom to Read.
Artquest
Artquest encourages critical engagement and provides practical support to London's visual artists, working with
practitioners in London throughout their careers.
Heart n Soul
Heart n Soul is one of the UK's leading creative producers, with learning disability culture at its heart. Based in
Lewisham, it works with diverse artists and arts professionals to make outstanding art and change happen.
People United
People United is a creative laboratory. We explore how the arts can inspire kindness and social change. We
commission artists, create imaginative new work, and support new social initiatives and ideas.
The Public Catalogue Foundation
The Public Catalogue Foundation is a registered charity set up to digitise the 200,000 publicly-owned oil
paintings in the United Kingdom. The objective behind this project is to improve access to these paintings, at
least 80% of which are not on show to the public. The primary manifestation of the PCF's work is the Your
Paintings website which will in due course show all 200,000 oil paintings owned by the UK public.
Norfolk and Norwich Arts Festival
Norfolk and Norwich Arts Festival is one of the largest multi-art form international festivals in the UK and attracts
audiences of up to 300,000 people each year.
Axis
Axis is the leading online directory of UK contemporary artists. We give artists a platform that connects them with
people who might want to exhibit, purchase, commission or simply find out about their work. We also run a lively
webzine and many special events. Our selected and curated programmes act as a 'radar' service for anyone
interested in new artistic practice.
Mute Publishing
Mute Publishing combines two practices, editorial publishing on the culture and politics of networked capitalism
secondly we research and produce Open Source infrastructures to support critical publishing for tablets,
ereaders and POD. We are currently supported by the TSB to produce an ePublishing system.
Hackney Empire
Hackney Empire is a special building in a special place. Built in 1901 by Frank Matcham and (fully refurbished
and restored in 2004, it is an extraordinarily atmospheric theatre. A Grade II* listed building, the Empire has
always been a confluence of the arts and popular culture presenting music hall, variety, burlesque, stand-up
comedy, reviews, plays and concerts. Amongst those who have appeared here are names such as Charlie
Chaplin, Max Miller, Marie Lloyd right up to the present day with performances by Leone Lewis, Russell Brand
and many others.
Braunarts
Digital arts and interactive media production.www.braunarts.com
Tiata Fahodzi
Tiata Fahodzi is a British-African theatre company led by Lucian Msamati. Since its foundation in 1997 Tiata
Fahodzi has staged productions of new writing and established classics whilst also providing opportunities for
emerging talent.
motiroti
motiroti's content is migration; its form is art. We work across disciplines, including digital, and put participation at
the heart of our work. http://www.motiroti.com
Petrie Museum UCL
The Petrie Museum of Egyptian Archaeology at UCL has been a leader in using digital technologies to makes its
collection of 80,000 ancient artefacts more accessible to the public. It is currently using various imaging
technologies to create 3D models of objects for an online library. It seeks to maximize the use of these 3D
models by using them in conjunction with gaming or other interactive platforms.
Media Fish Network CIC
Providing broadcast, podcast and network facilities for VCS organisations
Oxford Contemporary Music
Oxford Contemporary Music is an independent promoter, producer and commissioner of events across
Oxfordshire. The organization promotes over thirty live music events every year spanning a wide range of
genres from jazz to classical to electronica to world music and more. As a producer, OCM creates site specific
events in unusual spaces, often cross art form and with non-arts partners. Collaborations have included the
University of Oxford Botanic Garden, Chimney Meadows Nature Reserve and Diamond Light Source. Having
received National Portfolio funding from Arts Council England, OCM plans to increase its producing from 2012.
Orchestra of the Age of Enlightenment
The Orchestra of the Age of Enlightenment is one of the UK's most exciting and innovative musical ensembles.
We combine historically accurate performances with innovative approaches to concert presentation, including
cross-art collaborations, toddlers' concerts, our late-night series The Night Shift, and launching next season a
new initiative, The Works.
The Digital R&D Fund for Arts & Culture:
Digital days – London - July 7, 2011
Delegate list – Technology companies
BOOM Interactive Ltd
BOOM is a digital agency that focus on combining strategy, creativity and technology to create real business
value. We specialise in interactive 3D & video, social media & mobile applications; and interactive mobile
marketing.
Fairpie
Fairpie is an open distribution platform and community for independent documentary producers and viewers.
Producers are given the tools they need to market their films and to build a fanbase, and viewers are given the
opportunity to support and interact with producers they like.
We Love Mobile
We Love Mobile provides strategy, design and built for mobile products. In June 2010, We Love Mobile was
acquired by BD Network, an independent integrated marketing communications agency. Their clients include;
Nintendo, Molson Coors, Coca-Cola, Heinz, Molson Coors and Peugeot. There are over 200 people whom We
Love Mobile can utilise for resources and they have offices in London and Melbourne. In the last six months
alone We Love Mobile have developed the global mobile site for Peugeot, executed over a dozen campaigns for
Coke, developed mobile games for Dr Pepper and developed mobile strategies across the majority of brands in
the Molson Coors portfolio.
Mudlark
Mudlark is a digital production company. They produced Such Tweet Sorrow with the RSC in 2010 and their
oystercard game Chromnaroma is now running in London.
Jaggeree
We're a consultancy that works on the intersection of content, data, people and play. We help people to define
technologies and strategies that take full advantage of the emerging network society. We've been involved in
projects as diverse as Open Access science publishing, video archives of Nobel prize-winners, putting sculpture
on the plinth in Trafalgar Square, social worlds for children, open data platforms for the UK government and The
Guardian and an iPad publishing framework for Art monographs with Artfinder.
OTRAVISTA
London based consultancy services since 2002 in the following areas: access to finance and income generation
via grants from UK and EU programmes, trusts, sponsorship and competitive tendering; international mobility,
partnerships and knowledge exchange; collaboration between business and education; social inclusion, urban
regeneration and social enterprise
Dragon Page Technology
Dragon Page Technology founded on 1st July 2006 and is the first company of its kind in the UK to provide
dedicated technology services to the Chinese community. Our ultimate goal is to help raise the profile of the
Chinese community in the UK, regardless of your country of origin or which sectors you operate in.
Ipercast
We offer end to end solutions for content owners to manage monetise and distribute their content. Our solutions
are aimed to enable Art organisations to promote their work, generate new revenue streams, reach new
audiences and engage with the viewers via social media. We have recently launched Live TV platform for
Camden Theatres group http://www.camdentheatres.com/webtv.php5 and are looking forward to extend this
solution to other art organisations.
Caper
We work with arts, commercial and technology companies to develop strategies, engage audiences and make
interesting digital things. Also, Culture Hack Day founders and national network organisers.
Mongrel X
Mongrel X is a creative digital arts based outreach provider and developer that seeks to engage international and
local diverse communities on a street level. Its aim is to serve the needs of young people in the community
through the provision of digital arts and ICT which are stimulating, youth centred and informative; to build in
opportunities for mentoring and personal support where it is needed and to embed community cohesion into our
practice.
The Reading Agency
Our mission is to inspire more people to read more.
LIVETHEATRE
Providing platforms to theatres worldwide to showcase live performances to be presented on any screen, any
platform, anytime and anywhere.
BD Network
BD Network is an independent, integrated, multi-disciplined communications agency with over 20 years'
experience delivering market-leading campaigns in the UK and across the world. What gets us up in the
morning? Simple: we're passionate about creating world-class ideas, executed beautifully and delivered
flawlessly. And we're looking to make our mark by providing you with the insight driven ideas that set us apart
from everyone else. What makes us different? Our independence allows us to be nimble, entrepreneurial and
honest! We answer directly to clients, not to shareholders. We believe in the power of 'stickythinking,' a
philosophy that places the consumer and / or the shopper at the very heart of our ideas, not a specific discipline.
This enables us to create powerful integrated ideas focused on results, directed by insights and always
consumer-centric. We murder the mediocre. This is BD.
Conjure Ltd
We are a mobile applications software development company.
Hide&Seek
Hide&Seek are one of the most innovative and creative game design studios in the world. Since our inception in
2008 we have amassed a stellar client list, creating award-winning work across all platforms - console,
smartphone, browser, cinema, street. Our work is centred around our belief that play - as a way of being, a
means to creativity and a design tool - is integral to understanding how culture will develop in the 21st century.
MTM London
Research and consultancy
Panlogic Ltd
Digital agency targeting digital philanthropy for the Arts
perfectmotion ltd
perfectmotion is a multi-media production company with offices in Wales, England and Italy. Specialising in
documentaries, drama, radio features and transmedia productions, the company is run by award-winning
producer and director team Rob Alexander and Massimo Garlatti Costa. Both are graduates of the prestigious
EAVE workshop (European Audio Visual Entrepreneurs) in 2009 and Power to The Pixel Transmedia Lab in
2010/2011. Current projects include BOW, a documentary and online resource charting the evolution of the
Violin, supported by MEDIA/FVG, THE BODY MAP, an online interactive documentary exploring the cultural
story of the human body, supported by 4ip/UNltd and GLORY ROAD, following 4 young boxers on a 4 year
journey to qualify for the 2012 Olympics, directed by Loaded creative director Steve Read. Rob Alexander is also
content producer for Docs360, a development programme for filmmakers who want to use cross-platform
strategies to develop, finance, market and distribute their films. The programme is backed by Skillset's Film Skills
Fund, digital marketing agency Channel D and leading UK distributor Dogwoof, and run by Initialize Films and
the Digital Filmmakers' Network.
Somewhat
Somewhat is a creative agency specialising in emerging digital channels of mobile, social and interactive outdoor
media.
Traffic Digital
Traffic are a digital agency specialising in experience and engagement for entertainment and media.