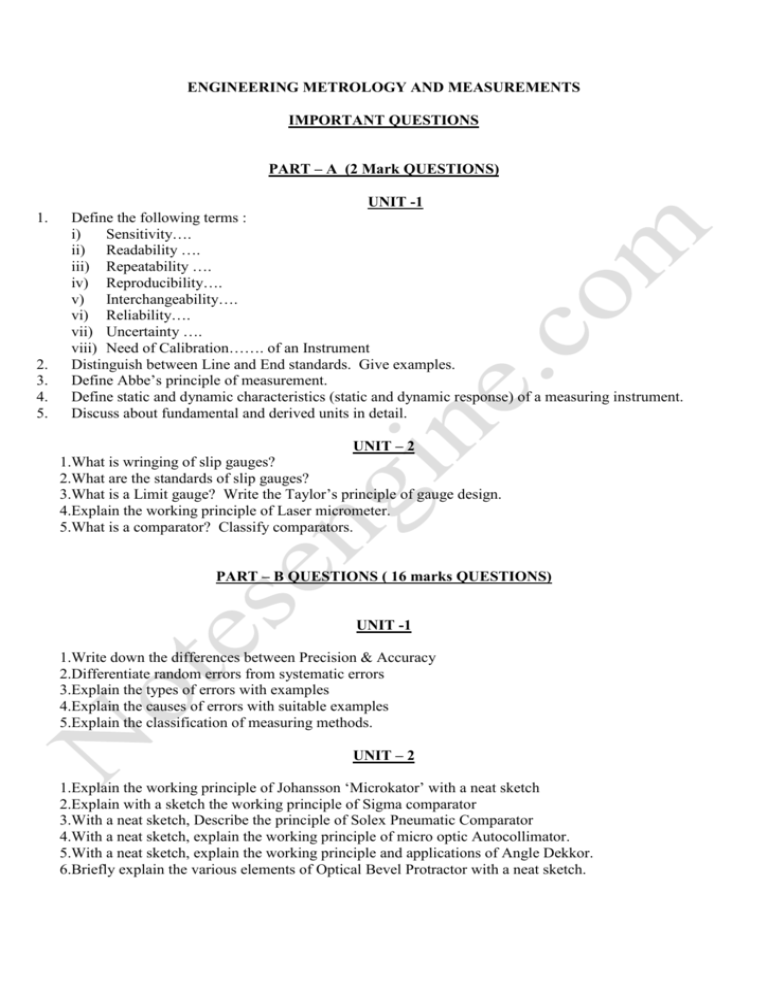 ENGINEERING METROLOGY AND MEASUREMENTS
IMPORTANT QUESTIONS
PART – A (2 Mark QUESTIONS)
UNIT -1
1.
2.
3.
4.
5.
Define the following terms :
i)
Sensitivity….
ii) Readability ….
iii) Repeatability ….
iv) Reproducibility….
v) Interchangeability….
vi) Reliability….
vii) Uncertainty ….
viii) Need of Calibration……. of an Instrument
Distinguish between Line and End standards. Give examples.
Define Abbe's principle of measurement.
Define static and dynamic characteristics (static and dynamic response) of a measuring instrument.
Discuss about fundamental and derived units in detail.
UNIT – 2
1.What is wringing of slip gauges?
2.What are the standards of slip gauges?
3.What is a Limit gauge? Write the Taylor's principle of gauge design.
4.Explain the working principle of Laser micrometer.
5.What is a comparator? Classify comparators.
PART – B QUESTIONS ( 16 marks QUESTIONS)
UNIT -1
1.Write down the differences between Precision & Accuracy
2.Differentiate random errors from systematic errors
3.Explain the types of errors with examples
4.Explain the causes of errors with suitable examples
5.Explain the classification of measuring methods.
UNIT – 2
1.Explain the working principle of Johansson 'Microkator' with a neat sketch
2.Explain with a sketch the working principle of Sigma comparator
3.With a neat sketch, Describe the principle of Solex Pneumatic Comparator
4.With a neat sketch, explain the working principle of micro optic Autocollimator.
5.With a neat sketch, explain the working principle and applications of Angle Dekkor.
6.Briefly explain the various elements of Optical Bevel Protractor with a neat sketch.