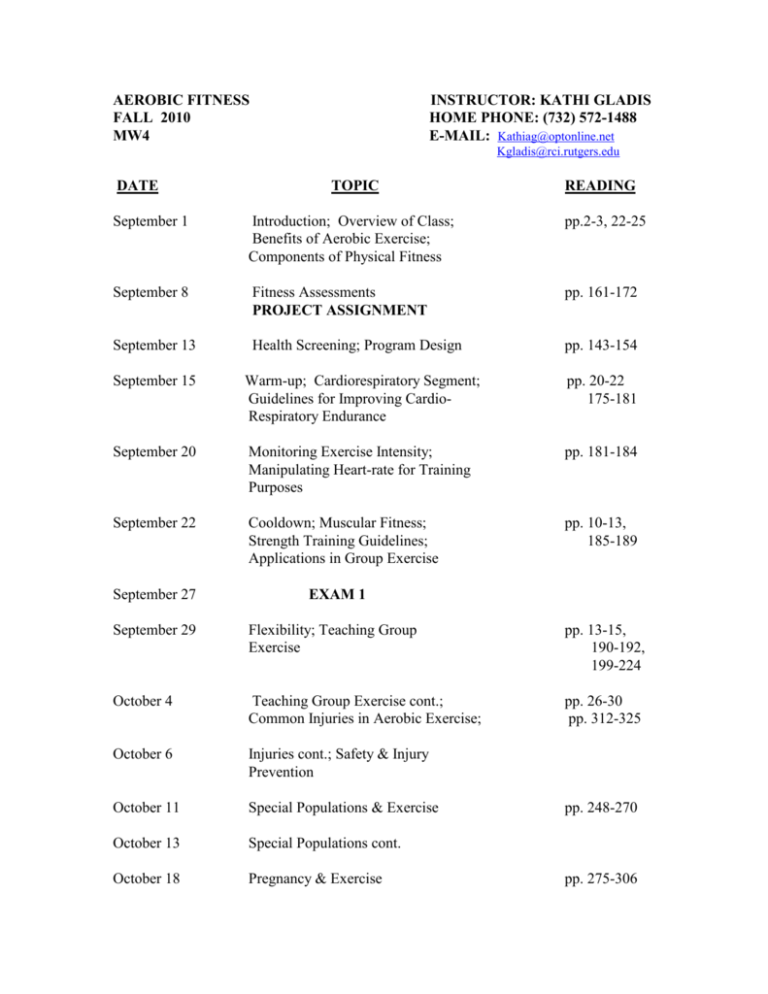 AEROBIC FITNESS
FALL 2010
MW4
INSTRUCTOR: KATHI GLADIS
HOME PHONE: (732) 572-1488
E-MAIL: Kathiag@optonline.net
Kgladis@rci.rutgers.edu
DATE
TOPIC
READING
September 1
Introduction; Overview of Class;
Benefits of Aerobic Exercise;
Components of Physical Fitness
pp.2-3, 22-25
September 8
Fitness Assessments
PROJECT ASSIGNMENT
pp. 161-172
September 13
Health Screening; Program Design
pp. 143-154
September 15
Warm-up; Cardiorespiratory Segment;
Guidelines for Improving CardioRespiratory Endurance
pp. 20-22
175-181
September 20
Monitoring Exercise Intensity;
Manipulating Heart-rate for Training
Purposes
pp. 181-184
September 22
Cooldown; Muscular Fitness;
Strength Training Guidelines;
Applications in Group Exercise
pp. 10-13,
185-189
September 27
EXAM 1
September 29
Flexibility; Teaching Group
Exercise
pp. 13-15,
190-192,
199-224
October 4
Teaching Group Exercise cont.;
Common Injuries in Aerobic Exercise;
pp. 26-30
pp. 312-325
October 6
Injuries cont.; Safety & Injury
Prevention
October 11
Special Populations & Exercise
October 13
Special Populations cont.
October 18
Pregnancy & Exercise
pp. 248-270
pp. 275-306
October 20
EXAM 2
PROJECT DUE
Grading
Exam 1
25%
Exam 2*
25%
Independent
Project
25%
Class
Participation 25%
Textbook: Required- ACE Group Fitness Instructor Manual, 2nd Edition
Recommended if interested in certification exam- Master the ManualStudy Guide
Textbook available at bookstore or at www.acefitness.org. To receive a 20% discount at this
website, use the promo code NIRSA04.
In conjunction with this course, information will be provided on ACE certification
exams. If you are interested in becoming certified as a Group Exercise Instructor, a
Personal Trainer or a Lifestyle & Weight Management Consultant, see me for more
details. We receive a discount on all study materials & on the exam itself. You must be
CPR & AED certified to sit for the exam.
I will be available before or after class, by appointment.
I will be happy to provide notes missed due to a medical or religious absence, provided
you notify me prior to class that you will be unable to attend.
Please come to class dressed comfortably in non-restricting clothes and sneakers, as we
will be exercising in most classes. The exercise portion of the class is required and
considered class participation. Students leaving early without an excuse will lose points
in their class participation grade.
It is your responsibility to read & abide by the university's Policy on Academic Integrity
for Undergraduate and Graduate Students. This policy can be found online at
http://cat.rutgers.edu/integrity/policy.html.