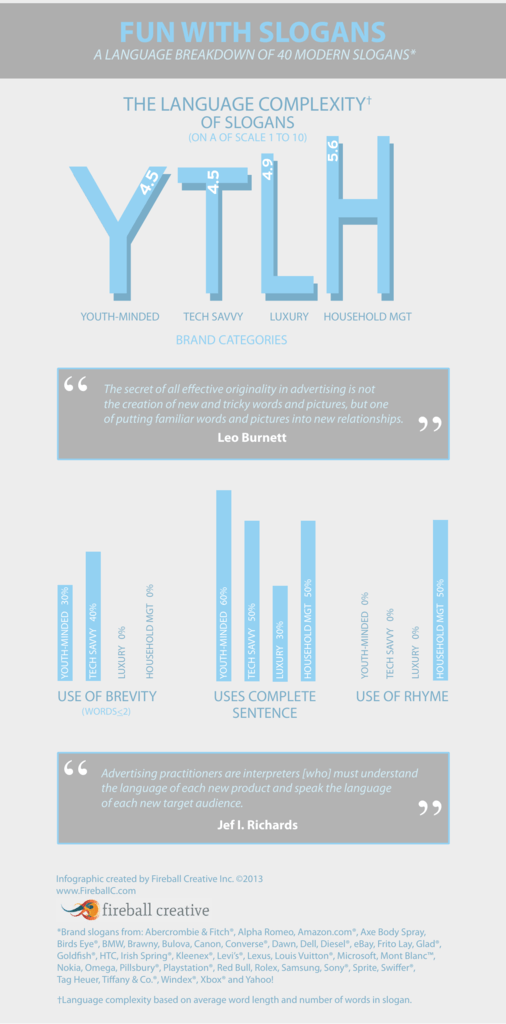 FUN WITH SLOGANS
A LANGUAGE BREAKDOWN OF 40 MODERN SLOGANS*
THE LANGUAGE COMPLEXITY†
YOUTH-MINDED
4.9
4.5
4.5
(ON A OF SCALE 1 TO 10)
TECH SAVVY
LUXURY
5.6
OF SLOGANS
HOUSEHOLD MGT
BRAND CATEGORIES
"
USE OF BREVITY
(WORDS<2)
"
USES COMPLETE
SENTENCE
LUXURY 0%
TECH SAVVY 0%
YOUTH-MINDED 0%
HOUSEHOLD MGT 50%
LUXURY 30%
TECH SAVVY 50%
YOUTH-MINDED 60%
HOUSEHOLD MGT 0%
LUXURY 0%
TECH SAVVY 40%
YOUTH-MINDED 30%
Leo Burnett
HOUSEHOLD MGT 50%
"
The secret of all effective originality in advertising is not
the creation of new and tricky words and pictures, but one
of putting familiar words and pictures into new relationships.
USE OF RHYME
Advertising practitioners are interpreters [who] must understand
the language of each new product and speak the language
of each new target audience.
Jef I. Richards
"
Infographic created by Fireball Creative Inc. ©2013
www.FireballC.com
*Brand slogans from: Abercrombie & Fitch®, Alpha Romeo, Amazon.com®, Axe Body Spray,
Birds Eye®, BMW, Brawny, Bulova, Canon, Converse®, Dawn, Dell, Diesel®, eBay, Frito Lay, Glad®,
Goldfish®, HTC, Irish Spring®, Kleenex®, Levi's®, Lexus, Louis Vuitton®, Microsoft, Mont Blanc™,
Nokia, Omega, Pillsbury®, Playstation®, Red Bull, Rolex, Samsung, Sony®, Sprite, Swiffer®,
Tag Heuer, Tiffany & Co.®, Windex®, Xbox® and Yahoo!
†Language complexity based on average word length and number of words in slogan.