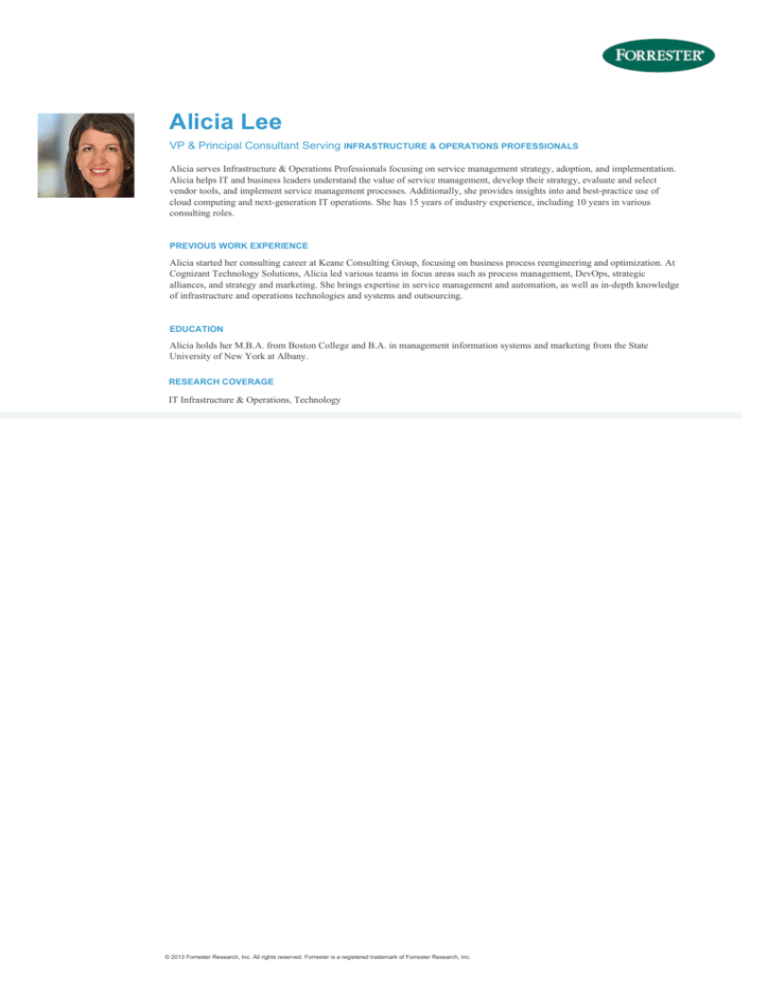 Alicia Lee
VP & Principal Consultant Serving INFRASTRUCTURE & OPERATIONS PROFESSIONALS
Alicia serves Infrastructure & Operations Professionals focusing on service management strategy, adoption, and implementation.
Alicia helps IT and business leaders understand the value of service management, develop their strategy, evaluate and select
vendor tools, and implement service management processes. Additionally, she provides insights into and best-practice use of
cloud computing and next-generation IT operations. She has 15 years of industry experience, including 10 years in various
consulting roles.
PREVIOUS WORK EXPERIENCE
Alicia started her consulting career at Keane Consulting Group, focusing on business process reengineering and optimization. At
Cognizant Technology Solutions, Alicia led various teams in focus areas such as process management, DevOps, strategic
alliances, and strategy and marketing. She brings expertise in service management and automation, as well as in-depth knowledge
of infrastructure and operations technologies and systems and outsourcing.
EDUCATION
Alicia holds her M.B.A. from Boston College and B.A. in management information systems and marketing from the State
University of New York at Albany.
RESEARCH COVERAGE
IT Infrastructure & Operations, Technology
© 2013 Forrester Research, Inc. All rights reserved. Forrester is a registered trademark of Forrester Research, Inc.