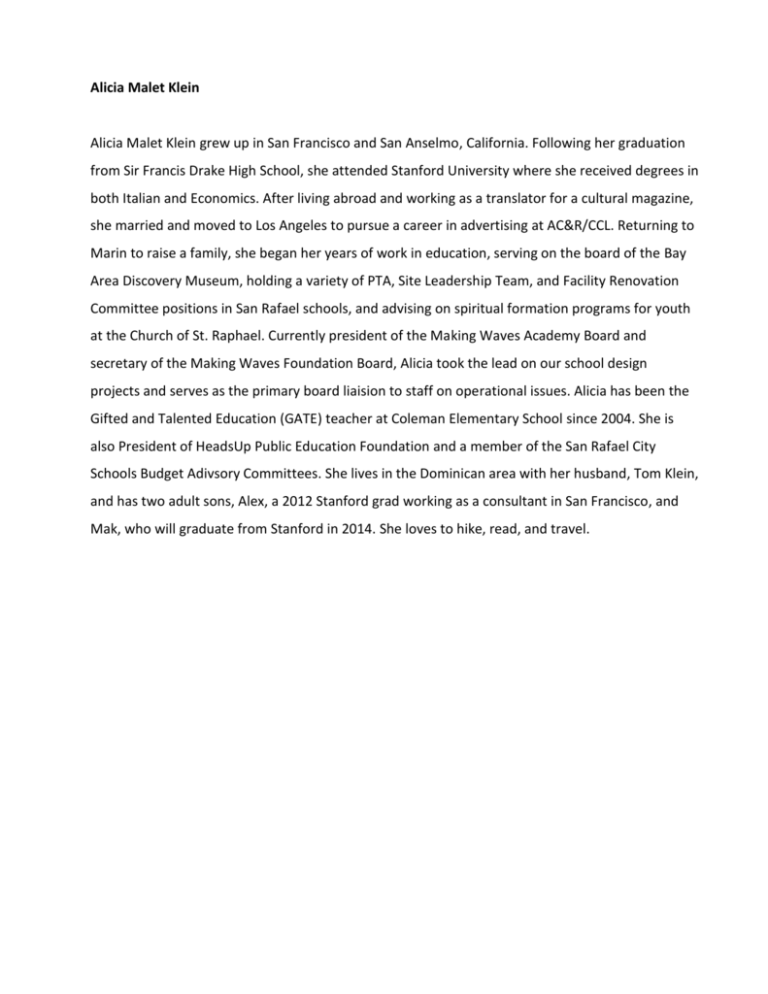 Alicia Malet Klein
Alicia Malet Klein grew up in San Francisco and San Anselmo, California. Following her graduation
from Sir Francis Drake High School, she attended Stanford University where she received degrees in
both Italian and Economics. After living abroad and working as a translator for a cultural magazine,
she married and moved to Los Angeles to pursue a career in advertising at AC&R/CCL. Returning to
Marin to raise a family, she began her years of work in education, serving on the board of the Bay
Area Discovery Museum, holding a variety of PTA, Site Leadership Team, and Facility Renovation
Committee positions in San Rafael schools, and advising on spiritual formation programs for youth
at the Church of St. Raphael. Currently president of the Making Waves Academy Board and
secretary of the Making Waves Foundation Board, Alicia took the lead on our school design
projects and serves as the primary board liaision to staff on operational issues. Alicia has been the
Gifted and Talented Education (GATE) teacher at Coleman Elementary School since 2004. She is
also President of HeadsUp Public Education Foundation and a member of the San Rafael City
Schools Budget Adivsory Committees. She lives in the Dominican area with her husband, Tom Klein,
and has two adult sons, Alex, a 2012 Stanford grad working as a consultant in San Francisco, and
Mak, who will graduate from Stanford in 2014. She loves to hike, read, and travel.