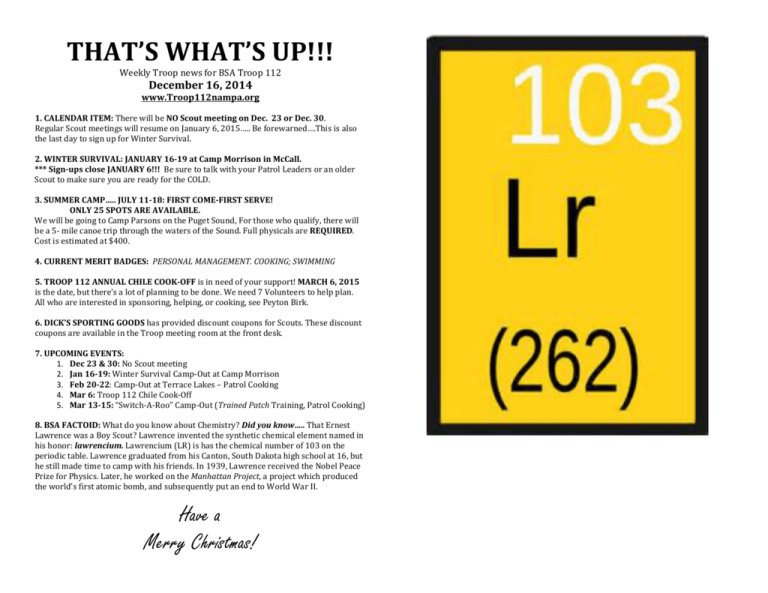 THAT'S WHAT'S UP!!!
Weekly Troop news for BSA Troop 112
December 16, 2014
www.Troop112nampa.org
1. CALENDAR ITEM: There will be NO Scout meeting on Dec. 23 or Dec. 30.
Regular Scout meetings will resume on January 6, 2015….. Be forewarned….This is also
the last day to sign up for Winter Survival.
2. WINTER SURVIVAL: JANUARY 16-19 at Camp Morrison in McCall.
*** Sign-ups close JANUARY 6!!! Be sure to talk with your Patrol Leaders or an older
Scout to make sure you are ready for the COLD.
3. SUMMER CAMP….. JULY 11-18: FIRST COME-FIRST SERVE!
ONLY 25 SPOTS ARE AVAILABLE.
We will be going to Camp Parsons on the Puget Sound, For those who qualify, there will
be a 5- mile canoe trip through the waters of the Sound. Full physicals are REQUIRED.
Cost is estimated at $400.
4. CURRENT MERIT BADGES: PERSONAL MANAGEMENT. COOKING; SWIMMING
5. TROOP 112 ANNUAL CHILE COOK-OFF is in need of your support! MARCH 6, 2015
is the date, but there's a lot of planning to be done. We need 7 Volunteers to help plan.
All who are interested in sponsoring, helping, or cooking, see Peyton Birk.
6. DICK'S SPORTING GOODS has provided discount coupons for Scouts. These discount
coupons are available in the Troop meeting room at the front desk.
7. UPCOMING EVENTS:
1. Dec 23 & 30: No Scout meeting
2. Jan 16-19: Winter Survival Camp-Out at Camp Morrison
3. Feb 20-22: Camp-Out at Terrace Lakes – Patrol Cooking
4. Mar 6: Troop 112 Chile Cook-Off
5. Mar 13-15: "Switch-A-Roo" Camp-Out (Trained Patch Training, Patrol Cooking)
8. BSA FACTOID: What do you know about Chemistry? Did you know….. That Ernest
Lawrence was a Boy Scout? Lawrence invented the synthetic chemical element named in
his honor: lawrencium. Lawrencium (LR) is has the chemical number of 103 on the
periodic table. Lawrence graduated from his Canton, South Dakota high school at 16, but
he still made time to camp with his friends. In 1939, Lawrence received the Nobel Peace
Prize for Physics. Later, he worked on the Manhattan Project, a project which produced
the world's first atomic bomb, and subsequently put an end to World War II.
Have a
Merry Christmas!