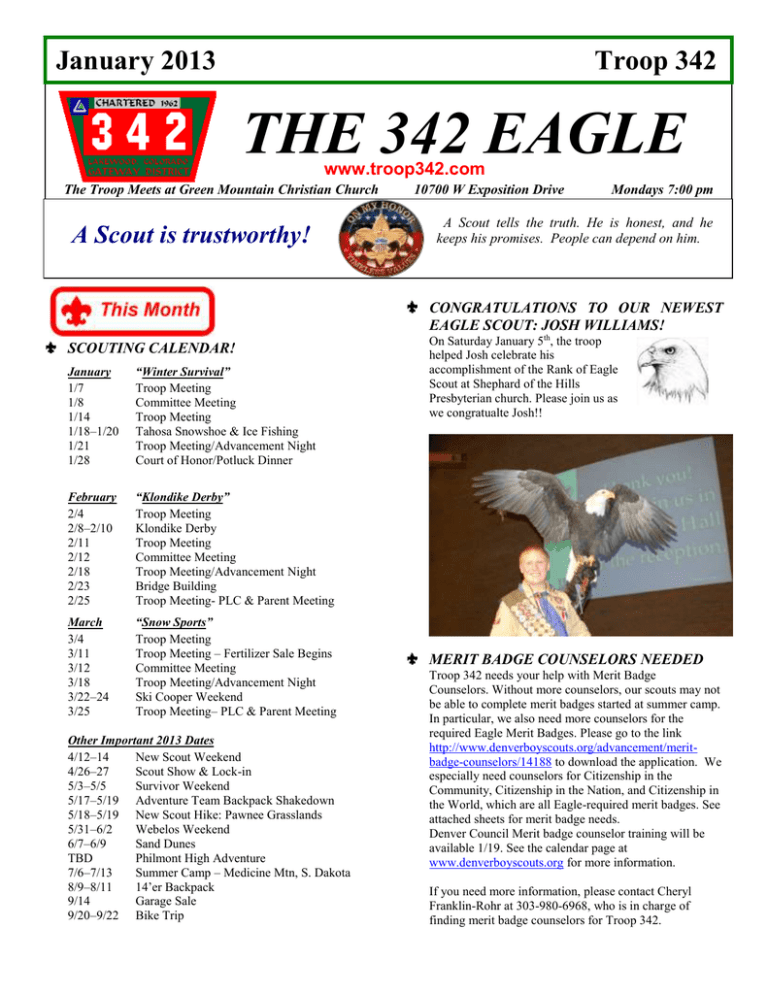 January 2013
Troop 342
THE 342 EAGLE
www.troop342.com
The Troop Meets at Green Mountain Christian Church
A Scout is trustworthy!
10700 W Exposition Drive
Mondays 7:00 pm
A Scout tells the truth. He is honest, and he
keeps his promises. People can depend on him.
CONGRATULATIONS TO OUR NEWEST
EAGLE SCOUT: JOSH WILLIAMS!
SCOUTING CALENDAR!
January
1/7
1/8
1/14
1/18–1/20
1/21
1/28
"Winter Survival"
Troop Meeting
Committee Meeting
Troop Meeting
Tahosa Snowshoe & Ice Fishing
Troop Meeting/Advancement Night
Court of Honor/Potluck Dinner
February
2/4
2/8–2/10
2/11
2/12
2/18
2/23
2/25
"Klondike Derby"
Troop Meeting
Klondike Derby
Troop Meeting
Committee Meeting
Troop Meeting/Advancement Night
Bridge Building
Troop Meeting- PLC & Parent Meeting
March
3/4
3/11
3/12
3/18
3/22–24
3/25
"Snow Sports"
Troop Meeting
Troop Meeting – Fertilizer Sale Begins
Committee Meeting
Troop Meeting/Advancement Night
Ski Cooper Weekend
Troop Meeting– PLC & Parent Meeting
Other Important 2013 Dates
4/12–14
New Scout Weekend
4/26–27
Scout Show & Lock-in
5/3–5/5
Survivor Weekend
5/17–5/19 Adventure Team Backpack Shakedown
5/18–5/19 New Scout Hike: Pawnee Grasslands
5/31–6/2
Webelos Weekend
6/7–6/9
Sand Dunes
TBD
Philmont High Adventure
7/6–7/13
Summer Camp – Medicine Mtn, S. Dakota
8/9–8/11
14'er Backpack
9/14
Garage Sale
9/20–9/22 Bike Trip
On Saturday January 5th, the troop
helped Josh celebrate his
accomplishment of the Rank of Eagle
Scout at Shephard of the Hills
Presbyterian church. Please join us as
we congratualte Josh!!
MERIT BADGE COUNSELORS NEEDED
Troop 342 needs your help with Merit Badge
Counselors. Without more counselors, our scouts may not
be able to complete merit badges started at summer camp.
In particular, we also need more counselors for the
required Eagle Merit Badges. Please go to the link
http://www.denverboyscouts.org/advancement/meritbadge-counselors/14188 to download the application. We
especially need counselors for Citizenship in the
Community, Citizenship in the Nation, and Citizenship in
the World, which are all Eagle-required merit badges. See
attached sheets for merit badge needs.
Denver Council Merit badge counselor training will be
available 1/19. See the calendar page at
www.denverboyscouts.org for more information.
If you need more information, please contact Cheryl
Franklin-Rohr at 303-980-6968, who is in charge of
finding merit badge counselors for Troop 342.
CAMP TAHOSA – 1/18-20!
In preparation for February's Klondike outing, all
scouts are encouraged to participate in the fun-filled
Tahosa camping trip on January 18–20. This trip will
give the scouts an excellent opportunity to hone those
winter camping skills, to enjoy some serious
snowshoeing & ice fishing and to test their gear before
Klondike in early February. All permission slips and
fees must be turned in by the January 14th troop
meeting.
and dedication to reestablish our kingdom. The
Troop needs every scout to provide Troop 342
excitement, enthusiasm, and talents to meet our goal.
Not to mention wearing really cool hats! Plan ahead!
Also start thinking about when you need to get that
permission slip in for this years' Gateway District
Klondike adventure, scheduled for the weekend of
February 8-10. Those permission slips must be in
by February 4th.
BRIDGE BUILDING – FEBRUARY 23!
COURT OF HONOR – 1/28!
Black Dragons Patrol will be hosting the Court of
Honor on January 28th to honor our scouts'
achievements. All are welcome to enjoy and observe
the activity. Families are requested to bring a main
dish and either a side or dessert to feed their family
plus two more people. Don't forget your flatware and
paper products too.
Scouts should plan to arrive at 6:00. The dinner
will begin at 6:30 and awards at 7:00.
Membership Dues are Due. This special evening also
provides an opportunity for scouts, registered adults
and new adults to complete their 2013 annual
membership registration and dues. (Returning scouts $35; new scouts - $45; adults - $15). Remember,
Scouts may fill out a "pink" form to pay fees out of
their account. Cash and checks are also accepted.
Come prepared to turn in your paperwork and dues to
either Mr. or Mrs. Schuyler. All scouts will also
receive a statement of their scout account from Mrs.
Schuyler.
Mr. Cameron and Mr. Johnson will once again
provide adult leadership to this annual activity of
fun, learning, and a really cool final event. Keep
listening for more details upcoming and don't feel
bashful about asking questions of other scouts who
have attended. This is a great service-project
opportunity for advancement requirements.
FERTILIZER SALE COMING SOON!
Another opportunity to fundraise for upcoming trips
is beginning March 11th. Contact Mr. Schuyler for
more information.
2013 SUMMER CAMP – JULY 6 -13!
The holidays are now over and so that means
summer will be here before we know it. Summer
camp last year was an adventure but much calmer
than Hurricane Dietler the year before. The Scout
leadership team and their adult assistants' team of
Mr. Schuyler, Mr. Cameron, and Mr. Mauldin are
getting ready for this year's trip to Medicine
Mountain, South Dakota.
The Troop will support various opportunities for
Scouts to earn the fees for summer camp and
encourages all Scouts to earn at least half of the
camp fee.
Plan your merit badges now and be prepared to have
a super summer experience!
KLONDIKE 2/8-10!
LET'S RISE TO THE TOP AND REGAIN
"KING OF KLONDIKE" IN 2013! Last year, the
Tebow spirits were against us. This year's Klondike
has created a unique opportunity for Troop 342 to
demonstrate the strong willingness, determination,
MR. D'S CABIN ADVENTURE!
The cabin trip was great. It was snowing when we
got there but not enough snow to open the ski area
at the Grand Lake Golf Course. It opened on the
following Monday. Instead of cross-country skiing,
we took a hike to Adams Falls and beyond into
Rocky Mountain National Park. It was snowing
lightly and the country-side was beautiful. There
was lots of sledding, multiple games of Risk, root
beer, and good food. We had to get cozy on the
return to Lakewood because Mr. Pocsik's truck
decided to be stubborn and not start. The good
news is his truck is now fixed and ready for the next
trip.
You should have received a "save the date" card and
Eagle Scouts have been reminded of the event in
congratulatory letters from the Council Executive. I
encourage you and your Eagle Scouts to attend as they
celebrate 100 years of Eagle Scouts.
SCOUT ACCOUNTS!
As a reminder, the portion of Troop 342 fundraisers
that is designated for the scout's use is placed in the
Scout's Account within the Troop General
Fund. These funds can only be used for Scout
related activities and equipment. For more detailed
information please refer to the "FEES, DUES AND
FINANCES" section of the TROOP 342 POLICY
BOOK. If the scout leaves the troop to join another
troop the funds can be transferred to the other
troop. If the scout terminates their membership, he
will forfeit all funds in the Scout Account to be used
for Troop 342 expenses.
ADULT TRAINING!
Hiking near Mr. D's cabin!!
NEED AN EAGLE PROJECT IDEA?
We are over the hump! Summer will be here before you
know it. We all know that there are some Life Scouts who
secretly want to advance to the ultimate goal of Eagle
Scout, but can't quite come up with that perfect project.
Mr. Dendinger has a list of opportunities for Eagle
Projects available. These projects can include providing
amenities for schools, churches, city and county parks,
nonprofit organizations, recreation districts, etc. The sky
is just about the limit. OK, there are a few rules that must
be met. Go to www.denverboyscouts.org to check out the
description and requirements of the eagle project.
Here's a little more information concerning required
training for every registered adult actively
participating within the troop. Whether it be
Scoutmaster, assistant scoutmaster, committee
member, merit badge counselor, driver, etc. this
training is necessary. Most is available online. At
least for the committee members, the following is
required: "This is Scouting", "WEB Boy Scout
Leader Fast Start", "Youth Protection" and "WEB
Troop Committee Challenge". See Mr. D. for
additional details and other required training.
COMMITTEE MONTHLY MEETINGS!
Ever wondered how Troop 342 works behind the scene?
Join us on the 2nd Tuesday of every month, at the Church
(enter front door) at 7 pm, to learn information on
upcoming events, past events, planning, financial issues,
fundraisers, quartermaster duties, advancement, and
anything you have wanted to know about Troop 342 but
didn't know who to ask! For more information contact
Mr. Dendinger, (committee chair) or Mr. Garin.
2013 EAGLE SCOUT BANQUET!
A special note from James E. Blair - Chair Denver Eagle
Scout Association and Council Commissioner, The
annual Eagle Scout Banquet honoring the Eagle Scout
Class of 2012 will be held on Friday, February 22, 2013.
WHAT'S GOING ON?
HELP publish the individual accomplishments of
our talented young men in the newsletter. Send
pictures and tell me what's going on via e-mail
(stephanie.sodia@i2controls.com).
Items can be scouting or nonscouting related.
If you are creative and would like a chance at doing
a newsletter or two, send me an e-mail.