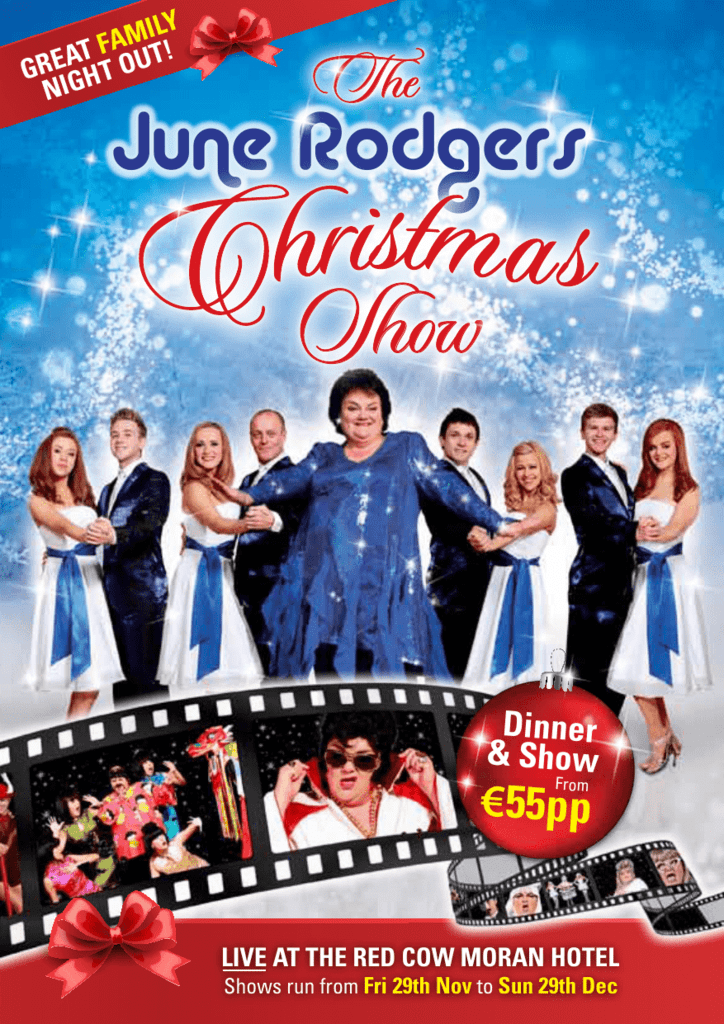 MILY
A
F
T!
AT
GRE GHT OU
NI
The
June Rodgers
Show
Dinner
& Show
€55pp
From
LIVE AT THE RED COW MORAN HOTEL
Shows run from Fri 29th Nov to Sun 29th Dec
June Rodgers
15 Nights
MID WEEK
SHOWS
at The Red Cow Moran Hotel!
• Fri 29th Nov
• Sat 30th Nov
• Wed 4th Dec
• Thurs 5th Dec
• Fri 6th Dec
• Sat 7th Dec
• Wed 11th Dec
• Thurs 12th Dec
Long established as one of Ireland's top comic performers, June
Rodgers has regularly appeared on television, in films and in the full
range of stage productions from musical theatre to pantomime. Born
in Tallaght, Co. Dublin, when it was still a sleepy rural village, June
attended St Patrick's Grammar School in Dublin.
€55
• Sun 15th Dec
• Wed 18th Dec
• Thurs 19th Dec
• Fri 20th Dec
• Fri 27th Dec
• Sat 28th Dec
• Sun 29th Dec
FRI / SAT
SHOWS
€65
As a cabaret artist June has starred in her own show for a number of highly successful seasons
at The Red Cow Moran Hotel and The Silver Springs Moran Hotel and is delighted to be making a
welcome return this Christmas with a brand new show. She has extensively toured the U.S. and
has featured her range of crazy characters in a number of live and studio CD recordings and on
DVD.
S
RISTMA
POST CH L RATES
SPECIA
€59.50
Group
Booking
Discounts
Available!
Since first coming to prominence in John Player Tops, June has
become a household name and a great favourite of young and old
alike. Film work includes appearing alongside Angelica Houston in
Agnes Browne, On the Nose with Robbie Coletraine and One Step
Back starring Patrick Bergin and Brendan O'Carroll. Her television work includes a
guest appearance in the 2009 series of the RTE medical drama The Clinic. June also hosted a radio
programme on the history of variety theatre on the RTE radio documentary series Different
Stages. She has also appeared many times on The Late Late Show, and has even been brave
enough to be a guest of Podge and Rodge! More recently she has become a regular guest on Joe
Duffy's "Funny Fridays" on RTE One's Liveline programme.
Her DVD "Whatever!", with guest appearances by Derek Mooney, on whose show June is a
regular contributor, Senator David Norris and celebrity gardener Dermot O'Neill, was a top seller
over Christmas 2008 and featured prominently in the Irish charts.
The theatre stage is, however, June's first love. She took a leading role for six successive seasons
in Ireland's premier pantomime at The Gaiety Theatre and in recent years moved to The Olympia
Theatre in the production of Cinders and Jack and the Beanstalk. She gave a hilarious
performance in the stage musical version of The Full Monty at The Olympia Theatre and on tour,
and played the part of Edith in the Pirates of Penzance at the Helix.
Show & Stay
Packages
€89pps
From
She made a guest appearance in The Hallelujah Chorus at The Point, and has made many
appearances with The Billie Barry Stage School at The Gaiety Theatre.
June lives in a beautiful old stone cottage in Firhouse with her husband Peter Lane and their three
dogs. To relax, she greatly enjoys gardening and walking the dogs.
June's brand new DVD The Name is Bond, Oliver Bond will be available this Christmas or online
at junerodgers.ie
June is delighted to be working with such a talented team for this year's show and hope's you all
enjoy the show, if not, WHATEVER!!!
The June Rodgers Christmas Show Booking Office: 01 459 3650
Book Online: www.redcowmoranhotel.com/tickets
E: [email protected]
JuneChristmas
Rodgers
Show
2013
The
After the phenomenal success of last year, this years' show will not
disappoint. Come along to the Red Cow Moran Hotel for an evening of great
fun, food and entertainment. This years show will include some great music
from the 80's including Wham, Michael Jackson, Tina Turner and Cher as you
have never seen them before! June will be revealing some fantastic new
characters to keep you laughing in the isles as well as the welcome return of some
of her funniest characters including Oliver Bond.
Join June and her wonderful cast as they bring you through the roaring twenties,
thirties and forties with music from Fred Astaire, The Rat Pack to Marilyn Monroe all
served with June's usual comedic flair. This year June will be celebrating all things Irish
with music, song and lots of Craic with a tribute to The Gathering and what June
Rodgers show would be complete without Jacinta O'Brien showing face. Join us this
festive season for a night to remember.
Cast: Dez Allen, Leah Moran, David Whelan, Lea Carroll, Johnny Ward,
Aisling Breen, Daryl Phillips, Sarah Harris.
Production Team:
Scriptwriter: Martin Higgins
Creative Director & Choreographer: Ciaran Connolly
Dance Captain: Lea Carroll
Costume Designers: Bert O'Brien, Kathy Kavanagh, Nina Bandukova
Musical Director: Andy O'Callaghan
Assistant Producer: Brenda Brooks
Back Stage Assistant: Noeleen Newman
Hair and Make-Up Design: Jennie Readman
Sound Designer: Terry Heron
Lighting Design: Colm Eaton
Stage Manager: David Houghton
Photography: Paul Timon
The Voice of Enda Kenny: Frank Forde
Produced and Directed by: June Rodgers
The June Rodgers Christmas Show Booking Office: 01 459 3650
The
Perfect
Christmas
Gift
Show
& Stay
Package
From
€89
Book Online: www.redcowmoranhotel.com/tickets
E: [email protected]
Also at
The Red Cow Complex:
As the flagship of the four star Moran Hotel Group, the Red Cow
Moran Hotel has led by example in providing guests with the
warmest of welcomes and an unrivalled level of service 24 hours
a day. An impressive lobby with dramatic sweeping staircase,
marble floors and Murano glass chandelier offers the perfect
introduction to a hotel full of character and distinction.
• Strategic location at the Red Cow Intersection, gateway to
the provinces
• 123 oversized executive en-suite bedrooms
• Choice of restaurants and bars
• State of the art conference facilities for up to 700 delegates
• Opulent ballroom
Available for Christmas and year
round lunch & dinner parties
DUBLIN'S BEST KEPT SECRET
Red Cow Moran Hotel, Naas Rd, Dublin 22.
Tel: +353 (0)1 459 3650 Fax: +353 (0)1 459 1588
E: [email protected] W: www.redcowmoranhotel.ie
Show & Stay
Package
from
just
€89
per person
sharing
This amazing value package includes:
Dinner & Show, Accommodation
& Full Irish Breakfast
Terms & Conditions apply & prices will vary depending on the date.
To Book Call (01) 4593650 & Quote "June Rodgers Show & Stay"
or book online at www.redcowmoranhotel.com
The June Rodgers Christmas Show Booking Office: 01 459 3650
Book Online: www.redcowmoranhotel.com/tickets
E: [email protected]
Andy O'Callaghan - Musical Director
Andy O'Callaghan has been working in the forefront of the Irish music
industry for the last 35 years. He has been musical director for many
RTE productions including Sunday Night at The Olympia, Off the Record,
She's Got It, The Gay Byrne Music Show, Shades of Red, Jacinta, Colm
Wilkinson, amongst many others!
In the nineties, Andy was a director of Comet Productions, producers of
The Gaiety pantomime for five years. He also worked as musical supervisor
on Riverdance the show from 1997 to 2001.
Andy was musical director for the opening ceremony of the Special Olympics in
2003, and last year was musical director at the Convention Centre Dublin for the
Gala Concert for Queen Elizabeth. This is his ninth season with June at The Red Cow
Moran Hotel – it's obviously becoming a bit of a habit! This is his 10th season working
with June at The Red Cow Moran Hotel.
Brenda Brooks - Assistant Producer
Brenda is best known for playing Olga in the RTE television series Fair City.
Numerous other television credits include playing Aisling in the RTE series
Different Dreams and the role of Nurse Jenkins in George Gently with Martin
Shaw on BBC1.
Brenda's musical career covers a broad range of parts in theatres nationwide
including Nellie Forbush in South Pacific at The Gaiety Theatre, the Baroness
in The Sound of Music at The Cork Opera House and 42nd Street at The
Gaiety Theatre, to name but a few.
Brenda created the role of Molly in the musical The Ha'penny Bridge at The Cork Opera House
and the role of Bridget Foley in The Wiremen for River Productions at The Gaiety Theatre.
She has toured Europe with productions of Riverdance and Magical Rhythms of Ireland.
Brenda has previously performed as special guest in three of June's Christmas shows
and she is delighted to be back working with June again.
Ciaran Connolly - Creative Director/Choreographer
Dublin born Ciaran started his illustrious career at the Billie Barry Stage School and
has since gone on to become one of the busiest dancers and choreographers in
the business. Ciaran has toured with Take That, Robbie Williams, Sir Cliff Richard,
Katherine Jenkins, Ballerina legend Darcey Bussell, The Nolan Sisters and Daniel
O' Donnell. He has also danced for Cheryl Cole, Emma Bunton, Boyzone, Annie
Lennox, Pet Shop Boys, One Direction, Atomic Kitten, Peter Kay, Girls Aloud,
Lulu, Pixie Lott, Michael Buble and Meat Loaf to name but a few! Television
credits include The Royal Variety Performance, The X Factor, The Voice of
Ireland, The Voice UK, The Eurovision Song Contest 2010, Alan Carr, The
Brit Awards, Top of the Pops and Pop Star to Opera Star. More recently Ciaran appeared in the
Queens Jubilee Concert at Buckingham Palace. Ciaran worked on the closing ceremonies for
the Olympics and Paralympics as an Assistant Dance Captain. He also featured as a dancer on
the Katherine Jenkins Christmas Special on ITV. Ciaran has toured UK and Ireland with the Big
Reunion. Ciaran's modelling credits include Topshop, Ted Baker, Adidas,Nike,Next, H&M and
L'Oreal. Ciaran choreographed the Cork Opera House Pantomime and is delighted to be back
for what will be his fourth year with the June Rodgers Show. More recently Ciaran worked as
Movement Director and Choreographer for the Women of Ireland Japanese Tour 2013.
Martin Higgins - Scriptwriter
Martin has been a professional comedy writer for twenty years, and first
came to prominence as a comedy writer/director in the John Player Tops
variety competition.
It was during this time that Martin met June Rodgers, who was just starting
out on her professional career. It was the beginning of long collaboration
that continues to this day, with Martin currently writing all of June's
original material.
Something of a veteran of pantomime writing at this stage, Martin has scripted
Dublin's Gaiety Theatre pantomime for ten years. He has also scripted the
pantomime for the Everyman Palace Theatre in Cork for the past four
seasons, including this year's Beauty and the Beast and Little Red
Riding Hood. Martin is delighted to be working with June again on
this years show.
The June Rodgers Christmas Show Booking Office: 01 459 3650
Dez Allen
A veritable veteran of musical theatre, Dez has been working with June for over
15 years. Dez has been involved in many previous productions including the
German tour of West Side Story and Jesus Christ Superstar. He was also the
narrator in the West End production of Joseph and his Amazing Technicolor
Dream Coat, Some Like it Hot, Kiss of the Spider Women, Hot Mikado at The
Olympia Theatre, Ha'penny Bridge at The Cork Opera House, 42nd Street at
The Gaiety Theatre and Pirates of Penzance at Dublin's Helix.
Dez has worked with legends such as Maureen Potter and Brendan Grace
and is delighted to be back working with The June Rodgers Show again.
Leah Moran
Leah has been performing since she was four years old. She joined The Billie
Barry Stage School at the age of 12 where she gained performance skill and
friendships that will stay with her for life.Leah is working professionally in show
business for the past 14 years performing in shows such as Jury's Irish Cabaret
with Tony Kenny touring America several times, Daniel O Donnell's Rock n Roll
arena tour which included The Point,The Odyssey, Wembley and many more,
Eagles Wings staring Peter Corry, The Irish Ferries Cabaret and the Gaiety
Pantomime.Some of Leah's TV credits consist of the Movie Ella Enchanted
staring Anne Hathaway ,The Late Late Show, Raw and recently performed on
the dvd for the Irish band Celtic Thunder who's album was recently number 1
in the billboard charts.
Leah also has her own Stage School for the past 6 years with classes in Newbridge,Naas and
Kildare town and its growing from strength to strength with students performing on The Voice,
The Late Late toy show, RTE's program Sing and Elev8, The Olympia Panto and the film Stella
Days staring Martin Sheen.
This is Leah's third year in the June Rodgers Christmas show and she is delighted to
have two of her own students joining her on stage this year.
Book Online: www.redcowmoranhotel.com/tickets
E: [email protected]
David Whelan
David's love of theatre began aged 12 when he took the lead role in
Oliver at The Pavilion Theatre, Dun Laoghaire. That same year, he joined
the Billie Barry Stage School and has appeared in numerous productions
including The Hallelujah Concerts at The Liberty Hall and more recently
Somewhere Under the Rainbow at The Gaiety Theatre.
David is studying music with Kathryn Smith at the Leinster School of
Music and hopes to go to England to further his training in musical
theatre. David is delighted to be back on stage with June for this years'
show!
Sarah Harris
Sarah Harris is from Newbridge, Co.Kildare. Sarah has been attending
the Leah Moran Stage School for 6 years and is a singing assistant in
the school. Sarah had her voice trained by Lorraine Nolan and is currently
training for Grade 7 in Musical Theatre exams for London College of Music
Examinations. Sarah appeared on RTE 2's show 'Sing!' and sang alongside
Paul Walsh from the band Royseven. Each year Sarah takes part in the
Newbridge Musical Society and Newbridge Pantomime Troup, where
she has been privileged to play numerous leading roles.
This is Sarah's first year working with June Rodgers and is so excited
to do so. She hopes you enjoy the show.
Johnny Ward
At 26 years of age, Johnny has built up a very impressive résumé. He played the
male lead 'Eanna' in Kirsten Sheridan's film "Doll House", which was in cinemas
in 2012 and has now been released on DVD this year. Last Christmas he starred
as 'Buttons' in the Gaiety Theatre Panto "Cinderella". In 2011 Johnny toured
Ireland and the U.K. for six months as 'Ray Dooley' in Martin McDonagh's
"The Beauty Queen of Leenane". Johnny starred as 'Gavin', the male lead,
in "Two Hearts", a multi award winning short film at many film festivals
throughout Europe. Johnny also had a leading role in the feature film
"This Must Be the Place" where he starred as 'Stephen', alongside Oscar
Winner, Sean Penn. On RTE TV's Soap Opera "Fair City" he played 'Kurt Whelan'
for over a year. He was also featured as 'David Flood' in a film about the "Stardust" tragedy (RTE),
'Marcus' in "Prosperity" (RTE) and 'Diarmuid' in the award winning short "An Creatur". In theatre,
he has played many roles including 'Prince Edward' in the Theatreworks award winning production
of "Richard the III" at the Samuel Beckett Centre, 'Gavroche' in the Cameron Mackintosh
production of "Les Miserables" at the Point Depot, and 'DJ' in "The Buddhist of Castleknock"
by Jim O'Hanlon.
Johnny has featured in many voice-overs, and TV & Radio adverts for various advertising campaigns
- including the current Lyons Tea TV and Radio Commercials.
Johnny is a Drama and Singing teacher at Talented Kids Performing Arts School and
MVW Talent Agency. He is represented by its adult agency and continues
his training with Maureen V Ward. Johnny is looking forward to
working with June.
The June Rodgers Christmas Show Booking Office: 01 459 3650
Lea Carroll - Dance Captain
Lea started dancing at the age of 3. She studied ballet and jazz, and was
also a competitive baton twirler having represented Ireland in the World
Championships. At the age of 18, she went to the college of dance in
Monkstown where she furthered her training in ballet, jazz, contemporary and
tap. In 2009, she successfully auditioned for Bird College in London, where
she trained on a full scholarship for 3 years. She was a member of Greenhills
Variety Group where she took part in numerous shows including Thoroughly
Modern Millie which won 5 awards at W.I.F.L.O. Lea also worked with Joe
Conlon on 3 of his shows in aid of Temple St. Childrens Hospital. Other theatre credits include; Samson and Delilah, Dancer, Gaeity Theatre;
Burlesque and Other Distractions, Orchard Theatre, Dartford, Broadway Then and Now,
Hooray for Hollywood and many more.
More recently Lea worked as Dance Captain on board the Oscar Wilde for Irish Ferries
and "Wild Nights Cabaret". Lea would like to thank her family for being so supportive.
She is delighted to be working with June this year, and hopes you all enjoy the show.
Aisling Breen
Aisling trained from a young age at the renowned Billie Barry Stage School
and has been fortunate to go on to perform in many shows throughout Ireland
such as The Promise, Annie, Eejit of Love,West Side Story, 42nd Street, Aida
and has toured the U.S.A. with Tony Kenny's Ireland, The Netherlands with
Peter Corry's Celtic Rhythm's Tour and has appeared in many pantomimes at
the Gaiety Theatre.
Aisling has also appeared in numerous television productions including Fair
City, Fame the Musical Final, Eurosong,The Daniel O'Donnell PBS Special,
The Tudors,The Late Late show and commercials for Aldi and Glohealth.
Aisling is delighted to be joining June and a wonderful cast of old friends
and new for this years Christmas show!
Daryl Philips
Daryl is a 19 year old student studying a music degree in B.I.M.M in Dublin.
He has attended the Leah Moran Stage School for the past four years studying
singing,dancing and drama and he is now currently working as one of the
singing teachers.This year Daryl was proud to make it to the live finals of
The Voice of Ireland. Daryl is currently in a boyband called "Taken" and he
has been privileged to work with some great bands/musicians such as The
Script, The Coronas and Chad Smith. Taken were the support act for JLS in
August 2013.
Daryl is greatful to have played numerous lead roles in big productions over the
past few years.
He is very excited about his first year working with June Rodgers and
he's really looking forward to this years show.
Book Online: www.redcowmoranhotel.com/tickets
E: [email protected]
Nina Bandukova - Costume Designer
Russian born Nina has been designing costumes for
over 25 years for theatre and television in Ireland and Lithuania.
She has been living in Ireland for the last twelve years
and this is Nina's fifth year with the June Rodgers show.
She is delighted to be back working with the team.
Terry Heron - Sound Designer
Terry has been working in the Sound business for the past twenty five years.
He has worked at home in Ireland and toured extensively in the U.S.A. and
Europe with a variety of artists including June Rodgers, Tony Kenny, Rebecca
Storm, The Three Irish Tenors, Brendan Grace, Twink, Tommy Fleming,
Linda Martin, Maureen Potter to name but a few!
He is delighted to be associated with this production of The June Rodgers
Show at The Red Cow Moran Hotel.
David Houghton - Stage Manager
Kathy Kavanagh - Costume Designer
Kathy has been designing and constructing costumes for many years.
She has worked for the Gate Theatre, The Olympia, Horizon Theatre Co.
Barrabas the Company, The Diceman, Brendan Grace, Dave Young,
Noel V. Ginnity. She has made costumes for street performers,
many well known corporate mascots and advertising promotions galore.
Kathy and June have had lots of fun over the years coming up with some
mad ideas- including The Beyoncé Tribute, The Turkey, The Belly Dancer,
The Lady Gaga Tribute, The Christmas Tree and many more.
Kathy is delighted to be working with The June Rodgers Show again this year.
Jennie Readman - Wig, Hair and Make-Up Design
Originally trained at The London University of Art where she studied the
HND Specialist Make-Up Course for film, television and theatre, Jennie has
more than 20 years experience in all aspects of wigs, hair and make-up.
She has worked at the Royal Opera House, Covent Garden as well as on
numerous productions both in Ireland and abroad; designing, making and
dressing a huge variety of wigs and hair styles for both contemporary and
period productions. Jennie worked on all 4 seasons of the award winning
television drama The Tudors and last year the period drama Camelot.
Jennie enjoys an exciting working relationship with June, bringing together their
creative ideas to achieve the many wonderful characters you will see throughout
the show.
David Houghton is a Dublin based, freelance costume designer, born in Dublin
1987. After a short time in the National College of Art and Design, he spent
four years studying animation and design in the Institute of Art, Design and
Technology in Dun Laoghaire. He has also studied costume and theatre design
in I.C.F.E in Dublin.
Over the past few years he has worked in various aspects of theatre and
film in both set and prop design and construction. David,since 2006, has
been involved in working on many Dublin based, as well as international
productions, in both theatre and film. Productions include; Dear Frankie (The
Five Lamps Theatre Company) , Bright Side of the Moon (Beyond the Bark Productions),
Gulliver's Travels (Wonderland Productions), Iphigenia In Aulis (Classic Stage Ireland),
and most recently: A Christmas Carol (The Mill Theatre Productions), Saveus Maveus
(Pantomime, The Mill Theatre), Agamemnon (Classic Stage Ireland). He has also worked in the
Dublin Gay Theatre Festival as a lighting and Technical assistant. This is David's 2nd season
working with June at The Red Cow Moran Hotel.
Colm Eaton - Lighting Design
Colm has worked in theatre as a freelance stage manager and lighting
designer for many years. As a stage manager his credits include; The June
Rodgers Summer and Christmas Shows, Ha'penny Bridge - The Point
Theatre and Cork Opera House, Singin' in the Rain - The Olympia Theatre
and Everyman Theatre, Deathtrap - Irish Tour, Stones in his Pockets - Irish
Tour, Copacabana and The Hot Mikado - The Civic Theatre.
In lighting design his credits include Sweeney Todd The Demon Barber of
Fleet Street, Titanic, Company, Tommy, Parade, Jesus Christ Superstar,
Evita, Rent, Thoroughly Modern Millie, The Wedding Singer, Footloose,
Angels In America, Dracula, The Crucible, Jane Eyre, Macbeth, Tonight at
8:30, Street Scene, The Libertine, Strippers, The Admiral Crichton, Sir John Oldcastle, Henry
IV Part 1&2, The Taming of The Shrew, The Devils, Bloodknot, Woody Allen's God and Death,
Major Barbara, Henry V, Tales From The Vienna Woods, Methusalem, The Pillars Of Society, Reality
Shows, Crop Circles, The Rehearsal, Masks And Faces, Hecabe and Impressions of Vincent in the
Blessed Twilight.
Colm is delighted to be back working with June and the gang.
The June Rodgers Christmas Show Booking Office: 01 459 3650
Book Online: www.redcowmoranhotel.com/tickets
E: [email protected]
Our Family of Hotels
Christmas Cabaret Menu 2013
Caesar Salad
Cos lettuce, bacon bits, garlic croutons & parmesan shavings
Homemade Vegetable Soup
Chicken & Mushroom Vol au Vents
Served with a white wine cream
***
Traditional Roast Crown of Turkey & Baked Limerick Ham
Served with a herb & onion stuffing and red wine jus
Poached Fillet of Salmon
Served on a dill mash with citrus beurre blanc
Four Cheese Soufflé Roulade
Stuffed with sun dried tomato & pesto
on a crisp salad with sweet vinaigrette
All served with seasonal vegetables, savoury and roast potatoes
***
Christmas Plum Pudding & Brandy Sauce
Christmas Yule Chocolate Log
Strawberry Terrine with Fruit Coulis & Vanilla Cream
***
Freshly Brewed Tea / Coffee & After Dinner Mints
The June Rodgers Christmas Show Booking Office: 01 459 3650
LEEDS
DUBLIN
MANCHESTER
CORK
LONDON
www.moranhotels.com
www.bewleyshotels.com
Book Online: www.redcowmoranhotel.com/tickets
E: [email protected]
The
June Rodgers
Show
Also
appearing
in the
Silver Sp
Moran Hrings
otel
C
o
r
k
Saturday 4t
Call Now on h Jan 2014
021 450753
3
Group
Booking
Discounts
Available!
Show & Stay
Packages
€89pps
From
SHOW DETAILS
Dates: Shows run from Fri 29th Nov to Sun 29th Dec
Prices: Midweek shows €55 & Fri / Sat shows €65
Post Christmas Special Rates
Fri 27th Dec to Sun 29th Dec - €59.50pp
All bookings are subject to a €30 deposit per person (non-refundable & non-transferable).
Balance to be paid 3 weeks in advance of show.
Special accommodation rates available
CONTACT THE BOOKING OFFICE:
Red Cow complex, Naas Rd., Dublin 22
T: 01 459 3650 E: [email protected] W: www.redcowmoranhotel.com/tickets
Don't forget to become a fan on FACEBOOK or follow us on TWITTER!