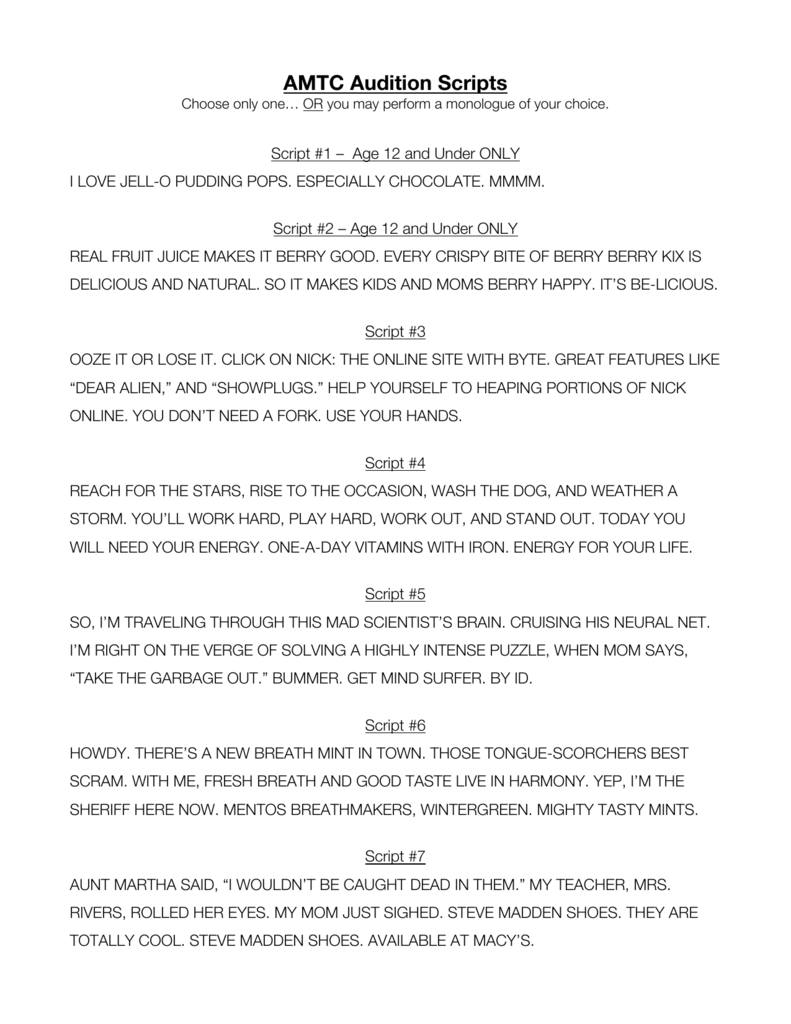 AMTC Audition Scripts
Choose only one… OR you may perform a monologue of your choice.
Script #1 – Age 12 and Under ONLY
I LOVE JELL-O PUDDING POPS. ESPECIALLY CHOCOLATE. MMMM.
Script #2 – Age 12 and Under ONLY
REAL FRUIT JUICE MAKES IT BERRY GOOD. EVERY CRISPY BITE OF BERRY BERRY KIX IS
DELICIOUS AND NATURAL. SO IT MAKES KIDS AND MOMS BERRY HAPPY. IT'S BE-LICIOUS.
Script #3
OOZE IT OR LOSE IT. CLICK ON NICK: THE ONLINE SITE WITH BYTE. GREAT FEATURES LIKE
"DEAR ALIEN," AND "SHOWPLUGS." HELP YOURSELF TO HEAPING PORTIONS OF NICK
ONLINE. YOU DON'T NEED A FORK. USE YOUR HANDS.
Script #4
REACH FOR THE STARS, RISE TO THE OCCASION, WASH THE DOG, AND WEATHER A
STORM. YOU'LL WORK HARD, PLAY HARD, WORK OUT, AND STAND OUT. TODAY YOU
WILL NEED YOUR ENERGY. ONE-A-DAY VITAMINS WITH IRON. ENERGY FOR YOUR LIFE.
Script #5
SO, I'M TRAVELING THROUGH THIS MAD SCIENTIST'S BRAIN. CRUISING HIS NEURAL NET.
I'M RIGHT ON THE VERGE OF SOLVING A HIGHLY INTENSE PUZZLE, WHEN MOM SAYS,
"TAKE THE GARBAGE OUT." BUMMER. GET MIND SURFER. BY ID.
Script #6
HOWDY. THERE'S A NEW BREATH MINT IN TOWN. THOSE TONGUE-SCORCHERS BEST
SCRAM. WITH ME, FRESH BREATH AND GOOD TASTE LIVE IN HARMONY. YEP, I'M THE
SHERIFF HERE NOW. MENTOS BREATHMAKERS, WINTERGREEN. MIGHTY TASTY MINTS.
Script #7
AUNT MARTHA SAID, "I WOULDN'T BE CAUGHT DEAD IN THEM." MY TEACHER, MRS.
RIVERS, ROLLED HER EYES. MY MOM JUST SIGHED. STEVE MADDEN SHOES. THEY ARE
TOTALLY COOL. STEVE MADDEN SHOES. AVAILABLE AT MACY'S.