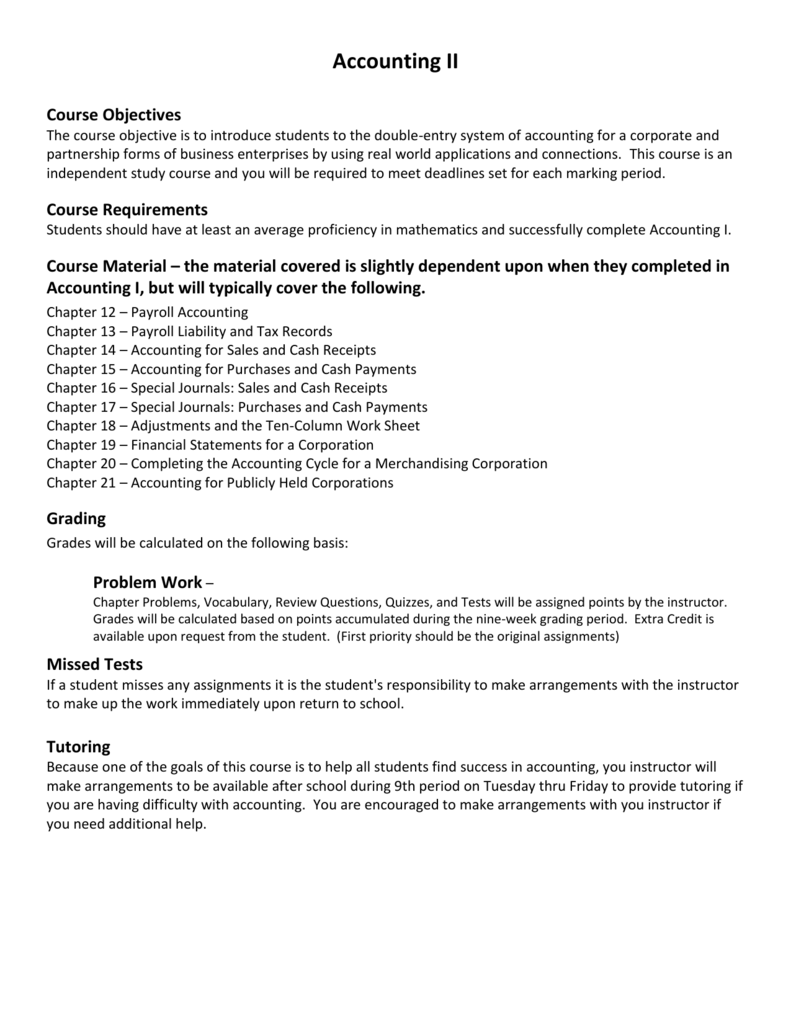 Accounting II
Course Objectives
The course objective is to introduce students to the double-entry system of accounting for a corporate and
partnership forms of business enterprises by using real world applications and connections. This course is an
independent study course and you will be required to meet deadlines set for each marking period.
Course Requirements
Students should have at least an average proficiency in mathematics and successfully complete Accounting I.
Course Material – the material covered is slightly dependent upon when they completed in
Accounting I, but will typically cover the following.
Chapter 12 – Payroll Accounting
Chapter 13 – Payroll Liability and Tax Records
Chapter 14 – Accounting for Sales and Cash Receipts
Chapter 15 – Accounting for Purchases and Cash Payments
Chapter 16 – Special Journals: Sales and Cash Receipts
Chapter 17 – Special Journals: Purchases and Cash Payments
Chapter 18 – Adjustments and the Ten-Column Work Sheet
Chapter 19 – Financial Statements for a Corporation
Chapter 20 – Completing the Accounting Cycle for a Merchandising Corporation
Chapter 21 – Accounting for Publicly Held Corporations
Grading
Grades will be calculated on the following basis:
Problem Work –
Chapter Problems, Vocabulary, Review Questions, Quizzes, and Tests will be assigned points by the instructor.
Grades will be calculated based on points accumulated during the nine-week grading period. Extra Credit is
available upon request from the student. (First priority should be the original assignments)
Missed Tests
If a student misses any assignments it is the student's responsibility to make arrangements with the instructor
to make up the work immediately upon return to school.
Tutoring
Because one of the goals of this course is to help all students find success in accounting, you instructor will
make arrangements to be available after school during 9th period on Tuesday thru Friday to provide tutoring if
you are having difficulty with accounting. You are encouraged to make arrangements with you instructor if
you need additional help.