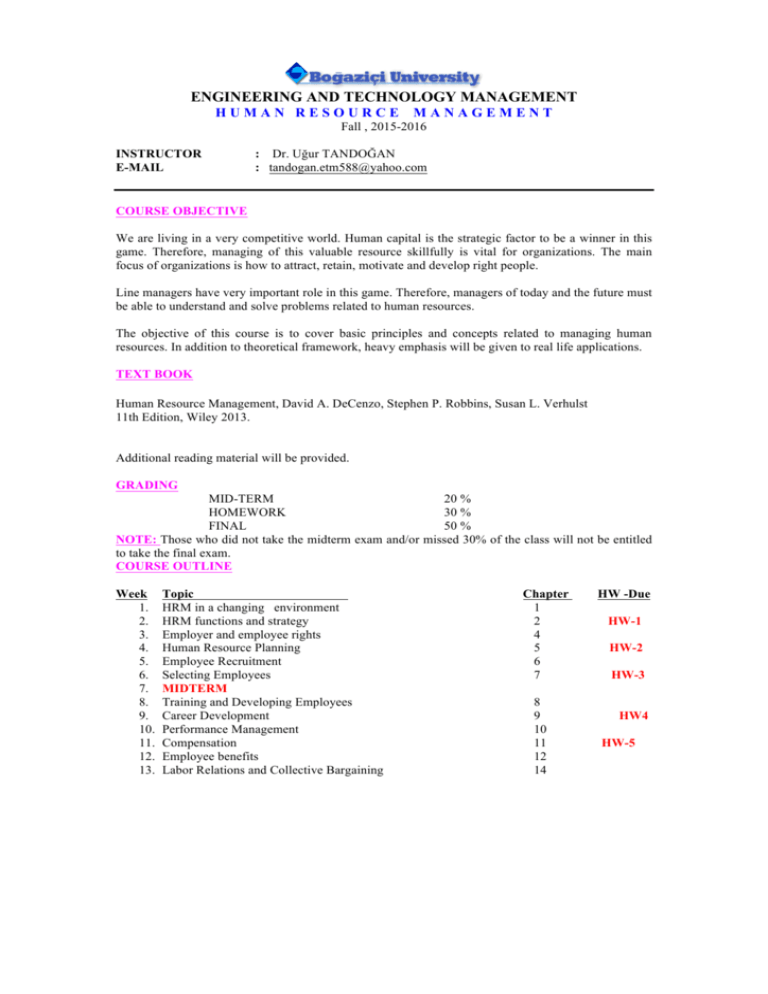 ENGINEERING AND TECHNOLOGY MANAGEMENT
HUMAN RESOURCE
MANAGEMENT
Fall , 2015-2016
INSTRUCTOR
E-MAIL
: Dr. Uğur TANDOĞAN
: tandogan.etm588@yahoo.com
COURSE OBJECTIVE
We are living in a very competitive world. Human capital is the strategic factor to be a winner in this
game. Therefore, managing of this valuable resource skillfully is vital for organizations. The main
focus of organizations is how to attract, retain, motivate and develop right people.
Line managers have very important role in this game. Therefore, managers of today and the future must
be able to understand and solve problems related to human resources.
The objective of this course is to cover basic principles and concepts related to managing human
resources. In addition to theoretical framework, heavy emphasis will be given to real life applications.
TEXT BOOK
Human Resource Management, David A. DeCenzo, Stephen P. Robbins, Susan L. Verhulst
11th Edition, Wiley 2013.
Additional reading material will be provided.
GRADING
MID-TERM
20 %
HOMEWORK
30 %
FINAL
50 %
NOTE: Those who did not take the midterm exam and/or missed 30% of the class will not be entitled
to take the final exam.
COURSE OUTLINE
Week
1.
2.
3.
4.
5.
6.
7.
8.
9.
10.
11.
12.
13.
Topic
HRM in a changing environment
HRM functions and strategy
Employer and employee rights
Human Resource Planning
Employee Recruitment
Selecting Employees
MIDTERM
Training and Developing Employees
Career Development
Performance Management
Compensation
Employee benefits
Labor Relations and Collective Bargaining
Chapter
1
2
4
5
6
7
8
9
10
11
12
14
HW -Due
HW-1
HW-2
HW-3
HW4
HW-5
YAHOO GROUP
A yahoo group has been formed for this course. All course material will be uploaded here.
Group name:
etm588
Group home page:
http://groups.yahoo.com/group/etm588
Group email:
hrmetm@yahoogroups.com
Notes
•
•
•
Nobody can effort to miss valuable class discussions. Therefore, attendance is a must in this
course.
Homework assignments are very important because they will help you to grasp the subject and
apply it to the real life. However, "cut and paste" type works are not welcome.
I am looking forward to this course with you as a learning opportunity.