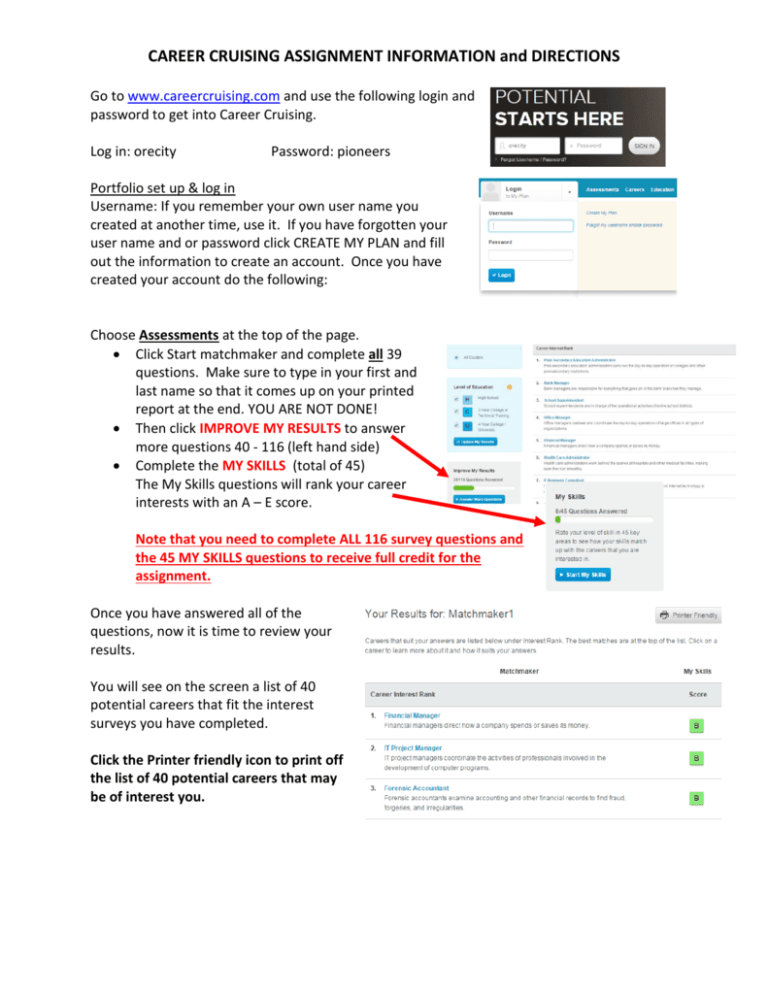 CAREER CRUISING ASSIGNMENT INFORMATION and DIRECTIONS
Go to www.careercruising.com and use the following login and
password to get into Career Cruising.
Log in: orecity
Password: pioneers
Portfolio set up & log in
Username: If you remember your own user name you
created at another time, use it. If you have forgotten your
user name and or password click CREATE MY PLAN and fill
out the information to create an account. Once you have
created your account do the following:
Choose Assessments at the top of the page.
 Click Start matchmaker and complete all 39
questions. Make sure to type in your first and
last name so that it comes up on your printed
report at the end. YOU ARE NOT DONE!
 Then click IMPROVE MY RESULTS to answer
more questions 40 - 116 (left hand side)
 Complete the MY SKILLS (total of 45)
The My Skills questions will rank your career
interests with an A – E score.
Note that you need to complete ALL 116 survey questions and
the 45 MY SKILLS questions to receive full credit for the
assignment.
Once you have answered all of the
questions, now it is time to review your
results.
You will see on the screen a list of 40
potential careers that fit the interest
surveys you have completed.
Click the Printer friendly icon to print off
the list of 40 potential careers that may
be of interest you.
Once you have the two page report on the 40 careers pick two
potential careers from this list and find out more about each career
(click the words in blue which will take you to information about the
specific career you selected).
Use the Career Cruising Assignment Sheet to answer questions about
your two careers.
Here is what you will turn in when done:
 2 page Career Cruising printout that lists your top 40 career interests (your name
should be on the top of your report). Make sure that you have answered ALL 116
survey questions and the 45 My Skills questions.
Make sure your name is at the top
Have you answered all 116
questions? You need to do this to
have an accurate report.
Your top 40 career suggestions will
be listed on this page and the next
page
 2 pages that list information about your 2 potential career selections (see assignment
sheet)
Turn your assignment into the Senior Project box located in the front office by the assignment
deadline.