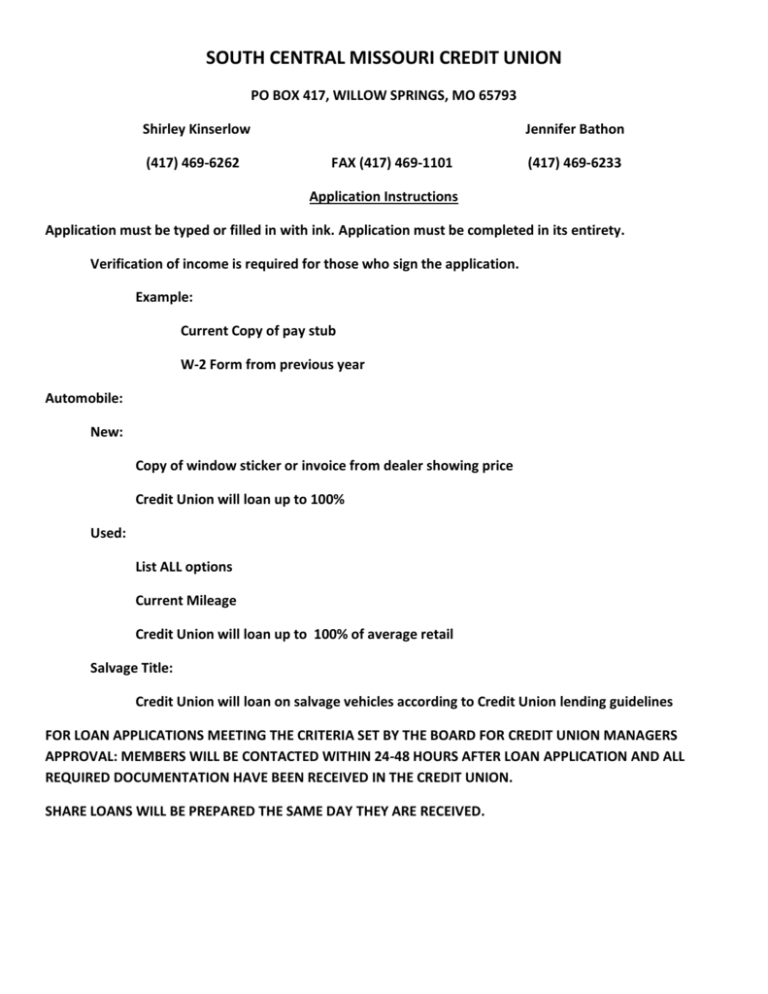 SOUTH CENTRAL MISSOURI CREDIT UNION
PO BOX 417, WILLOW SPRINGS, MO 65793
Shirley Kinserlow
(417) 469-6262
Jennifer Bathon
FAX (417) 469-1101
(417) 469-6233
Application Instructions
Application must be typed or filled in with ink. Application must be completed in its entirety.
Verification of income is required for those who sign the application.
Example:
Current Copy of pay stub
W-2 Form from previous year
Automobile:
New:
Copy of window sticker or invoice from dealer showing price
Credit Union will loan up to 100%
Used:
List ALL options
Current Mileage
Credit Union will loan up to 100% of average retail
Salvage Title:
Credit Union will loan on salvage vehicles according to Credit Union lending guidelines
FOR LOAN APPLICATIONS MEETING THE CRITERIA SET BY THE BOARD FOR CREDIT UNION MANAGERS
APPROVAL: MEMBERS WILL BE CONTACTED WITHIN 24-48 HOURS AFTER LOAN APPLICATION AND ALL
REQUIRED DOCUMENTATION HAVE BEEN RECEIVED IN THE CREDIT UNION.
SHARE LOANS WILL BE PREPARED THE SAME DAY THEY ARE RECEIVED.