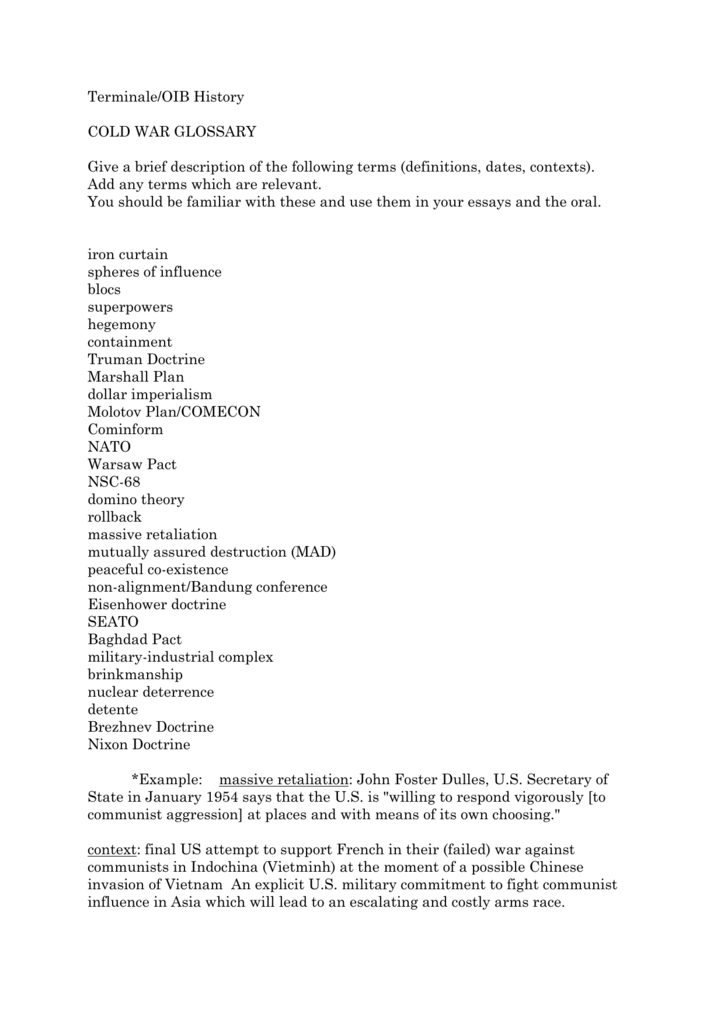 Terminale/OIB History
COLD WAR GLOSSARY
Give a brief description of the following terms (definitions, dates, contexts).
Add any terms which are relevant.
You should be familiar with these and use them in your essays and the oral.
iron curtain
spheres of influence
blocs
superpowers
hegemony
containment
Truman Doctrine
Marshall Plan
dollar imperialism
Molotov Plan/COMECON
Cominform
NATO
Warsaw Pact
NSC-68
domino theory
rollback
massive retaliation
mutually assured destruction (MAD)
peaceful co-existence
non-alignment/Bandung conference
Eisenhower doctrine
SEATO
Baghdad Pact
military-industrial complex
brinkmanship
nuclear deterrence
detente
Brezhnev Doctrine
Nixon Doctrine
*Example: massive retaliation: John Foster Dulles, U.S. Secretary of
State in January 1954 says that the U.S. is "willing to respond vigorously [to
communist aggression] at places and with means of its own choosing."
context: final US attempt to support French in their (failed) war against
communists in Indochina (Vietminh) at the moment of a possible Chinese
invasion of Vietnam An explicit U.S. military commitment to fight communist
influence in Asia which will lead to an escalating and costly arms race.