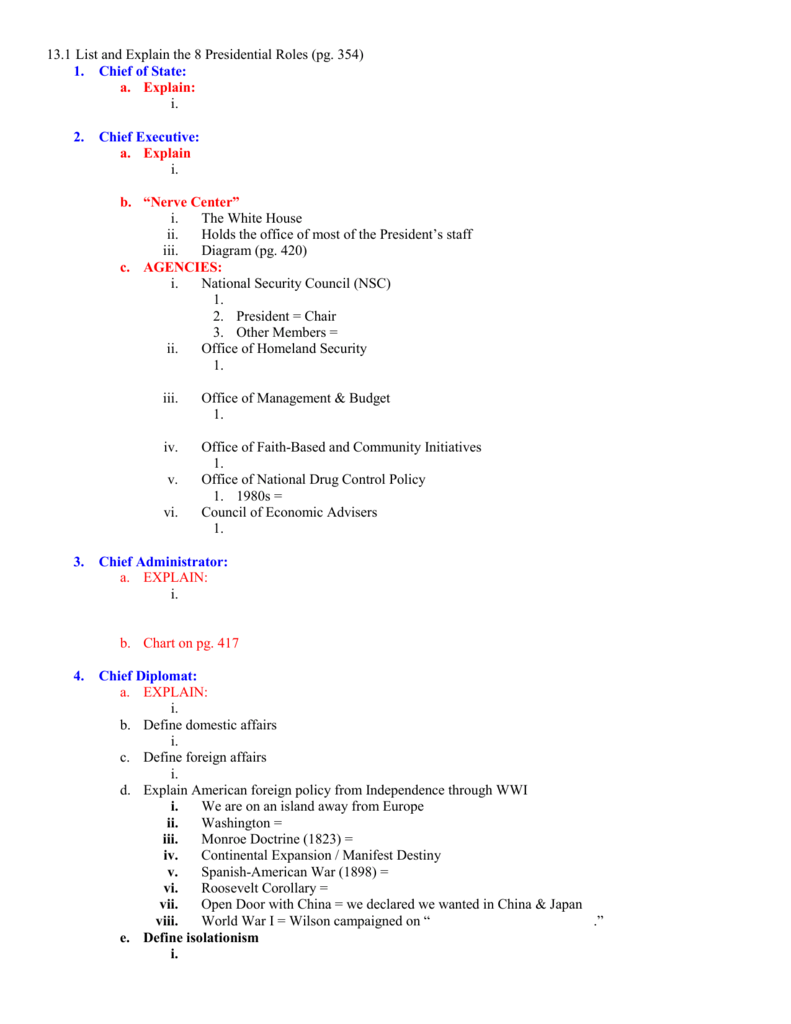 13.1 List and Explain the 8 Presidential Roles (pg. 354)
1. Chief of State:
a. Explain:
i.
2.
Chief Executive:
a. Explain
i.
b. "Nerve Center"
i.
The White House
ii.
Holds the office of most of the President's staff
iii.
Diagram (pg. 420)
c. AGENCIES:
i.
National Security Council (NSC)
1.
2. President = Chair
3. Other Members =
ii.
Office of Homeland Security
1.
iii.
Office of Management & Budget
1.
iv.
Office of Faith-Based and Community Initiatives
1.
Office of National Drug Control Policy
1. 1980s =
Council of Economic Advisers
1.
v.
vi.
3.
Chief Administrator:
a. EXPLAIN:
i.
b. Chart on pg. 417
4.
Chief Diplomat:
a. EXPLAIN:
i.
b. Define domestic affairs
i.
c. Define foreign affairs
i.
d. Explain American foreign policy from Independence through WWI
i.
We are on an island away from Europe
ii.
Washington =
iii.
Monroe Doctrine (1823) =
iv.
Continental Expansion / Manifest Destiny
v.
Spanish-American War (1898) =
vi.
Roosevelt Corollary =
vii.
Open Door with China = we declared we wanted in China & Japan
viii.
World War I = Wilson campaigned on "
."
e. Define isolationism
i.
f.
Explain American foreign policy during WWII
i.
December 7, 1941 =
ii.
61 nations involved / 75 million lives lost
iii.
FDR = "arsenal of democracy"
iv.
Goal was the complete defeat of =
g. Explain American foreign policy post WWII and during the Cold War
i.
Struggle between the superpowers (U.S. & U.S.S.R.)
ii.
United Nations = a collective security to keep international peace and order
iii.
Deterrence =
iv.
v.
Truman Doctrine
1.
Containment of Communism
1. Berlin Blockade =
a. Check out the map on page 487
2. Korean War =
3. Cuban Missile Crisis =
4. Vietnam War =
5. Nixon enters China in 1972 / tensions ease
6. U.S.S.R. invade Afghanistan in 1979 and tensions increase
7. U.S. aid Afghanistan
h. Explain foreign aid
i.
Economic and military aid to other countries
ii.
Marshall Plan
1.
i.
Explain our Security Alliances
i.
NATO (North Atlantic Treaty Organization)
ii.
iii.
iv.
v.
Our alliance against the Soviet Union (Warsaw Pact)
U.S., Canada, and 32 nations in Latin America
An attack on any of them is an attack on all (todays version of the Monroe Doctrine)
Explain the United Nations (pg.495)
1. PURPOSE:
5.
Commander in Chief:
a.
6.
Chief Legislator:
a.
7.
Chief of Party:
a.
8.
Chief Citizen:
a.