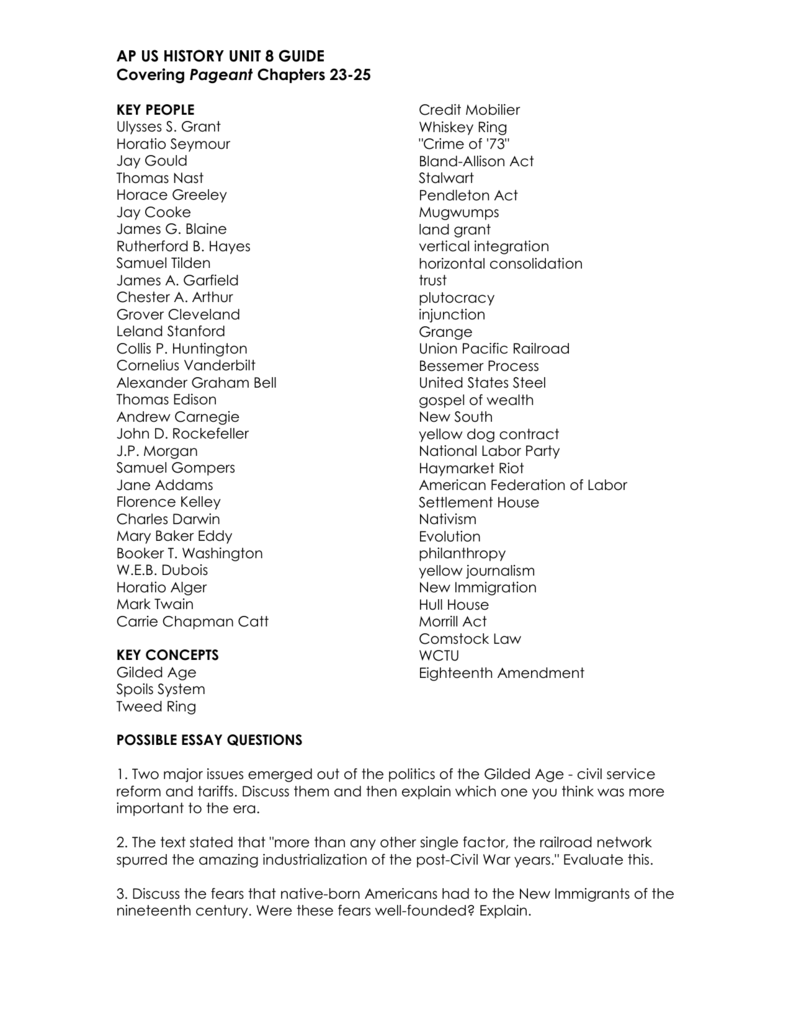 AP US HISTORY UNIT 8 GUIDE
Covering Pageant Chapters 23-25
KEY PEOPLE
Ulysses S. Grant
Horatio Seymour
Jay Gould
Thomas Nast
Horace Greeley
Jay Cooke
James G. Blaine
Rutherford B. Hayes
Samuel Tilden
James A. Garfield
Chester A. Arthur
Grover Cleveland
Leland Stanford
Collis P. Huntington
Cornelius Vanderbilt
Alexander Graham Bell
Thomas Edison
Andrew Carnegie
John D. Rockefeller
J.P. Morgan
Samuel Gompers
Jane Addams
Florence Kelley
Charles Darwin
Mary Baker Eddy
Booker T. Washington
W.E.B. Dubois
Horatio Alger
Mark Twain
Carrie Chapman Catt
KEY CONCEPTS
Gilded Age
Spoils System
Tweed Ring
Credit Mobilier
Whiskey Ring
"Crime of '73"
Bland-Allison Act
Stalwart
Pendleton Act
Mugwumps
land grant
vertical integration
horizontal consolidation
trust
plutocracy
injunction
Grange
Union Pacific Railroad
Bessemer Process
United States Steel
gospel of wealth
New South
yellow dog contract
National Labor Party
Haymarket Riot
American Federation of Labor
Settlement House
Nativism
Evolution
philanthropy
yellow journalism
New Immigration
Hull House
Morrill Act
Comstock Law
WCTU
Eighteenth Amendment
POSSIBLE ESSAY QUESTIONS
1. Two major issues emerged out of the politics of the Gilded Age - civil service
reform and tariffs. Discuss them and then explain which one you think was more
important to the era.
2. The text stated that "more than any other single factor, the railroad network
spurred the amazing industrialization of the post-Civil War years." Evaluate this.
3. Discuss the fears that native-born Americans had to the New Immigrants of the
nineteenth century. Were these fears well-founded? Explain.