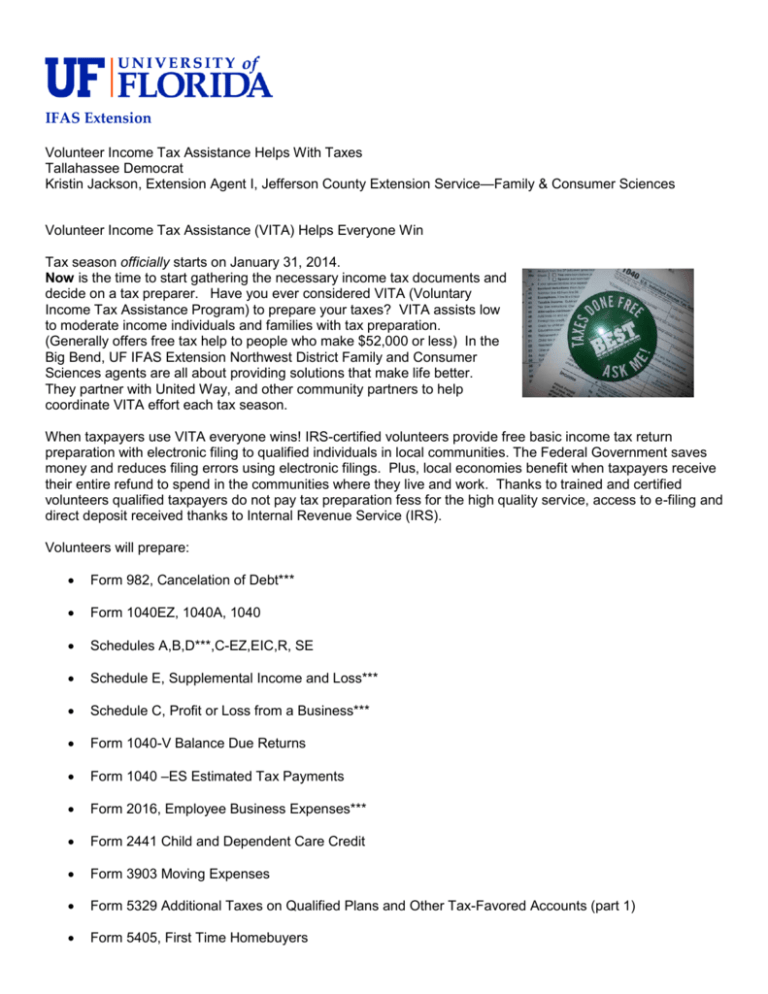 IFAS Extension
Volunteer Income Tax Assistance Helps With Taxes
Tallahassee Democrat
Kristin Jackson, Extension Agent I, Jefferson County Extension Service—Family & Consumer Sciences
Volunteer Income Tax Assistance (VITA) Helps Everyone Win
Tax season officially starts on January 31, 2014.
Now is the time to start gathering the necessary income tax documents and
decide on a tax preparer. Have you ever considered VITA (Voluntary
Income Tax Assistance Program) to prepare your taxes? VITA assists low
to moderate income individuals and families with tax preparation.
(Generally offers free tax help to people who make $52,000 or less) In the
Big Bend, UF IFAS Extension Northwest District Family and Consumer
Sciences agents are all about providing solutions that make life better.
They partner with United Way, and other community partners to help
coordinate VITA effort each tax season.
When taxpayers use VITA everyone wins! IRS-certified volunteers provide free basic income tax return
preparation with electronic filing to qualified individuals in local communities. The Federal Government saves
money and reduces filing errors using electronic filings. Plus, local economies benefit when taxpayers receive
their entire refund to spend in the communities where they live and work. Thanks to trained and certified
volunteers qualified taxpayers do not pay tax preparation fess for the high quality service, access to e-filing and
direct deposit received thanks to Internal Revenue Service (IRS).
Volunteers will prepare:

Form 982, Cancelation of Debt***

Form 1040EZ, 1040A, 1040

Schedules A,B,D***,C-EZ,EIC,R, SE

Schedule E, Supplemental Income and Loss***

Schedule C, Profit or Loss from a Business***

Form 1040-V Balance Due Returns

Form 1040 –ES Estimated Tax Payments

Form 2016, Employee Business Expenses***

Form 2441 Child and Dependent Care Credit

Form 3903 Moving Expenses

Form 5329 Additional Taxes on Qualified Plans and Other Tax-Favored Accounts (part 1)

Form 5405, First Time Homebuyers

Form 8863 Education Credits

Form 8880 Credit for Qualified Retirement Savings Contributions

Additional Child Tax Credit

Form 8888 Allocation of Refund

Form 88889 Health Savings Accounts***

Form 8949 Sales and Other Dispositions of Capital Assets

Form 1040-X Amended Returns***
***These services are limited and depending on the scope of the request may require
the assistance of a paid preparer.
For assistance finding a VITA site near you contact your local UF IFAS Extension Office
(http://solutionsforyourlife.ufl.edu/map/) or United Way (dial 211 or visit www.211.org).
If you have a question, write to Kristin Jackson, Extension Agent Family and Consumer Sciences, University of
Florida Extension--Jefferson County, 275 N Mulberry Street, Monticello, FL 32344-1423 or call the Extension
Office (850) 342-0187, between 8 a.m. to noon or 1 to 5 p.m. weekdays.
The University of Florida Extension--Jefferson County is an Equal Employment Opportunity--Affirmative Action
Employer authorized to provide research, educational information and other services only to individuals and
institutions that function without regard to race, color, gender or national origin.