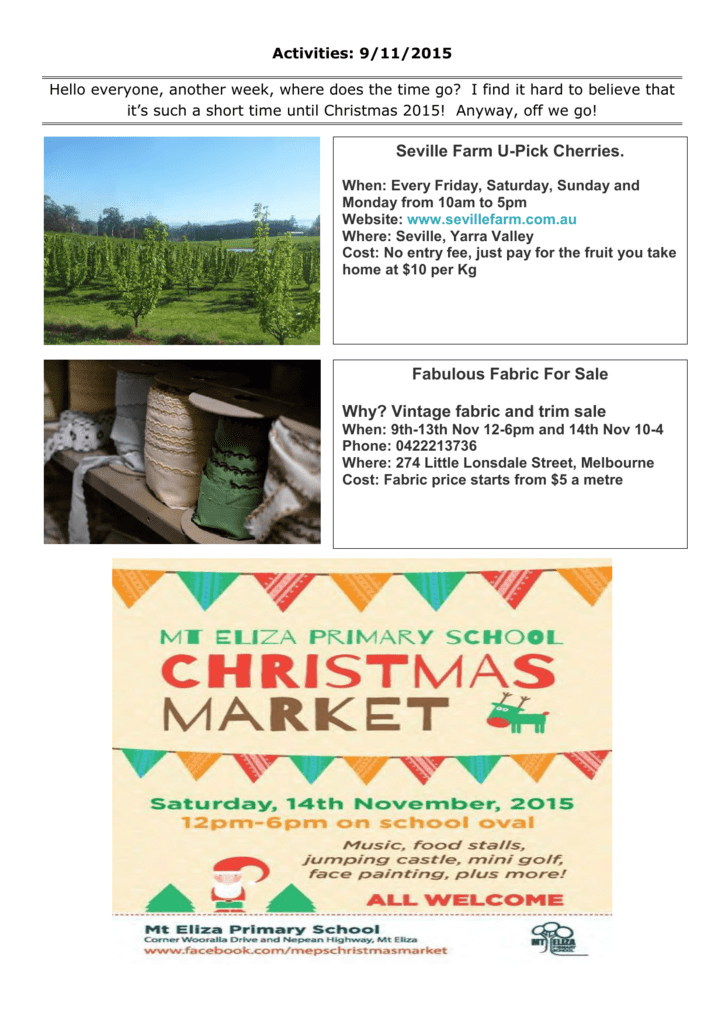 Activities: 9/11/2015
Hello everyone, another week, where does the time go? I find it hard to believe that
it's such a short time until Christmas 2015! Anyway, off we go!
Seville Farm U-Pick Cherries.
When: Every Friday, Saturday, Sunday and
Monday from 10am to 5pm
Website: www.sevillefarm.com.au
Where: Seville, Yarra Valley
Cost: No entry fee, just pay for the fruit you take
home at $10 per Kg
Fabulous Fabric For Sale
Why? Vintage fabric and trim sale
When: 9th-13th Nov 12-6pm and 14th Nov 10-4
Phone: 0422213736
Where: 274 Little Lonsdale Street, Melbourne
Cost: Fabric price starts from $5 a metre
FED SQUARE – FREE MARKET
When: Sunday 29 November 2015, 10am
to 5pm
Website: www.markitfedsquare.com.au
Where: Federation Square (in the Atrium
and Deakin Edge Theatre)
Cost: Free Entry
Victoria Rose - There is No Use-By-Date:
A Workshop for Smart Older Women
Why? To learn to feel absolutely fabulous
NOW
When: November 14, 2015 - 12 noon to
4:30
Phone: 61 (0) 414 805 576
Website: www.over60stillfabulous.com
Where: The Georges Hotel- Cost: $97
SUMMIT SURVIVOR
Why? To challenge yourself
When: Saturday 14th and Sunday 15th
November 2015
Website: www.summitsurvivor.com.au
Where: Cemetery Road, Trafalgar East
Cost: From $90
When: Saturday, 14 November, 2015 at 3:00pm and 7:30pm
Website: www.thedecibelles.org
Where: Deakin Edge, Federation Square, Cnr Swanston St & Flinders St,
Melbourne, VIC 3000, Australia
Cost: Adult $30, Concession $25, Child $15
Me réjouis de vous voir en grand nombre!
LETTERS FROM SANTA
When: Until December 4th 2015
Website: www.santaslittleelves.com.au
Where: Australia wide
Cost: $12.50 each
MOZART & BACH! BE THERE!
When: Sunday 15 November, 3pm
Website: www.melbournemusicians.com
Where: St Johns Southgate, 20 City
Rd,Southbank
Cost: $50; Seniors/Conc. $45; Students
$25
When: 15 November 2015
Website: www.christmaselves.com.au
Where: 10 Gower Street, Preston VIC
Cost: Free
SUMMIT SURVIVOR 2015
Why? To challenge your agility, strength
and determination
When: 14th and 15th of November
Website: www.summitsurvivor.com.au
Where: 21 Cemetery Road Trafalgar East
Cost: $90-$105
This image
is
dedicated
to the very
wonderful
Joy Petrani
FREE OPERA @ THE MUSIC BOWL
Why? To have a fantastic time with family
When: 8pm onwards
Phone: (02) 9318 8327
Website: https://opera.org.au/melbourne
/mazda-opera-in-the-bowl
Where: Sidney Myer Music Bowl, Kings
Domain, Linlithgow Avenue, Melbourne,
Vic 3000
Cost: Free: 14 November 2015
MAD HATTER'S TEA PARTY
When: Sunday 22nd November 2015
Website: flowerdaleestate.com.au/madhattersteaparty
Where: 2285 Broadford-Flowerdale Rd, Strath Creek VIC 3658
Cost: $60 Adults / $25 Children
BIRDWATCHING @ JELL'S PARK
Why? To enjoy day out that engages and
captivates every member of the family
When: Open every day with 24 hour pedestrian
access. Vehicle gates open at different times
throughout the year. Waverley Road gates open at
8am. There is a 24 hour vehicle exit to Jells Road.
Phone: (03) 9561 4522 (Madeline's at Jells and
Visitor Centre)
Website: parkweb.vic.gov.au/explore/parks/dand
enong-valley-parklands/things-to-do/lake-area
Where: Waverley Road, Wheelers Hill (East of
Jells Road).
Cost: Free
Why? A Nightmare Before Christmas - Themed Party
When: 13th November 2015
Website: https://www.facebook.com/events/1649860431919287
Where: 24 Moons Bar
Cost: $20
WILMA SMITH & FRIENDS CONCERT
When: Friday 13 November from 7pm
Website: stmichaels.org.au/event/wilma-smith-andfriends
Where: St Michael's on Collins, 120 Collins St,
Melbourne
Cost: $30 full, $20 Concession, $5 Students
VERY SPECIAL KIDS FASHION SALE
Why? A feel-good fashion sale
When: Friday 13 November 5pm-10pm.
Phone: 03 9804 6222
Website: www.vsk.org.au/events/fashi
on-sale
Where: Malvern Town Hall
Cost: Gold-coin donation
ON THE ROOF CINEMA
Why? Enjoy the latest movies in 'the
cinema with a view'
When: From Thursday 12th November
Phone: (03) 8658 0000
Website: www.lidocinemas.com.au
Where: Lido Cinemas, 675 Glenferrie
Road, Hawthorn
Cost: Check the Lido website for ticket
prices.
Garrett Kato Opens for Pete Murray
Why? Euphony
When: Thurs 12th Nov
Website: garrettkatomusic.com
Where: Hallam Hotel
Cost: $37.21
Theatre Street runs interactive theatre
shows around Melbourne CBD and in cafes
and bars.
When: Currently the show runs on
Saturdays fortnightly
Website: www.melbourneoutabout.com
Where: Melbourne City
Cost: $60pp includes a small snack and
drink
That's it for today,
Cheers
TONI.