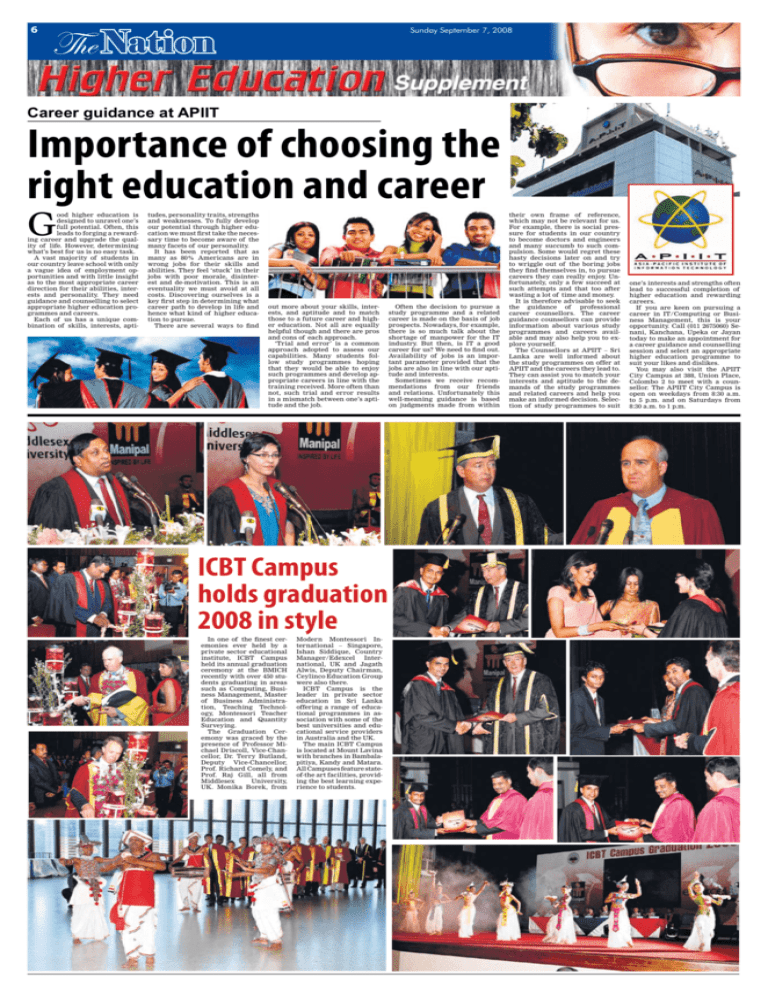 6
Sunday September 7, 2008
Career guidance at APIIT
Importance of choosing the
right education and career
G
ood higher education is
designed to unravel one's
full potential. Often, this
leads to forging a rewarding career and upgrade the quality of life. However, determining
what's best for us is no easy task.
A vast majority of students in
our country leave school with only
a vague idea of employment opportunities and with little insight
as to the most appropriate career
direction for their abilities, interests and personality. They need
guidance and counselling to select
appropriate higher education programmes and careers.
Each of us has a unique combination of skills, interests, apti-
tudes, personality traits, strengths
and weaknesses. To fully develop
our potential through higher education we must first take the necessary time to become aware of the
many facets of our personality.
It has been reported that as
many as 80% Americans are in
wrong jobs for their skills and
abilities. They feel 'stuck' in their
jobs with poor morale, disinterest and de-motivation. This is an
eventuality we must avoid at all
costs. Discovering ourselves is a
key first step in determining what
career path to develop in life and
hence what kind of higher education to pursue.
There are several ways to find
out more about your skills, interests, and aptitude and to match
those to a future career and higher education. Not all are equally
helpful though and there are pros
and cons of each approach.
'Trial and error' is a common
approach adopted to assess our
capabilities. Many students follow study programmes hoping
that they would be able to enjoy
such programmes and develop appropriate careers in line with the
training received. More often than
not, such trial and error results
in a mismatch between one's aptitude and the job.
ICBT Campus
holds graduation
2008 in style
In one of the finest ceremonies ever held by a
private sector educational
institute, ICBT Campus
held its annual graduation
ceremony at the BMICH
recently with over 450 students graduating in areas
such as Computing, Business Management, Master
of Business Administration, Teaching Technology, Montessori Teacher
Education and Quantity
Surveying.
The Graduation Ceremony was graced by the
presence of Professor Michael Driscoll, Vice-Chancellor, Dr. Terry Butland,
Deputy Vice-Chancellor,
Prof. Richard Comely, and
Prof. Raj Gill, all from
Middlesex
University,
UK. Monika Borek, from
Modern Montessori International – Singapore,
Ishan Siddique, Country
Manager/Edexcel International, UK and Jagath
Alwis, Deputy Chairman,
Ceylinco Education Group
were also there.
ICBT Campus is the
leader in private sector
education in Sri Lanka
offering a range of educational programmes in association with some of the
best universities and educational service providers
in Australia and the UK.
The main ICBT Campus
is located at Mount Lavina
with branches in Bambalapitiya, Kandy and Matara.
All Campuses feature stateof-the art facilities, providing the best learning experience to students.
Often the decision to pursue a
study programme and a related
career is made on the basis of job
prospects. Nowadays, for example,
there is so much talk about the
shortage of manpower for the IT
industry. But then, is IT a good
career for us? We need to find out.
Availability of jobs is an important parameter provided that the
jobs are also in line with our aptitude and interests.
Sometimes we receive recommendations from our friends
and relations. Unfortunately this
well-meaning guidance is based
on judgments made from within
their own frame of reference,
which may not be relevant for us.
For example, there is social pressure for students in our country
to become doctors and engineers
and many succumb to such compulsion. Some would regret these
hasty decisions later on and try
to wriggle out of the boring jobs
they find themselves in, to pursue
careers they can really enjoy. Unfortunately, only a few succeed at
such attempts and that too after
wasting a lot of time and money.
It is therefore advisable to seek
the guidance of professional
career counsellors. The career
guidance counsellors can provide
information about various study
programmes and careers available and may also help you to explore yourself.
The Counsellors at APIIT – Sri
Lanka are well informed about
the study programmes on offer at
APIIT and the careers they lead to.
They can assist you to match your
interests and aptitude to the demands of the study programmes
and related careers and help you
make an informed decision. Selection of study programmes to suit
one's interests and strengths often
lead to successful completion of
higher education and rewarding
careers.
If you are keen on pursuing a
career in IT/Computing or Business Management, this is your
opportunity. Call (011 2675060) Senani, Kanchana, Upeka or Jayan
today to make an appointment for
a career guidance and counselling
session and select an appropriate
higher education programme to
suit your likes and dislikes.
You may also visit the APIIT
City Campus at 388, Union Place,
Colombo 2 to meet with a counsellor. The APIIT City Campus is
open on weekdays from 8:30 a.m.
to 5 p.m. and on Saturdays from
8:30 a.m. to 1 p.m.