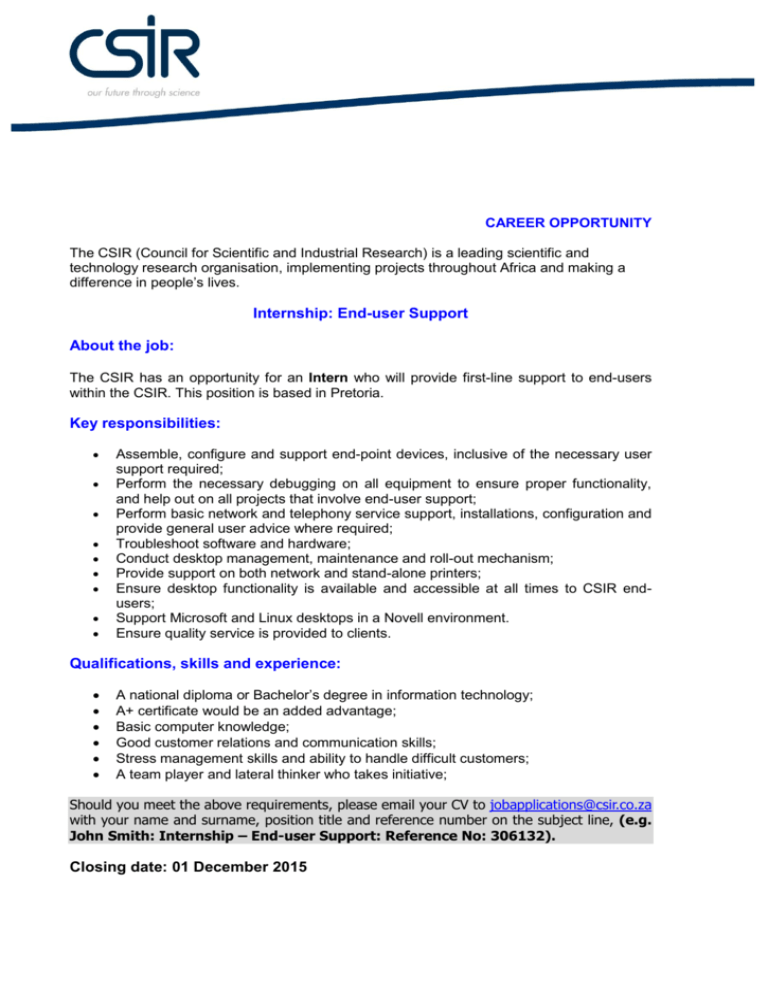 CAREER OPPORTUNITY
The CSIR (Council for Scientific and Industrial Research) is a leading scientific and
technology research organisation, implementing projects throughout Africa and making a
difference in people's lives.
Internship: End-user Support
About the job:
The CSIR has an opportunity for an Intern who will provide first-line support to end-users
within the CSIR. This position is based in Pretoria.
Key responsibilities:









Assemble, configure and support end-point devices, inclusive of the necessary user
support required;
Perform the necessary debugging on all equipment to ensure proper functionality,
and help out on all projects that involve end-user support;
Perform basic network and telephony service support, installations, configuration and
provide general user advice where required;
Troubleshoot software and hardware;
Conduct desktop management, maintenance and roll-out mechanism;
Provide support on both network and stand-alone printers;
Ensure desktop functionality is available and accessible at all times to CSIR endusers;
Support Microsoft and Linux desktops in a Novell environment.
Ensure quality service is provided to clients.
Qualifications, skills and experience:






A national diploma or Bachelor's degree in information technology;
A+ certificate would be an added advantage;
Basic computer knowledge;
Good customer relations and communication skills;
Stress management skills and ability to handle difficult customers;
A team player and lateral thinker who takes initiative;
Should you meet the above requirements, please email your CV to jobapplications@csir.co.za
with your name and surname, position title and reference number on the subject line, (e.g.
John Smith: Internship – End-user Support: Reference No: 306132).
Closing date: 01 December 2015
PLEASE NOTE THAT FEEDBACK WILL BE GIVEN TO SHORTLISTED CANDIDATES
ONLY.
For more info, please contact CSIR Recruitment Centre on 012 841 4774 or email us at
Recruitmentinfo@csir.co.za
The CSIR is a responsible employer; we have put measures in place to ensure that equity is implemented such that it
best serves the interests of the organisation and South Africa as a whole. This speaks to the CSIR's commitment to the
Employment Equity Act of 1998. By applying for this position at the CSIR, the applicant understands, consents and
agrees that the CSIR may solicit a credit and criminal report from a registered credit bureau and/or SAPS (in relation to
positions that require trust and honesty and/or entail the handling of cash or finances) and may also verify the
applicant's educational qualifications and employment history. The CSIR reserves the right to remove the
advertisement at any time before the stated closing date and it further reserves the right not to appoint if a
suitable candidate is not identified.