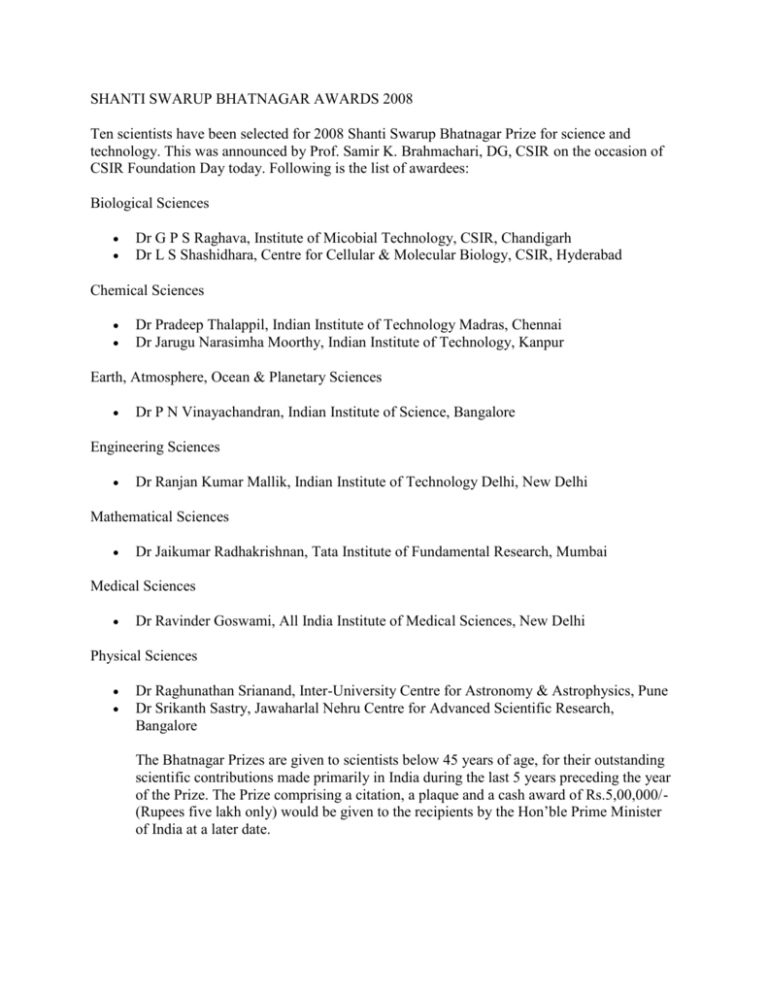 SHANTI SWARUP BHATNAGAR AWARDS 2008
Ten scientists have been selected for 2008 Shanti Swarup Bhatnagar Prize for science and
technology. This was announced by Prof. Samir K. Brahmachari, DG, CSIR on the occasion of
CSIR Foundation Day today. Following is the list of awardees:
Biological Sciences


Dr G P S Raghava, Institute of Micobial Technology, CSIR, Chandigarh
Dr L S Shashidhara, Centre for Cellular & Molecular Biology, CSIR, Hyderabad
Chemical Sciences


Dr Pradeep Thalappil, Indian Institute of Technology Madras, Chennai
Dr Jarugu Narasimha Moorthy, Indian Institute of Technology, Kanpur
Earth, Atmosphere, Ocean & Planetary Sciences

Dr P N Vinayachandran, Indian Institute of Science, Bangalore
Engineering Sciences

Dr Ranjan Kumar Mallik, Indian Institute of Technology Delhi, New Delhi
Mathematical Sciences

Dr Jaikumar Radhakrishnan, Tata Institute of Fundamental Research, Mumbai
Medical Sciences

Dr Ravinder Goswami, All India Institute of Medical Sciences, New Delhi
Physical Sciences


Dr Raghunathan Srianand, Inter-University Centre for Astronomy & Astrophysics, Pune
Dr Srikanth Sastry, Jawaharlal Nehru Centre for Advanced Scientific Research,
Bangalore
The Bhatnagar Prizes are given to scientists below 45 years of age, for their outstanding
scientific contributions made primarily in India during the last 5 years preceding the year
of the Prize. The Prize comprising a citation, a plaque and a cash award of Rs.5,00,000/(Rupees five lakh only) would be given to the recipients by the Hon'ble Prime Minister
of India at a later date.