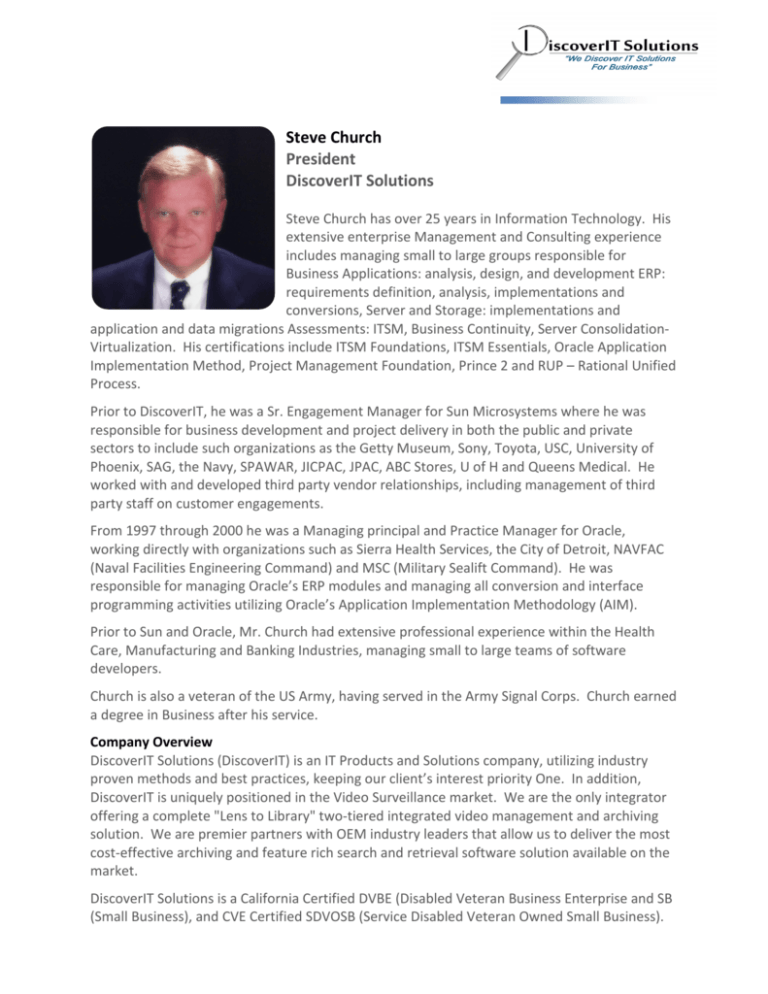 Steve Church
President
DiscoverIT Solutions
Steve Church has over 25 years in Information Technology. His
extensive enterprise Management and Consulting experience
includes managing small to large groups responsible for
Business Applications: analysis, design, and development ERP:
requirements definition, analysis, implementations and
conversions, Server and Storage: implementations and
application and data migrations Assessments: ITSM, Business Continuity, Server ConsolidationVirtualization. His certifications include ITSM Foundations, ITSM Essentials, Oracle Application
Implementation Method, Project Management Foundation, Prince 2 and RUP – Rational Unified
Process.
Prior to DiscoverIT, he was a Sr. Engagement Manager for Sun Microsystems where he was
responsible for business development and project delivery in both the public and private
sectors to include such organizations as the Getty Museum, Sony, Toyota, USC, University of
Phoenix, SAG, the Navy, SPAWAR, JICPAC, JPAC, ABC Stores, U of H and Queens Medical. He
worked with and developed third party vendor relationships, including management of third
party staff on customer engagements.
From 1997 through 2000 he was a Managing principal and Practice Manager for Oracle,
working directly with organizations such as Sierra Health Services, the City of Detroit, NAVFAC
(Naval Facilities Engineering Command) and MSC (Military Sealift Command). He was
responsible for managing Oracle's ERP modules and managing all conversion and interface
programming activities utilizing Oracle's Application Implementation Methodology (AIM).
Prior to Sun and Oracle, Mr. Church had extensive professional experience within the Health
Care, Manufacturing and Banking Industries, managing small to large teams of software
developers.
Church is also a veteran of the US Army, having served in the Army Signal Corps. Church earned
a degree in Business after his service.
Company Overview
DiscoverIT Solutions (DiscoverIT) is an IT Products and Solutions company, utilizing industry
proven methods and best practices, keeping our client's interest priority One. In addition,
DiscoverIT is uniquely positioned in the Video Surveillance market. We are the only integrator
offering a complete "Lens to Library" two-tiered integrated video management and archiving
solution. We are premier partners with OEM industry leaders that allow us to deliver the most
cost-effective archiving and feature rich search and retrieval software solution available on the
market.
DiscoverIT Solutions is a California Certified DVBE (Disabled Veteran Business Enterprise and SB
(Small Business), and CVE Certified SDVOSB (Service Disabled Veteran Owned Small Business).