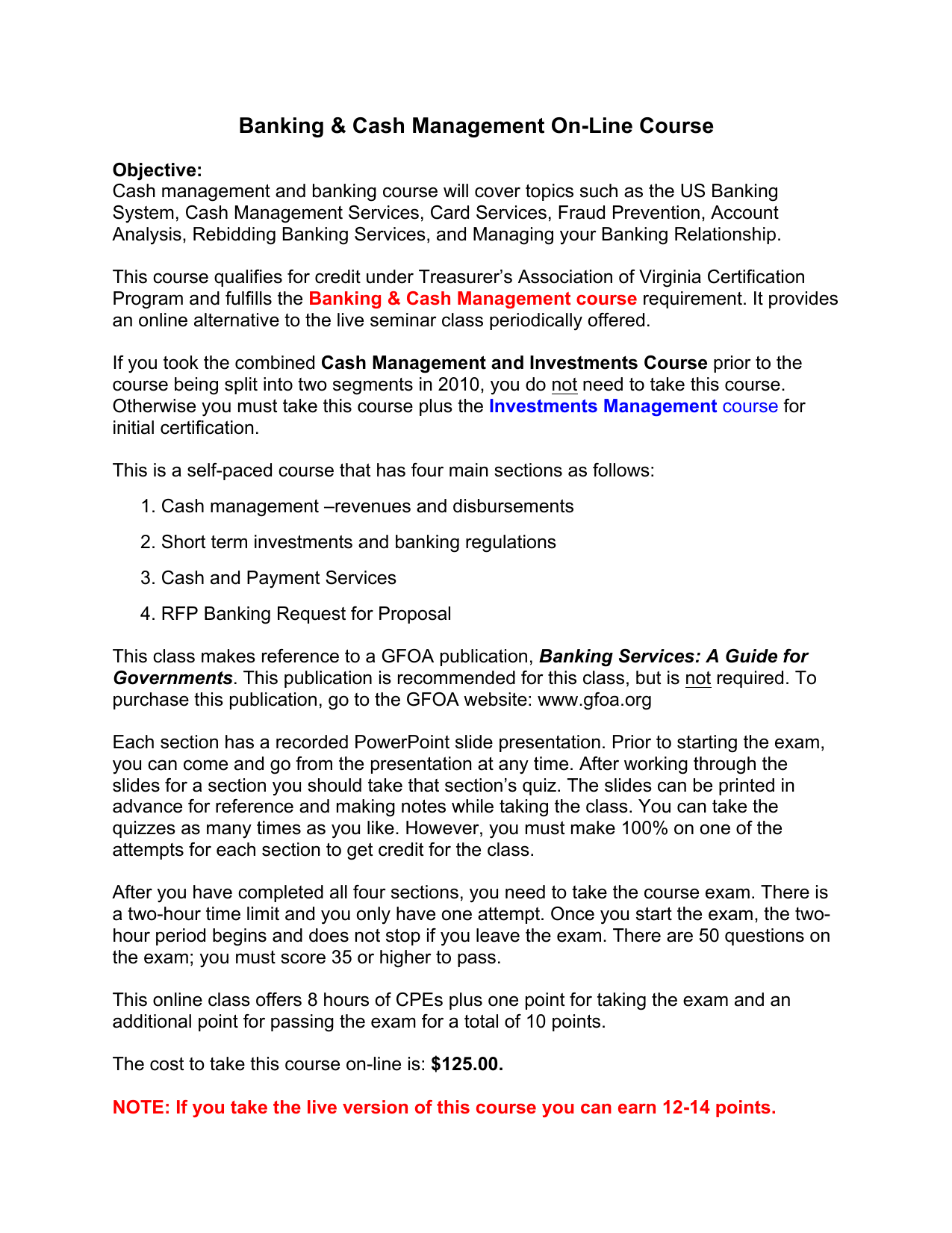 Banking & Cash Management On-Line Course
Objective:
Cash management and banking course will cover topics such as the US Banking
System, Cash Management Services, Card Services, Fraud Prevention, Account
Analysis, Rebidding Banking Services, and Managing your Banking Relationship.
This course qualifies for credit under Treasurer's Association of Virginia Certification
Program and fulfills the Banking & Cash Management course requirement. It provides
an online alternative to the live seminar class periodically offered.
If you took the combined Cash Management and Investments Course prior to the
course being split into two segments in 2010, you do not need to take this course.
Otherwise you must take this course plus the Investments Management course for
initial certification.
This is a self-paced course that has four main sections as follows:
1. Cash management –revenues and disbursements
2. Short term investments and banking regulations
3. Cash and Payment Services
4. RFP Banking Request for Proposal
This class makes reference to a GFOA publication, Banking Services: A Guide for
Governments. This publication is recommended for this class, but is not required. To
purchase this publication, go to the GFOA website: www.gfoa.org
Each section has a recorded PowerPoint slide presentation. Prior to starting the exam,
you can come and go from the presentation at any time. After working through the
slides for a section you should take that section's quiz. The slides can be printed in
advance for reference and making notes while taking the class. You can take the
quizzes as many times as you like. However, you must make 100% on one of the
attempts for each section to get credit for the class.
After you have completed all four sections, you need to take the course exam. There is
a two-hour time limit and you only have one attempt. Once you start the exam, the twohour period begins and does not stop if you leave the exam. There are 50 questions on
the exam; you must score 35 or higher to pass.
This online class offers 8 hours of CPEs plus one point for taking the exam and an
additional point for passing the exam for a total of 10 points.
The cost to take this course on-line is: $125.00.
NOTE: If you take the live version of this course you can earn 12-14 points.