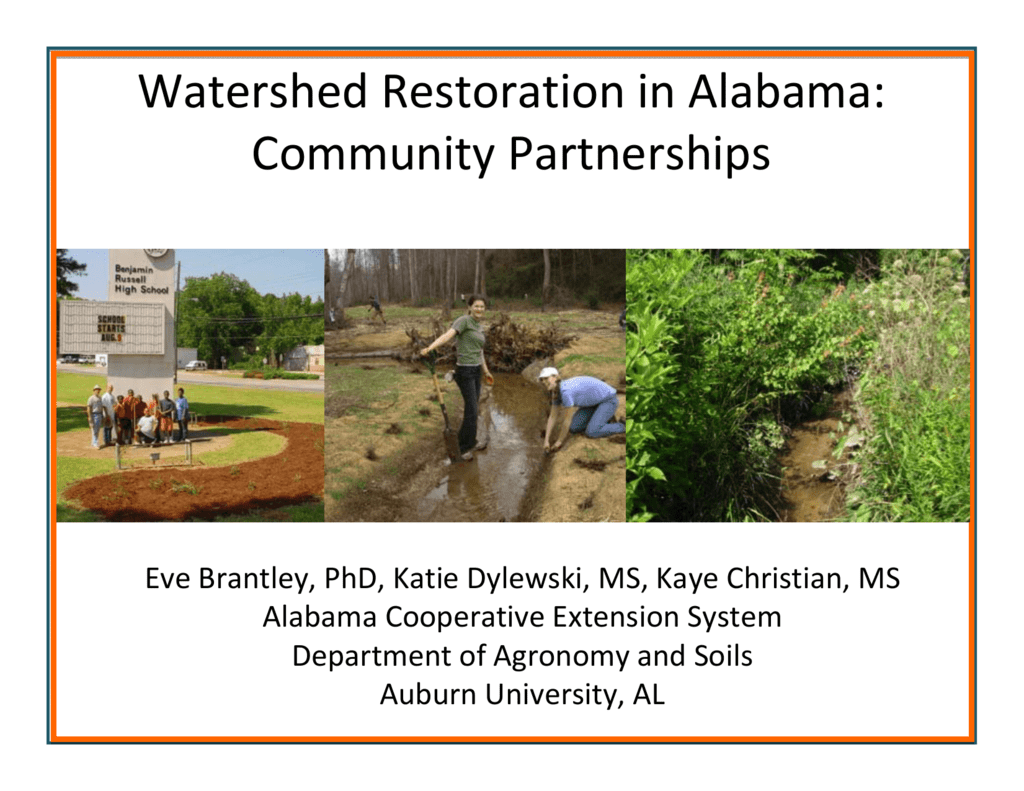 Watershed Restoration in Alabama:
Community Partnerships
Eve Brantley, PhD, Katie Dylewski, MS, Kaye Christian, MS
Alabama Cooperative Extension System
Department of Agronomy and Soils
Auburn University, AL
Education
Partnerships
Planning
Implementation
Evaluation
Education
• Watersheds are systems
Education
Education
• Alabama Smart Yards www.aces.edu/pubs/docs/A/ANR‐1359/
• ACES Timely Information Articles www.aces.edu/timelyinfo/
Case Study: Little Shades Creek, Vestavia Hills, AL
Partners
• Ashley Woods Subdivision
• Cawaco RC&D Council
• AL Dept. of Environmental Management
• City of Vestavia Hills
• Goodwyn, Mills, Cawood, Inc.
• North Carolina State Univ.
• North State Environmental, Inc.
• Morgan Properties
• Auburn University
• AL Cooperative Extension System
• Others …
Planning
•
•
•
•
What are the key concerns?
What can the project address?
How much will it cost?
Who will do it?
Project Goals
•
•
•
•
Infrastructure protection
Water quality improvement
Stormwater management
Community engagement and involvement
Implementation
Implementation
Implementation
Implementation
Evaluation
Evaluation
Evaluation
Education
• Community tours
• Professional development workshops
• Signs and media coverage
Impact
• Shades Creek, Samford University, Homewood, AL
Education
Thank you!