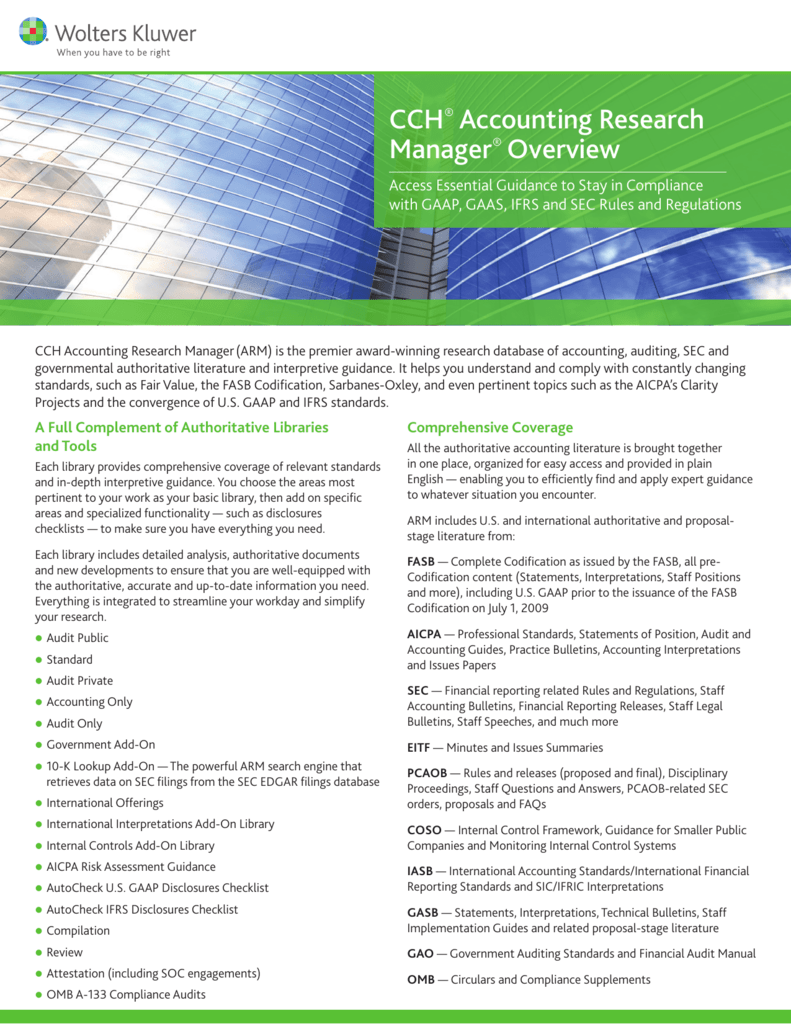 CCH® Accounting Research
Manager® Overview
Access Essential Guidance to Stay in Compliance
with GAAP, GAAS, IFRS and SEC Rules and Regulations
CCH Accounting Research Manager (ARM) is the premier award-winning research database of accounting, auditing, SEC and
governmental authoritative literature and interpretive guidance. It helps you understand and comply with constantly changing
standards, such as Fair Value, the FASB Codification, Sarbanes-Oxley, and even pertinent topics such as the AICPA's Clarity
Projects and the convergence of U.S. GAAP and IFRS standards.
A Full Complement of Authoritative Libraries
and Tools
Each library provides comprehensive coverage of relevant standards
and in-depth interpretive guidance. You choose the areas most
pertinent to your work as your basic library, then add on specific
areas and specialized functionality — such as disclosures
checklists — to make sure you have everything you need.
Each library includes detailed analysis, authoritative documents
and new developments to ensure that you are well-equipped with
the authoritative, accurate and up-to-date information you need.
Everything is integrated to streamline your workday and simplify
your research.
zz
Audit Public
zz
Standard
zz
Audit Private
Comprehensive Coverage
All the authoritative accounting literature is brought together
in one place, organized for easy access and provided in plain
English — enabling you to efficiently find and apply expert guidance
to whatever situation you encounter.
ARM includes U.S. and international authoritative and proposalstage literature from:
FASB — Complete Codification as issued by the FASB, all preCodification content (Statements, Interpretations, Staff Positions
and more), including U.S. GAAP prior to the issuance of the FASB
Codification on July 1, 2009
AICPA — Professional Standards, Statements of Position, Audit and
Accounting Guides, Practice Bulletins, Accounting Interpretations
and Issues Papers
zz
Audit Only
SEC — Financial reporting related Rules and Regulations, Staff
Accounting Bulletins, Financial Reporting Releases, Staff Legal
Bulletins, Staff Speeches, and much more
zz
Government Add-On
EITF — Minutes and Issues Summaries
zz
Accounting Only
zz
10-K Lookup Add-On — The powerful ARM search engine that
retrieves data on SEC filings from the SEC EDGAR filings database
zz
International Offerings
zz
International Interpretations Add-On Library
zz
Internal Controls Add-On Library
zz
AICPA Risk Assessment Guidance
zz
AutoCheck U.S. GAAP Disclosures Checklist
zz
AutoCheck IFRS Disclosures Checklist
PCAOB — Rules and releases (proposed and final), Disciplinary
Proceedings, Staff Questions and Answers, PCAOB-related SEC
orders, proposals and FAQs
COSO — Internal Control Framework, Guidance for Smaller Public
Companies and Monitoring Internal Control Systems
IASB — International Accounting Standards/International Financial
Reporting Standards and SIC/IFRIC Interpretations
zz
Compilation
GASB — Statements, Interpretations, Technical Bulletins, Staff
Implementation Guides and related proposal-stage literature
zz
Review
GAO — Government Auditing Standards and Financial Audit Manual
zz
Attestation (including SOC engagements)
zz
OMB A-133 Compliance Audits
OMB — Circulars and Compliance Supplements
CCH® Accounting Research Manager® Overview
Expert Interpretive Guidance
ARM is your window to the literature, featuring summaries of
all significant accounting matters, all brought together in one
convenient location. However, ARM goes beyond that, also
providing a remarkable depth and breadth of interpretations.
You benefit from access to the precise content you need, as well
as multiple viewpoints that contribute to your ability to make
sound accounting and auditing decisions.
zz
Gain access to valuable workpapers that include illustrative
sample financial statements, sample disclosures, pertinent
standards and more.
zz
See an additional layer of guidance and otherwise hard-to-acquire
insights from leading subject matter experts through the various
specialty libraries and collaborative portfolios.
zz
Find insightful interpretations on U.S. GAAP or U.S. GAAS that
can help an audit or corporate user test a client's accounting
entries or support a position when there is disagreement.
zz
Easily compare international standards with U.S. GAAP in the
side-by-side format displayed in ARM.
zz
Quickly refer to answers to hundreds of frequently asked
questions on how to implement the standards.
zz
Plan and execute auditing and attest engagements and quickly
integrate the standards into your work with a wealth of practice
aids to assist you.
Timely Reporting and In-Depth Analysis
The highly credentialed ARM editorial staff is made up of content,
publishing, and technology experts who author, edit and create
the interpretive guidance and are dedicated to maintaining and
updating the solution daily. Our editors are joined by a group
of regular contributors who are practicing CPAs, recognized for
their specific expertise and involved in serving the profession. As
former or current holders of positions with various standard setting
bodies such as FASB or the SEC, their knowledge and perspective is
invaluable in maintaining the quality and accuracy of the content on
ARM. An Editorial Advisory Board also lends its expertise and insight
to the oversight and evolution of the content.
The ARM Daily News — Each day, our expert staff reports key
accounting, auditing, international, regulatory (e.g., SEC) and
governmental news that may affect your organization, and brings
them directly to your desktop by email. In addition to clear and
concise news reporting, where appropriate, links will be provided
to ARM's exclusive deeper analyses of the developments and to the
relevant source materials.
Weekly Summary Email Alerts — The most current developments
in accounting and financial reporting are conveniently emailed
to you at the end of each business week. With access to real-time
updates, you can see new literature as it is released with
corresponding interpretations.
What's New Checklist — A quick, at-a-glance list of anything new
that's been added to ARM.
A Closer Look — Your ARM subscription includes a periodic
in-depth analysis of an emerging topic deserving of consideration.
With ARM, you'll add value to your clients by finding the accounting
and audit research you need — including summarized topics and
links to all relevant materials — in a fraction of the time and all in
one place. You'll have access to near real-time interpretive guidance
and authoritative literature written by accounting industry leaders.
Knowledge-Based Audit Methodology for AICPA Risk
Assessment Standards Compliance
The Knowledge-Based Audit (KBA) Methodology was developed
by Wolters Kluwer to ensure the best possible approach to applying
the AICPA and PCAOB risk-based standards. This approach enables
the auditor to make informed judgments rather than simply
ensuring compliance to a checklist.
Individual titles assist you in performing risk-based engagements
by providing expert guidance, risk assessment tools and
comprehensive practice aids. Each audit title follows the KBA
framework and includes the latest audit requirements for a
specific type of company or organization. You can access the
complete list of titles, along with corresponding audit guides, at
CCHGroup.com/AuditTitles.
A Complete, Integrated Solution
The Knowledge-Based Audit Methodology that is available to you
on ARM combines content and process in a way that delivers the
accuracy, quality and flexibility needed for 21st century auditing.
You can make that a concrete reality with the addition of
an unbeatable set of fully-integrated software applications:
CCH® ProSystem fx® Engagement and CCH® ProSystem fx®
Knowledge Coach. Built into the software is seamless access to
the essential standards, guidance and interpretations on CCH
Accounting Research Manager. You can take another step toward
workflow integration with productivity-boosting specialty tools like
CCH® ProSystem fx® ActiveData and CCH® ProSystem fx® PDFlyer.
With focused training courses making it all a reality, you are ready
to tap into this powerful solution that will strengthen your audit
practice and earn your clients' continued trust and confidence.
Develop Exceptional Auditors through the
School of Audit
You can fulfill all your firm's required annual audit CPE hours
through the CCH® Learning & Development Academy — School
of Audit. This state-of-the-art training weaves three essential types
of training — technical accounting, software tools, and professional
skills — into one curriculum designed for maximum impact.
With the Academy, your audit professionals attend a session
based on their experience, from beginner to expert, and the role
they perform within your practice. Leverage Wolters Kluwer's
excellent teaching, relevant, role-based curriculum design, and
expert content for an exceptional learning experience that equips
your staff for immediate contribution.
CCH Accounting Research Manager provides comprehensive content in a single location.
ARM includes content, interpretations, examples, topical articles, current event summaries, and so much more.
Audit
Public
Standard
Audit
Private
Accounting
Only
Audit
Only
Government
Add-On
Academic
Audit Public
Academic
Standard






















CCH Accounting Research Manager
What's New Checklist
Weekly Summary
EITF Flash Reports
Engagement Standards
Accounting Standards
SEC Practice
Interpretations & Examples
Project Updates
Hot Topics
Literature Updates
Comments on Standard Setter Projects























































FASB — Financial Accounting Standards Board
FASB Codification with SEC sections
FASB Codification without SEC sections
Pre-FASB Codification Literature



































EITF — Emerging Issues Task Force
Minutes and Issue Summaries
AICPA — American Institute of Certified Public Accountants
Audit and Accounting Guides
Audit Risk Alerts
Issues Papers and Related Proposal-Stage Literature
Practice Bulletins
Statements of Position (Auditing)
Auditing Standards (SAS)
Attestation Standards (SSAE)
Accounting and Review Services Standards (SSARS)
Standards for Performing and Reporting on Peer Reviews
Technical Questions and Answers (Technical Practice Aids)
Other Publications
Statements on Standards for Consulting Services (SSCS)











































































SEC — Securities and Exchange Commission
Rules, Regulations, Forms and Releases of the 1933 & 1934 Acts
Financial Reporting Releases
Accounting and Auditing Enforcement Releases
Staff Accounting Bulletins
Financial Reporting Manual
SEC Staff Speeches
SEC Releases of Final and Proposed Rules
Sarbanes-Oxley Mandated SEC Rules with Summaries
Extensive Interpretations and Guidance with Links
Audit
Private
Academic
Audit Public
Academic
Standard























Audit
Only
Standard

Accounting
Only
Audit
Public
Government
Add-On
CCH® Accounting Research Manager® Overview
PCAOB — Public Company Accounting Oversight Board
Final and Proposed Rules and Releases
Disciplinary Proceedings
PCAOB Staff Questions and Answers
PCAOB-Related SEC Orders, Proposals and FAQs
GASB — Governmental Accounting Standards Board
Statements and Interpretations
Technical Bulletins
Implementation Guides and Related Proposal-Stage Literature



GAO — Government Accountability Office
Government Accounting Standards (Yellow Book)
Financial Audit Manual


OMB — Office of Management and Budgets
Circulars
Compliance Supplements


IASB — International Accounting Standards Board
IFRSs, IASs, IFRIC and SIC Interpretations and Related Proposal-Stage Literature










































CCH® Publications
Accounting for Business Combinations
Accounting for Leases
Accounting for Compensation Arrangements
Derivatives and Hedging
Financial Assets and Liabilities
Accounting for Income Taxes
GAAS Practice Manual
GAAS Update Service
Knowledge-Based Audit Procedures (Commercial Entities)
Compilations and Reviews
Governmental GAAP Guide
Governmental GAAP Practice Manual
Governmental GAAP Update Service
Local Government and Single Audits
CPA's Guide to Effective Management Letters
CPA's Guide to Management Letter Comments
GAAP Financial Statement Disclosures Manual
Attestation Engagements
Revenue Recognition Guide
Guide to Financial Instruments


















































CCH® Accounting Research Manager® Overview
Plus much more within the database such as:
CCH Accounting Research Manager Add-On Products:
AutoCheck U.S. GAAP Disclosures
Checklist
zz
AutoCheck IFRS Disclosures Checklist
zz
Financial Institutions Audit Guide
zz
Governmental Entities Audit Guide
zz
Health Care Organizations Audit
Guide
zz
zz
zz
zz
International Interpretations
zz
Construction Audit Guide
zz
Employee Benefit Plans Audit Guide
zz
Nontraditional Engagements Guide
(Including SOC Engagements)
zz
zz
zz
zz
Real Estate Audit Guide
Single Audits Audit Guide
Fraud and Forensic Library
Internal Audit Library
zz
Not-for-Profit Entities Audit Guide
zz
Public Audit Guide
zz
Compilations and Reviews Guide
Internal Controls Library
Common Interest Realty
Associations Guide
"I've been using CCH Accounting
Research Manager, and found it
very easy to find what I'm looking
for. It's layout is much easier than
competitive solutions that I've
used."
"CCH Accounting Research Manager
is a very user friendly tool that
allows us to quickly and efficiently
research the latest accounting
compliance issues."
For More Information
CCHGroup.com
888-CCH-REPS (888-224-7377)
All trademarks and copyrights are property of their respective owners.
12/15 2014-0482-2
Join us on
at CCHGroup.com/Social
© 2015 CCH Incorporated and its affiliates.
All rights reserved.