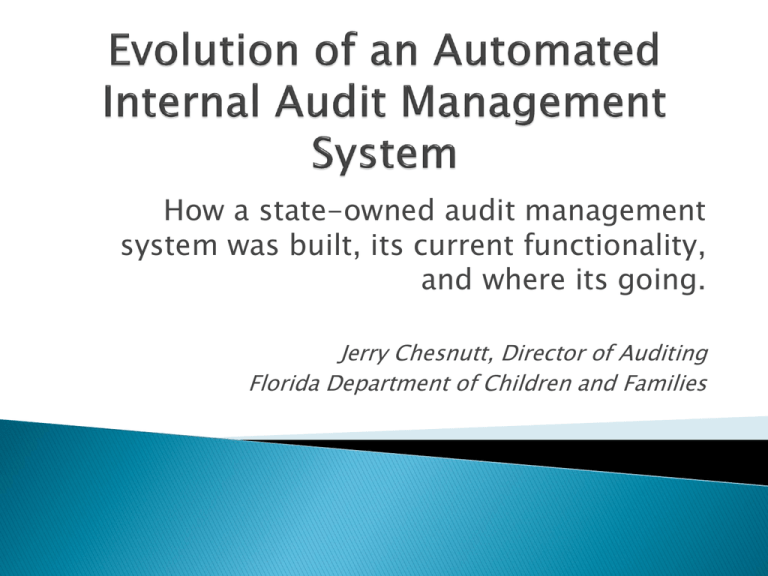 How a state-owned audit management
system was built, its current functionality,
and where its going.
Jerry Chesnutt, Director of Auditing
Florida Department of Children and Families
IIAMS is a fully function audit management
system designed for state government. Some
features include:






Project management
Audit documentation
Facilitation of the supervisory review and approval process
Timekeeping
Training
Ad hoc reporting

The web-based application was developed to
meet the needs of State of Florida internal
auditors.

In 2003-04, a team of auditors and experienced
c# programmers designed the system.

Program language was converted to VB.net in
2009.

The system is now available to all state agencies.

Eighteen state agencies have signed on.







No cost to users.
Secure portal.
The application resides at the Northwood
Shared Resource Center.
Ability to access the Internet within the
application.
Capability to communicate with all users from
the IIAMS home page.
IIAMS User Group owns the application.
Modification and enhancements are approved
by the user group.





Web-based enterprise system…no software
to install or maintain.
System alerts audit staff and management
regarding the review and approval process.
Standard projects templates save time and
ensure consistency in routinely performed
projects.
IIA standards and guidance are imbedded in
the system.
Continuous risk assessment module currently
under development.