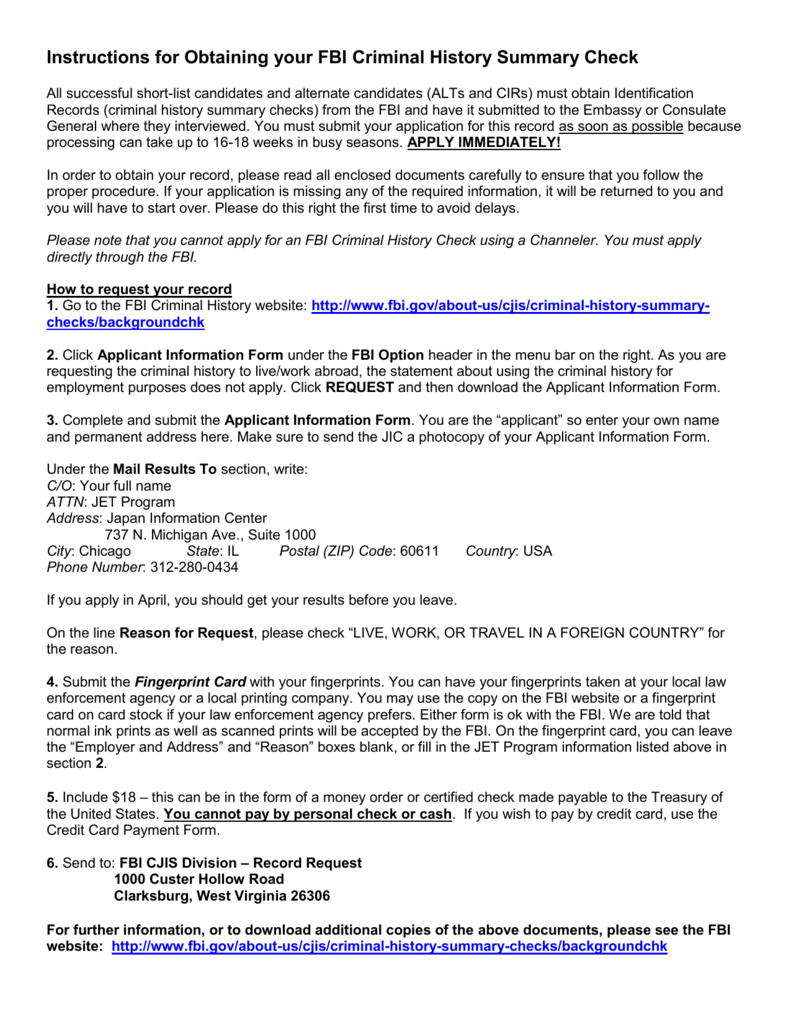 Instructions for Obtaining your FBI Criminal History Summary Check
All successful short-list candidates and alternate candidates (ALTs and CIRs) must obtain Identification
Records (criminal history summary checks) from the FBI and have it submitted to the Embassy or Consulate
General where they interviewed. You must submit your application for this record as soon as possible because
processing can take up to 16-18 weeks in busy seasons. APPLY IMMEDIATELY!
In order to obtain your record, please read all enclosed documents carefully to ensure that you follow the
proper procedure. If your application is missing any of the required information, it will be returned to you and
you will have to start over. Please do this right the first time to avoid delays.
Please note that you cannot apply for an FBI Criminal History Check using a Channeler. You must apply
directly through the FBI.
How to request your record
1. Go to the FBI Criminal History website: http://www.fbi.gov/about-us/cjis/criminal-history-summarychecks/backgroundchk
2. Click Applicant Information Form under the FBI Option header in the menu bar on the right. As you are
requesting the criminal history to live/work abroad, the statement about using the criminal history for
employment purposes does not apply. Click REQUEST and then download the Applicant Information Form.
3. Complete and submit the Applicant Information Form. You are the "applicant" so enter your own name
and permanent address here. Make sure to send the JIC a photocopy of your Applicant Information Form.
Under the Mail Results To section, write:
C/O: Your full name
ATTN: JET Program
Address: Japan Information Center
737 N. Michigan Ave., Suite 1000
City: Chicago
State: IL
Postal (ZIP) Code: 60611
Phone Number: 312-280-0434
Country: USA
If you apply in April, you should get your results before you leave.
On the line Reason for Request, please check "LIVE, WORK, OR TRAVEL IN A FOREIGN COUNTRY" for
the reason.
4. Submit the Fingerprint Card with your fingerprints. You can have your fingerprints taken at your local law
enforcement agency or a local printing company. You may use the copy on the FBI website or a fingerprint
card on card stock if your law enforcement agency prefers. Either form is ok with the FBI. We are told that
normal ink prints as well as scanned prints will be accepted by the FBI. On the fingerprint card, you can leave
the "Employer and Address" and "Reason" boxes blank, or fill in the JET Program information listed above in
section 2.
5. Include $18 – this can be in the form of a money order or certified check made payable to the Treasury of
the United States. You cannot pay by personal check or cash. If you wish to pay by credit card, use the
Credit Card Payment Form.
6. Send to: FBI CJIS Division – Record Request
1000 Custer Hollow Road
Clarksburg, West Virginia 26306
For further information, or to download additional copies of the above documents, please see the FBI
website: http://www.fbi.gov/about-us/cjis/criminal-history-summary-checks/backgroundchk
If you cannot access the previous site for some reason, go to http://www.fbi.gov/hq/cjisd/cjis.htm and click
on "Criminal History Summary Checks."
APPLY IMMEDIATELY!