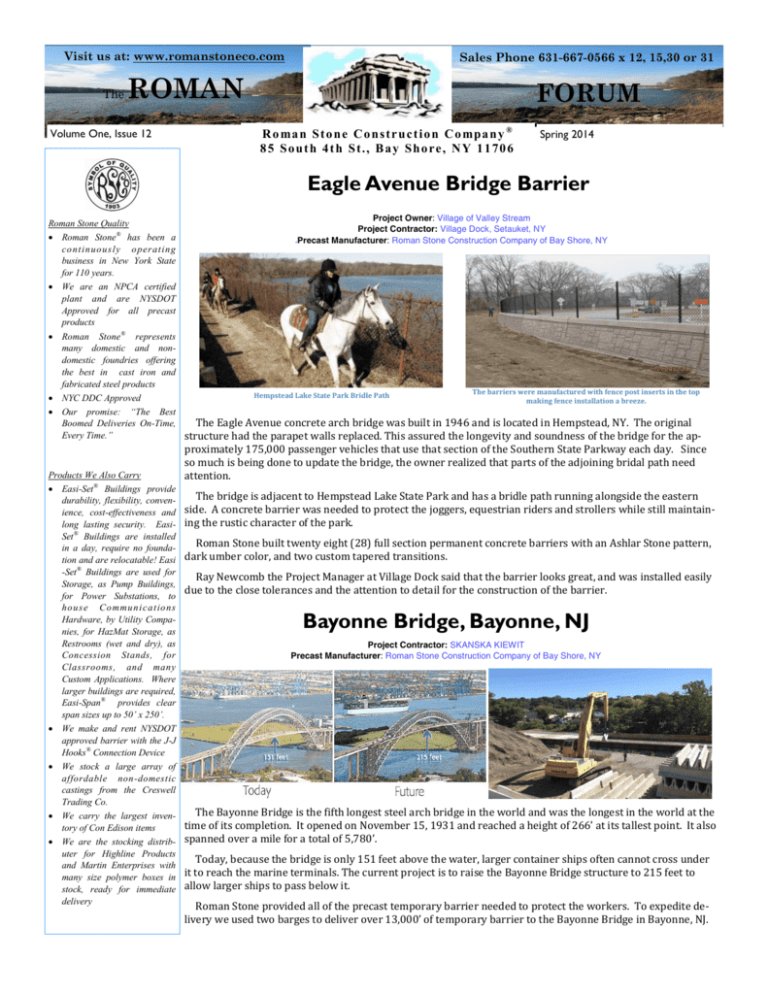 Visit us at: www.romanstoneco.com
The
Sales Phone 631-667-0566 x 12, 15,30 or 31
ROMAN
Volume One, Issue 12
FORUM
R o ma n S t o n e C o n s t r u c t i o n C o mp a n y ®
8 5 S o u t h 4 t h S t. , B a y Sh o r e , N Y 1 1 7 0 6
Spring 2014
Eagle Avenue Bridge Barrier
Project Owner: Village of Valley Stream
Roman Stone Quality
Project Contractor: Village Dock, Setauket, NY
 Roman Stone® has been a
Precast Manufacturer: Roman Stone Construction Company of Bay Shore, NY
co nt in uo us ly o p er at ing
business in New York State
for 110 years.
 We are an NPCA certified
plant and are NYSDOT
Approved for all precast
products
 Roman Stone® represents
many domestic and nondomestic foundries offering
the best in cast iron and
fabricated steel products
The barriers were manufactured with fence post inserts in the top
Hempstead Lake State Park Bridle Path
 NYC DDC Approved
making fence installation a breeze.
 Our promise: "The Best
The Eagle Avenue concrete arch bridge was built in 1946 and is located in Hempstead, NY. The original
Boomed Deliveries On-Time,
Every Time."
structure had the parapet walls replaced. This assured the longevity and soundness of the bridge for the apP
Products We Also Carry
 Easi-Set® Buildings provide
durability, flexibility, convenience, cost-effectiveness and
long lasting security. EasiSet® Buildings are installed
in a day, require no foundation and are relocatable! Easi
-Set® Buildings are used for
Storage, as Pump Buildings,
for Power Substations, to
h o u s e Co mmu n i ca t io ns
Hardware, by Utility Companies, for HazMat Storage, as
Restrooms (wet and dry), as
Concession Stands, for
Classrooms, and many
Custom Applications. Where
larger buildings are required,
Easi-Span® provides clear
span sizes up to 50' x 250'.
 We make and rent NYSDOT
approved barrier with the J-J
Hooks® Connection Device
 We stock a large array of
affordable non-domestic
castings from the Creswell
Trading Co.
 We carry the largest inventory of Con Edison items
 We are the stocking distributer for Highline Products
and Martin Enterprises with
many size polymer boxes in
stock, ready for immediate
delivery
proximately 175,000 passenger vehicles that use that section of the Southern State Parkway each day. Since
so much is being done to update the bridge, the owner realized that parts of the adjoining bridal path need
attention.
The bridge is adjacent to Hempstead Lake State Park and has a bridle path running alongside the eastern
side. A concrete barrier was needed to protect the joggers, equestrian riders and strollers while still maintaining the rustic character of the park.
Roman Stone built twenty eight (28) full section permanent concrete barriers with an Ashlar Stone pattern,
dark umber color, and two custom tapered transitions.
Ray Newcomb the Project Manager at Village Dock said that the barrier looks great, and was installed easily
due to the close tolerances and the attention to detail for the construction of the barrier.
Bayonne Bridge, Bayonne, NJ
Project Contractor: SKANSKA KIEWIT
Precast Manufacturer: Roman Stone Construction Company of Bay Shore, NY
The Bayonne Bridge is the fifth longest steel arch bridge in the world and was the longest in the world at the
time of its completion. It opened on November 15, 1931 and reached a height of 266' at its tallest point. It also
spanned over a mile for a total of 5,780'.
Today, because the bridge is only 151 feet above the water, larger container ships often cannot cross under
it to reach the marine terminals. The current project is to raise the Bayonne Bridge structure to 215 feet to
allow larger ships to pass below it.
Roman Stone provided all of the precast temporary barrier needed to protect the workers. To expedite delivery we used two barges to deliver over 13,000' of temporary barrier to the Bayonne Bridge in Bayonne, NJ.