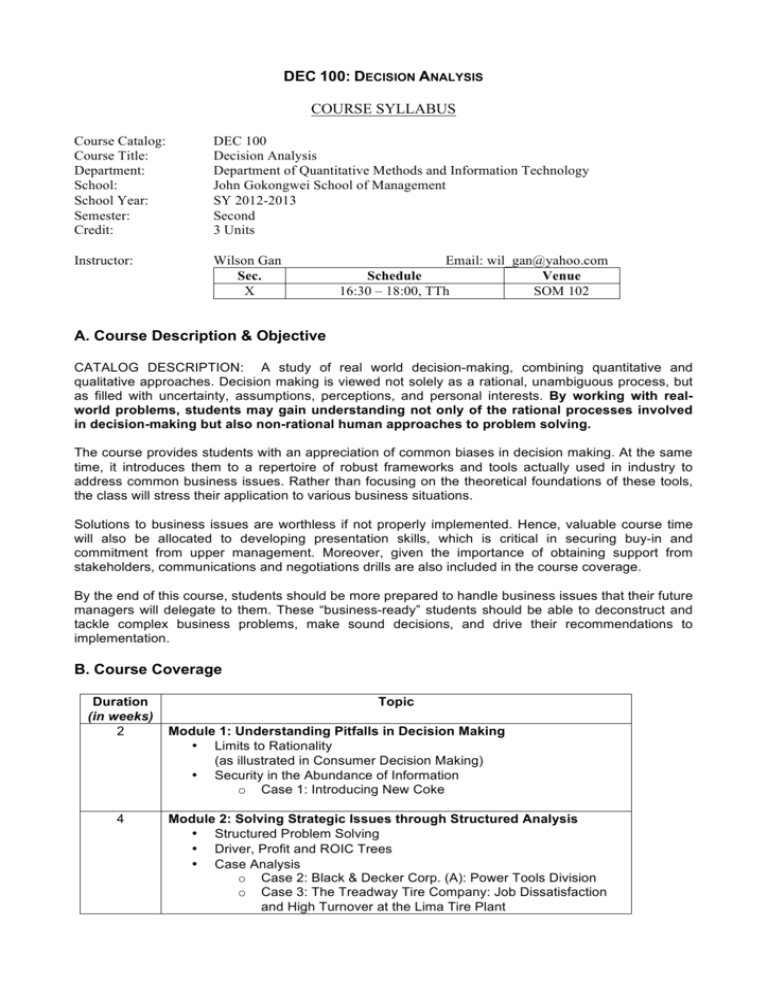 DEC 100: DECISION ANALYSIS
COURSE SYLLABUS
Course Catalog:
Course Title:
Department:
School:
School Year:
Semester:
Credit:
DEC 100
Decision Analysis
Department of Quantitative Methods and Information Technology
John Gokongwei School of Management
SY 2012-2013
Second
3 Units
Instructor:
Wilson Gan
Sec.
X
Email: wil_gan@yahoo.com
Schedule
Venue
16:30 – 18:00, TTh
SOM 102
A. Course Description & Objective
CATALOG DESCRIPTION: A study of real world decision-making, combining quantitative and
qualitative approaches. Decision making is viewed not solely as a rational, unambiguous process, but
as filled with uncertainty, assumptions, perceptions, and personal interests. By working with realworld problems, students may gain understanding not only of the rational processes involved
in decision-making but also non-rational human approaches to problem solving.
The course provides students with an appreciation of common biases in decision making. At the same
time, it introduces them to a repertoire of robust frameworks and tools actually used in industry to
address common business issues. Rather than focusing on the theoretical foundations of these tools,
the class will stress their application to various business situations.
Solutions to business issues are worthless if not properly implemented. Hence, valuable course time
will also be allocated to developing presentation skills, which is critical in securing buy-in and
commitment from upper management. Moreover, given the importance of obtaining support from
stakeholders, communications and negotiations drills are also included in the course coverage.
By the end of this course, students should be more prepared to handle business issues that their future
managers will delegate to them. These "business-ready" students should be able to deconstruct and
tackle complex business problems, make sound decisions, and drive their recommendations to
implementation.
B. Course Coverage
Duration
(in weeks)
2
4
Topic
Module 1: Understanding Pitfalls in Decision Making
• Limits to Rationality
(as illustrated in Consumer Decision Making)
• Security in the Abundance of Information
o Case 1: Introducing New Coke
Module 2: Solving Strategic Issues through Structured Analysis
• Structured Problem Solving
• Driver, Profit and ROIC Trees
• Case Analysis
o Case 2: Black & Decker Corp. (A): Power Tools Division
o Case 3: The Treadway Tire Company: Job Dissatisfaction
and High Turnover at the Lima Tire Plant
2
Case 4: Westlake Lanes: How Can This Business Be
Saved?
Case Interviews
o
•
2
Module 3: Towards Wiser Decisions
• Generating Creative Alternatives
• Managing Risk
• Dealing with Multiple Objectives
3
Module 4: Driving Your Point through Effective Presentations
• Presenting Numerical Analysis
• Structuring the Presentation Content
• Delivering Presentations
• Handling Q&A
2
Module 5: Obtaining Stakeholder Support for Strategic
Implementations through Personal Leadership and Teamwork
• Strategy Implementation Framework
• Power and Influence
• Interpersonal Communication and Conflict Management
• Negotiation Concepts and Techniques
• Change Management
C. References
Dixit, Avinash. Thinking Strategically: The Competitive Edge in Business, Politics, and Everyday Life.
Norton & Company, 1993.
Goodwin, Paul, Wright, George. Decision Analysis for Management Judgment. 4th ed. John Wiley &
Sons, 2009.
Hammon, John, Keeney, Ralph, Raiffa, Howard. Smart Choices: A Practical Guide to Making Life
Decisions. Broadway Books, 2002.
Hrebiniak, Lawrence. Making Strategy Work: Leading Effective Execution and Change. Wharton
School Publishing, 2005.
Hurson, Tim. Think Better: An Innovator's Guide to Productive Thinking. McGraw-Hill, 2007.
Jones, Morgan. The Thinker's Toolkit: 14 Powerful Techniques for Problem Solving. Three Rivers
Press, 1998.
Rasiel, Ethan. The McKinsey Way. McGraw-Hill, 1999.
Watanabe, Ken. Problem Solving 101: A Simple Book for Smart People. Portfolio Hardcover, 2009.
Zelazny, Gene. Say It With Charts: The Executive's Guide to Visual Communication. 4th ed. McGrawHill, 2001.
D. Course Requirements
Course Requirement
Group Project
Weights
40%
Tentative Submission Date: February 19, 2013
Group Written Analysis of a Case / Video
Tentative Submission Date: Nov or Dec 2012
15%
3
Individual Reaction Paper
5%
Tentative Submission Date: February 21, 2013
In-Class Exercises
Quizzes
Class Participation
10%
20%
10%
E. Grade Equivalents
92 - 100
87 - 91
83 - 86
79 - 82
3.76 – 4.00
3.31 – 3.75
2.81 – 3.30
2.31 – 2.80
A
B+
B
C+
76 - 78
70 - 75
Below 70
1.81 – 2.30
1.00 – 1.80
Below 1.00
C
D
F
F. Class Policies
1. Attendance: Students are expected to attend all scheduled classes. Although it is a privilege to
have a certain amount of cuts, this privilege comes with responsibility. It is up to the student to
make up for all the missed lectures and class work due to his absence. Note that students are
allowed at most 9 hours of cuts in this 3-unit course.
2. Punctuality: There is no distinction between an excused and an unexcused absence. A late is
equivalent to half a cut. Students who come to class fifteen minutes after the scheduled start of
class will be marked absent.
• Your instructor will never be absent without notice, although may be sometimes late.
Unless informed otherwise, please assume that class will push through at all times.
3. Dress Code: Students are expected to adhere to the Dress Code set by the JG School of
Management.
4. Quizzes: Latecomers risk not being allowed to take the quiz. Make-up quizzes will not be
offered.
5. Class Participation: Students are highly encouraged to participate during class discussions.
Class participation will have a significant effect in the computation of the final grade.
6. Academic Integrity: Cheating is a grave offense, which goes against the values that the
university holds. Students who are caught will be given a grade of F for the said requirement
(or the final grade) and shall be brought to the Discipline Committee for further disciplinary
action. The following are considered cheating:
•
•
•
•
•
Cheating during quizzes
Submitting spurious reports copied from pervious materials other than his/her own.
Copying another student's work including assignments and reports
Receiving assistance from anyone else with graded take-home activities.
Plagiarism
G. Contact and Consultations
Students are highly encouraged to consult with the instructor. Consultations may also be scheduled
before or after class hours.
The instructor reserves the right to make changes to this syllabus as the pace and
environment of the class dictates.