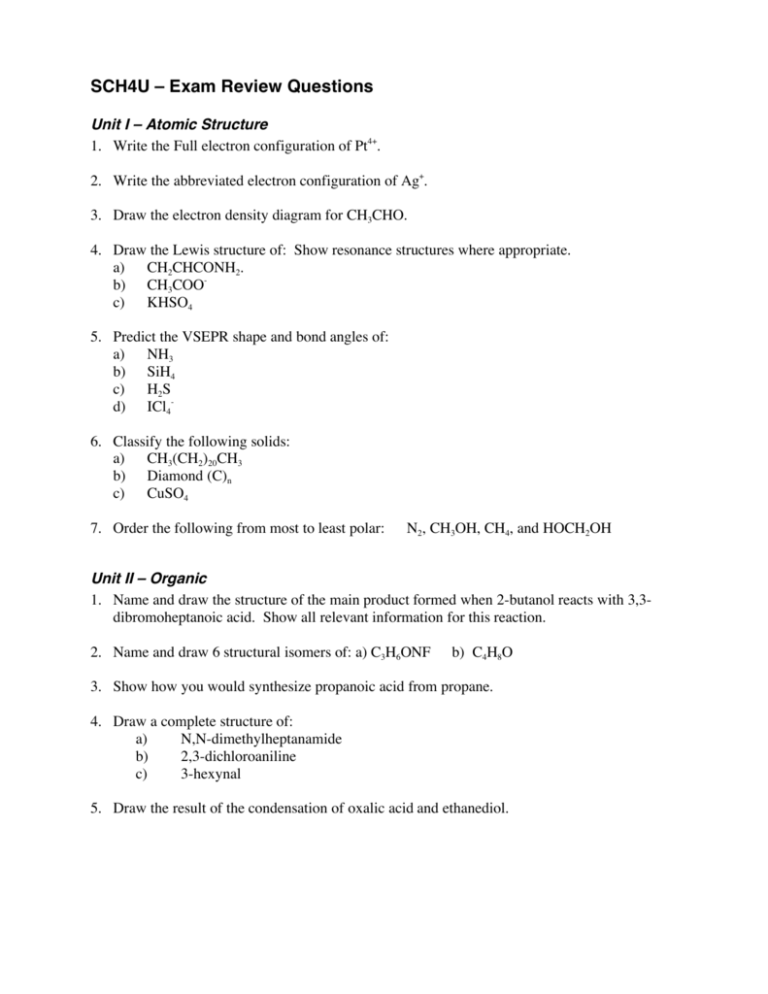 SCH4U – Exam Review Questions
Unit I – Atomic Structure
1. Write the Full electron configuration of Pt4+.
2. Write the abbreviated electron configuration of Ag+.
3. Draw the electron density diagram for CH3CHO.
4. Draw the Lewis structure of: Show resonance structures where appropriate.
a) CH2CHCONH2.
b) CH3COOc) KHSO4
5. Predict the VSEPR shape and bond angles of:
a) NH3
b) SiH4
c) H2S
d) ICl46. Classify the following solids:
a) CH3(CH2)20CH3
b) Diamond (C)n
c) CuSO4
7. Order the following from most to least polar:
N2, CH3OH, CH4, and HOCH2OH
Unit II – Organic
1. Name and draw the structure of the main product formed when 2-butanol reacts with 3,3dibromoheptanoic acid. Show all relevant information for this reaction.
2. Name and draw 6 structural isomers of: a) C3H6ONF
b) C4H8O
3. Show how you would synthesize propanoic acid from propane.
4. Draw a complete structure of:
a)
N,N-dimethylheptanamide
b)
2,3-dichloroaniline
c)
3-hexynal
5. Draw the result of the condensation of oxalic acid and ethanediol.
Unit III – Reaction Kinetics
1.
Calculate ΔH˚ for:
F2(g)  2 F(g) from the following data:
i)
HF(g) 
H(g) + F(g)
ΔH˚ = +568 kJ
ii)
H2(g) 
2 H(g)
ΔH˚ = +436 kJ
iii)
1/2 H2(g) + 1/2 F2(g)  HF(g)
ΔH˚ = -271 kJ
2.
The following initial rates were obtained for the reaction of A and B forming products:
a)
b)
c)
Trial
[A] (mol/L)
[B] (mol/L)
Rate (mol/L.s)
1
0.10
0.60
0.012
2
0.30
0.60
0.108
3
0.10
0.30
0.006
Write the rate law expression for this reaction, and give your reasoning.
Calculate the value of the rate constant, k.
What is the rate of this reaction when A and B are each 0.010 M?
Unit IV – Equilibrium
1.
Calculate the molar solubility of Fe(OH)3 in a pH 13.00 solution.
2.
10 L of a saturated solution of lead (II) iodate, Pb(IO3)2, was found to contain a total of
81 mg of Pb+2(aq). Use this information to calculate the value of Ksp of lead (II) iodate.
3.
Is a solution of sodium oxalate, NaHC2O4(aq), acidic, basic or neutral? In your answer,
include all relevant chemical equations and calculations.
4.
What volume of 0.12 M NaOH is required to completely neutralize 20.0 mL of 0.020 M
H2SO4?
Unit V – Oxidation / Reduction
1.
Balance the following redox equation using the change in oxidation number method:
KMnO4 + H2C2O4 + H2SO4  CO2 + K2SO4 + MnSO4 + H2O
2.
Balance the following equation using the half-cell method:
CrO21-(aq) + S2O82-(aq)  CrO42-(aq) + SO42-(aq)
(basic)
3.
An electrochemical cell is made by placing a strip if Cu in a beaker containing 1 M
copper(II) nitrate and a strip of Zn in a beaker containing 1 M Zinc nitrate. The metal
strips were connected by a wire and the beakers were connected with a salt bridge. After
several hours the one electrode decreased in mass by 0.56 g. Draw the electrochemical
cell and calculate the change in mass of the other electrode.
4.
Predict if Zn will react spontaneously in a CaCl2 solution.