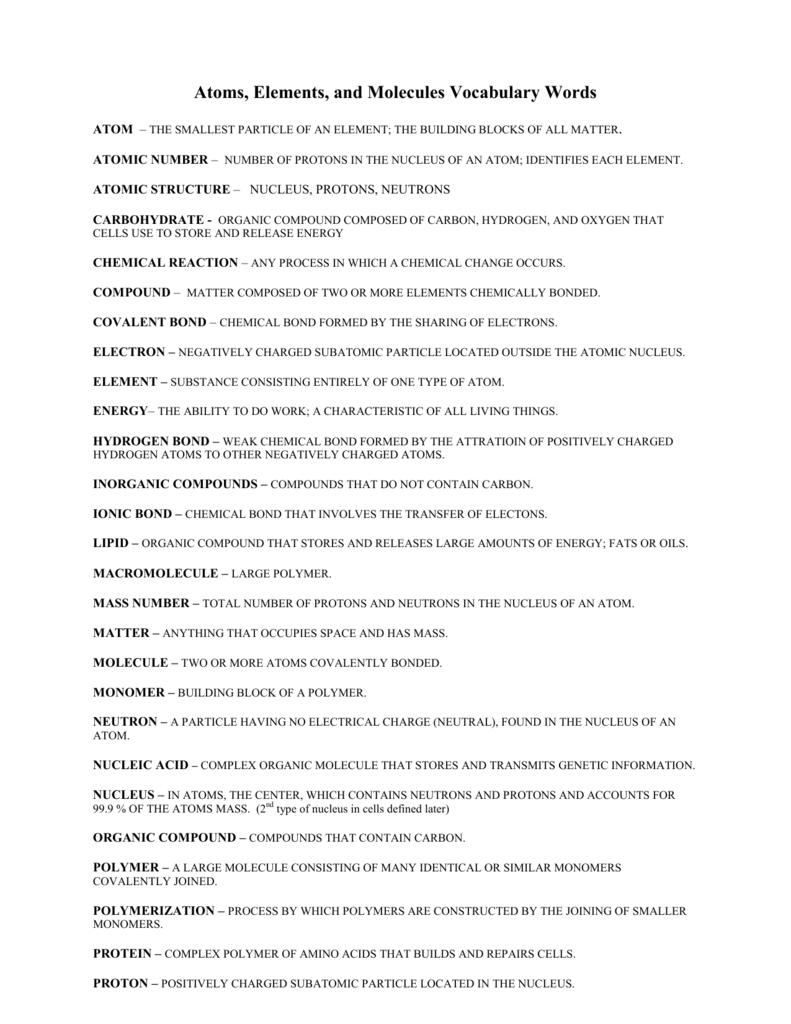 Atoms, Elements, and Molecules Vocabulary Words
ATOM – THE SMALLEST PARTICLE OF AN ELEMENT; THE BUILDING BLOCKS OF ALL MATTER.
ATOMIC UMBER – NUMBER OF PROTONS IN THE NUCLEUS OF AN ATOM; IDENTIFIES EACH ELEMENT.
ATOMIC STRUCTURE – NUCLEUS, PROTONS, NEUTRONS
CARBOHYDRATE - ORGANIC COMPOUND COMPOSED OF CARBON, HYDROGEN, AND OXYGEN THAT
CELLS USE TO STORE AND RELEASE ENERGY
CHEMICAL REACTIO – ANY PROCESS IN WHICH A CHEMICAL CHANGE OCCURS.
COMPOUD – MATTER COMPOSED OF TWO OR MORE ELEMENTS CHEMICALLY BONDED.
COVALET BOD – CHEMICAL BOND FORMED BY THE SHARING OF ELECTRONS.
ELECTRO – NEGATIVELY CHARGED SUBATOMIC PARTICLE LOCATED OUTSIDE THE ATOMIC NUCLEUS.
ELEMET – SUBSTANCE CONSISTING ENTIRELY OF ONE TYPE OF ATOM.
EERGY– THE ABILITY TO DO WORK; A CHARACTERISTIC OF ALL LIVING THINGS.
HYDROGE BOD – WEAK CHEMICAL BOND FORMED BY THE ATTRATIOIN OF POSITIVELY CHARGED
HYDROGEN ATOMS TO OTHER NEGATIVELY CHARGED ATOMS.
IORGAIC COMPOUDS – COMPOUNDS THAT DO NOT CONTAIN CARBON.
IOIC BOD – CHEMICAL BOND THAT INVOLVES THE TRANSFER OF ELECTONS.
LIPID – ORGANIC COMPOUND THAT STORES AND RELEASES LARGE AMOUNTS OF ENERGY; FATS OR OILS.
MACROMOLECULE – LARGE POLYMER.
MASS UMBER – TOTAL NUMBER OF PROTONS AND NEUTRONS IN THE NUCLEUS OF AN ATOM.
MATTER – ANYTHING THAT OCCUPIES SPACE AND HAS MASS.
MOLECULE – TWO OR MORE ATOMS COVALENTLY BONDED.
MOOMER – BUILDING BLOCK OF A POLYMER.
EUTRO – A PARTICLE HAVING NO ELECTRICAL CHARGE (NEUTRAL), FOUND IN THE NUCLEUS OF AN
ATOM.
UCLEIC ACID – COMPLEX ORGANIC MOLECULE THAT STORES AND TRANSMITS GENETIC INFORMATION.
UCLEUS – IN ATOMS, THE CENTER, WHICH CONTAINS NEUTRONS AND PROTONS AND ACCOUNTS FOR
99.9 % OF THE ATOMS MASS. (2nd type of nucleus in cells defined later)
ORGAIC COMPOUD – COMPOUNDS THAT CONTAIN CARBON.
POLYMER – A LARGE MOLECULE CONSISTING OF MANY IDENTICAL OR SIMILAR MONOMERS
COVALENTLY JOINED.
POLYMERIZATIO – PROCESS BY WHICH POLYMERS ARE CONSTRUCTED BY THE JOINING OF SMALLER
MONOMERS.
PROTEI – COMPLEX POLYMER OF AMINO ACIDS THAT BUILDS AND REPAIRS CELLS.
PROTO – POSITIVELY CHARGED SUBATOMIC PARTICLE LOCATED IN THE NUCLEUS.