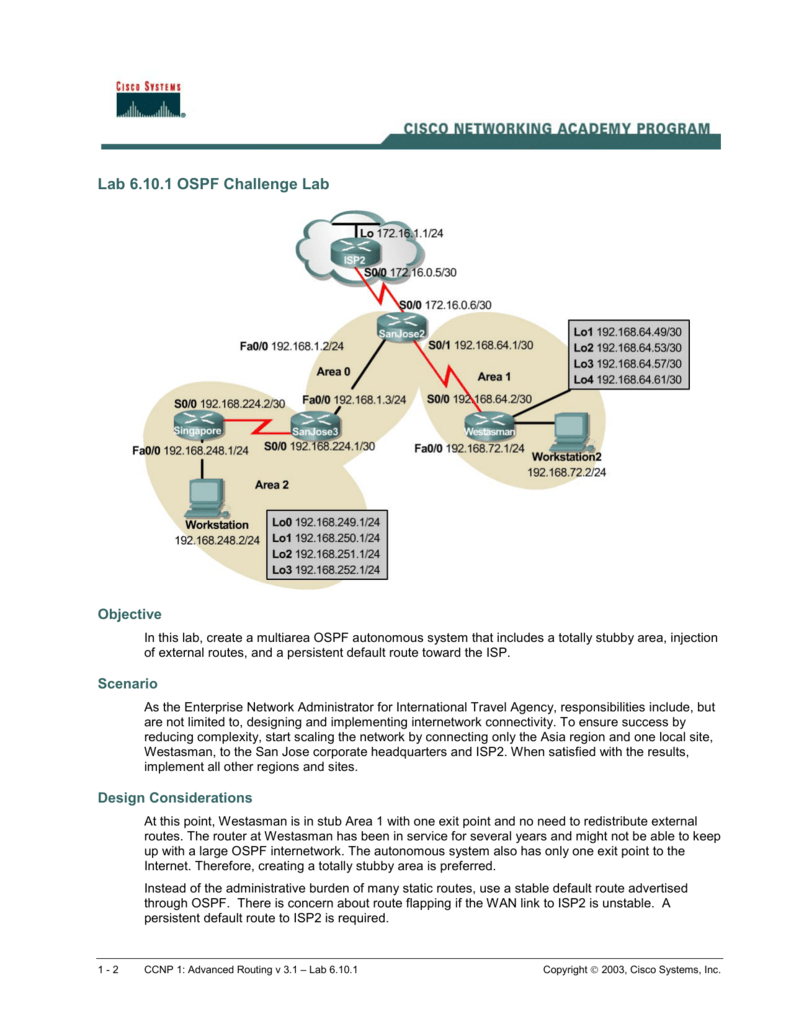 Lab 6.10.1 OSPF Challenge Lab
Objective
In this lab, create a multiarea OSPF autonomous system that includes a totally stubby area, injection
of external routes, and a persistent default route toward the ISP.
Scenario
As the Enterprise Network Administrator for International Travel Agency, responsibilities include, but
are not limited to, designing and implementing internetwork connectivity. To ensure success by
reducing complexity, start scaling the network by connecting only the Asia region and one local site,
Westasman, to the San Jose corporate headquarters and ISP2. When satisfied with the results,
implement all other regions and sites.
Design Considerations
At this point, Westasman is in stub Area 1 with one exit point and no need to redistribute external
routes. The router at Westasman has been in service for several years and might not be able to keep
up with a large OSPF internetwork. The autonomous system also has only one exit point to the
Internet. Therefore, creating a totally stubby area is preferred.
Instead of the administrative burden of many static routes, use a stable default route advertised
through OSPF. There is concern about route flapping if the WAN link to ISP2 is unstable. A
persistent default route to ISP2 is required.
1-2
CCNP 1: Advanced Routing v 3.1 – Lab 6.10.1
Copyright  2003, Cisco Systems, Inc.
When provisioning the network, the memory and processor had been upgraded on SanJose2. It is
intended for it to be the ASBR and the DR for any area that requires one.
Only summarized or unique networks should be advertised through Area 0.
Implementation Requirements
•
Configure NAT overload on SanJose2 S0/0 interface. Therefore, no routing is necessary on
ISP2.
•
Configure Area 1 as a totally stubby area.
•
Advertise a persistent default route from SanJose2 through OSPF.
•
SanJose2 will always be the DR in Area 0.
•
SanJose3 will never be the DR in Area 0.
•
Summarize routes at the ABR and ASBR. When summarizing inter-area routes, the summary
routes may need to be configured on a router other than the router originating the routes.
Implementation Completion Tests
2-2
•
Successful pings to ISP2 from workstation1 and workstation2.
•
Successful pings between workstation1 and workstation2.
•
Only a default route in the Westasman route table, injected from SanJose2.
•
The show command verifies that SanJose2 is DR.
•
The show ip route command shows summary addresses for all loopback networks.
•
All loopback addresses can be reached from anywhere in the network.
•
Two minutes after a WAN link failure, by disconnecting the serial cable from ISP2, an E2 default
route is still present in Singapore.
CCNP 1: Advanced Routing v 3.1 – Lab 6.10.1
Copyright  2003, Cisco Systems, Inc.