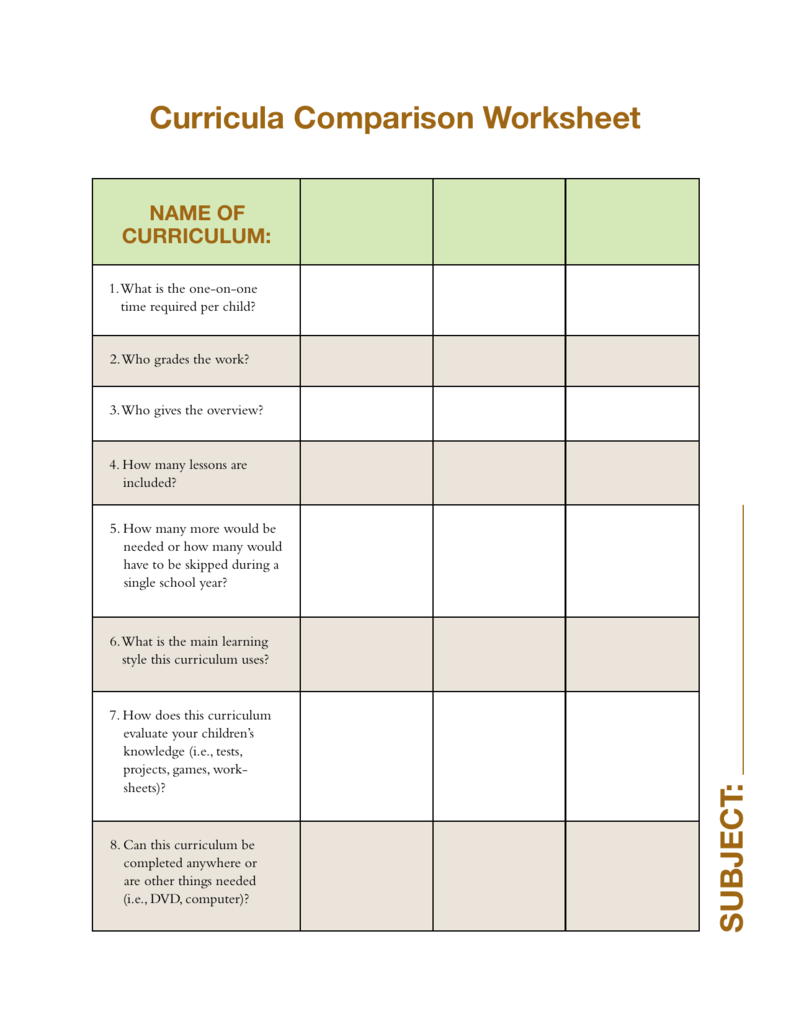 Curricula Comparison Worksheet
NAME OF
CURRICULUM:
1. What is the one-on-one
time required per child?
2. Who grades the work?
3. Who gives the overview?
4. H
ow many lessons are
included?
5. H
ow many more would be
needed or how many would
have to be skipped during a
single school year?
7. H
ow does this curriculum
evaluate your children's
knowledge (i.e., tests,
projects, games, worksheets)?
8. C
an this curriculum be
completed anywhere or
are other things needed
(i.e., DVD, computer)?
SUBJECT:
6. What is the main learning
style this curriculum uses?
Curricula Comparison Worksheet
(continued)
NAME OF
CURRICULUM:
9. Which teaching method
is used?
10. D
oes it have lessons for all
grades?
11. I s the full curriculum
provided or are additional
books and/or supplies
needed?
12. What is its worldview?
13. Are the worksheets and
activities reproducible
or consumable?
14. I s it self-directed or selftaught?
16. D
oes it come with an
answer key or is that
separate?
17. D
oes this curriculum allow
you to teach multiple age
groups?
SUBJECT:
15. H
ow much review does
the curriculum offer?