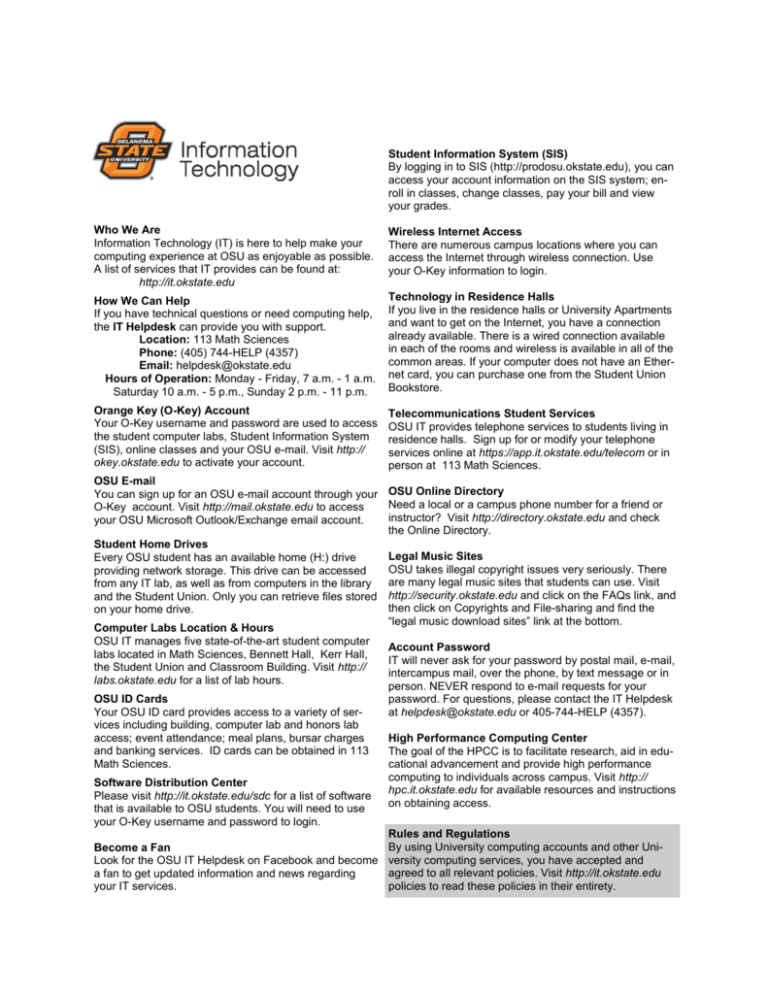 Student Information System (SIS)
By logging in to SIS (http://prodosu.okstate.edu), you can
access your account information on the SIS system; enroll in classes, change classes, pay your bill and view
your grades.
Who We Are
Information Technology (IT) is here to help make your
computing experience at OSU as enjoyable as possible.
A list of services that IT provides can be found at:
http://it.okstate.edu
Wireless Internet Access
There are numerous campus locations where you can
access the Internet through wireless connection. Use
your O-Key information to login.
How We Can Help
If you have technical questions or need computing help,
the IT Helpdesk can provide you with support.
Location: 113 Math Sciences
Phone: (405) 744-HELP (4357)
Email: [email protected]
Hours of Operation: Monday - Friday, 7 a.m. - 1 a.m.
Saturday 10 a.m. - 5 p.m., Sunday 2 p.m. - 11 p.m.
Technology in Residence Halls
If you live in the residence halls or University Apartments
and want to get on the Internet, you have a connection
already available. There is a wired connection available
in each of the rooms and wireless is available in all of the
common areas. If your computer does not have an Ethernet card, you can purchase one from the Student Union
Bookstore.
Orange Key (O-Key) Account
Your O-Key username and password are used to access
the student computer labs, Student Information System
(SIS), online classes and your OSU e-mail. Visit http://
okey.okstate.edu to activate your account.
Telecommunications Student Services
OSU IT provides telephone services to students living in
residence halls. Sign up for or modify your telephone
services online at https://app.it.okstate.edu/telecom or in
person at 113 Math Sciences.
OSU E-mail
You can sign up for an OSU e-mail account through your OSU Online Directory
Need a local or a campus phone number for a friend or
O-Key account. Visit http://mail.okstate.edu to access
instructor? Visit http://directory.okstate.edu and check
your OSU Microsoft Outlook/Exchange email account.
the Online Directory.
Student Home Drives
Legal Music Sites
Every OSU student has an available home (H:) drive
OSU takes illegal copyright issues very seriously. There
providing network storage. This drive can be accessed
are many legal music sites that students can use. Visit
from any IT lab, as well as from computers in the library
and the Student Union. Only you can retrieve files stored http://security.okstate.edu and click on the FAQs link, and
then click on Copyrights and File-sharing and find the
on your home drive.
"legal music download sites" link at the bottom.
Computer Labs Location & Hours
OSU IT manages five state-of-the-art student computer
Account Password
labs located in Math Sciences, Bennett Hall, Kerr Hall,
IT will never ask for your password by postal mail, e-mail,
the Student Union and Classroom Building. Visit http://
intercampus mail, over the phone, by text message or in
labs.okstate.edu for a list of lab hours.
person. NEVER respond to e-mail requests for your
OSU ID Cards
password. For questions, please contact the IT Helpdesk
Your OSU ID card provides access to a variety of serat [email protected] or 405-744-HELP (4357).
vices including building, computer lab and honors lab
access; event attendance; meal plans, bursar charges
High Performance Computing Center
and banking services. ID cards can be obtained in 113
The goal of the HPCC is to facilitate research, aid in eduMath Sciences.
cational advancement and provide high performance
computing to individuals across campus. Visit http://
Software Distribution Center
hpc.it.okstate.edu for available resources and instructions
Please visit http://it.okstate.edu/sdc for a list of software
on obtaining access.
that is available to OSU students. You will need to use
your O-Key username and password to login.
Become a Fan
Look for the OSU IT Helpdesk on Facebook and become
a fan to get updated information and news regarding
your IT services.
Rules and Regulations
By using University computing accounts and other University computing services, you have accepted and
agreed to all relevant policies. Visit http://it.okstate.edu
policies to read these policies in their entirety.