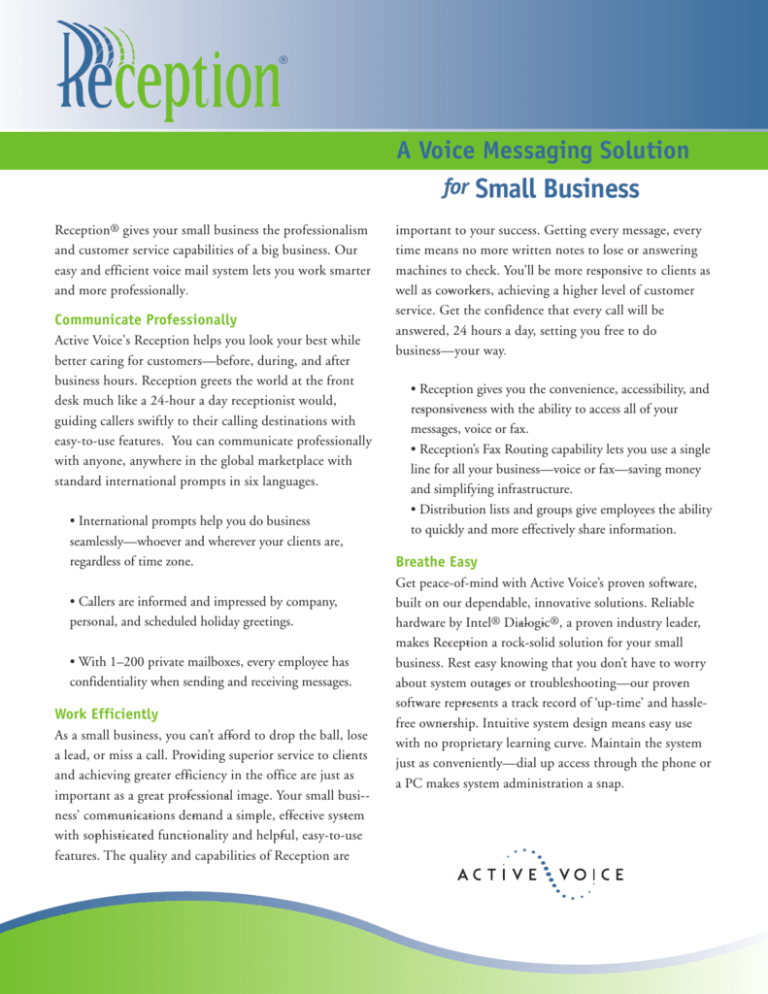 ®
A Voice Messaging Solution
for Small Business
Reception® gives your small business the professionalism
and customer service capabilities of a big business. Our
easy and efficient voice mail system lets you work smarter
and more professionally.
Communicate Professionally
Active Voice's Reception helps you look your best while
better caring for customers—before, during, and after
business hours. Reception greets the world at the front
desk much like a 24-hour a day receptionist would,
guiding callers swiftly to their calling destinations with
easy-to-use features. You can communicate professionally
with anyone, anywhere in the global marketplace with
standard international prompts in six languages.
• International prompts help you do business
seamlessly—whoever and wherever your clients are,
regardless of time zone.
• Callers are informed and impressed by company,
personal, and scheduled holiday greetings.
• With 1–200 private mailboxes, every employee has
confidentiality when sending and receiving messages.
Work Efficiently
As a small business, you can't af-ford to drop the ball, lose
a lead, or miss a call. Pro-viding superior service to cli-ents
and achieving greater ef-ficiency in the office are just as
important as a great pro-fes-sion-al image. Your small busi-ness' com-mu-ni-ca-tions de-mand a sim-ple, ef-fec-tive sys-tem
with so-phis-ti-cat-ed func-tion-ality and help-ful, easy-to-use
features. The qual-ity and capabilities of Reception are
important to your success. Getting every message, every
time means no more written notes to lose or answering
machines to check. You'll be more re-spon-sive to clients as
well as co-work-ers, achieving a higher level of customer
service. Get the confidence that every call will be
answered, 24 hours a day, setting you free to do
business—your way.
• Reception gives you the convenience, accessibility, and
re-spon-sive-ness with the ability to access all of your
messages, voice or fax.
• Reception's Fax Routing capability lets you use a single
line for all your business—voice or fax—saving money
and simplifying infrastructure.
• Distribution lists and groups give employees the ability
to quickly and more effectively share information.
Breathe Easy
Get peace-of-mind with Active Voice's proven soft-ware,
built on our dependable, innovative solutions. Reliable
hardware by Intel® Di-a-log-ic®, a proven industry leader,
makes Re-cep-tion a rock-solid solution for your small
business. Rest easy knowing that you don't have to worry
about system out-ag-es or troubleshooting—our prov-en
soft-ware rep-re-sents a track record of 'up-time' and has-slefree own-er-ship. Intuitive system design means easy use
with no proprietary learning curve. Maintain the system
just as conveniently—dial up access through the phone or
a PC makes system administration a snap.
®
STANDARD FEATURES
• Accessible 24 hours a day, seven days a week
• Day and time stamp
Reception at a Glance
• Group Messaging
• Guest Privileges
• Multiple message delivery options
Ports: 2, 4
• Message: Archiving, Cancellation, Editing,
Redirection
Subscribers: 2 port–100, 4 port–200
• Messages ordered by priority and sender
Hours of storage: 6–8
(depending on languages
installed)
• Multiple notification methods
• Multiple personal greetings
• Rewind, pause, and fast forward
• Special delivery options: Future, Private,
Return receipt, Urgent
• Subscriber self enrollment
• Variable length passwords and security
codes
• Volume and speed control
Automated Attendant
• Alpha and numeric directory
• Directory listing by first or last name
• Fax detect, route, and notify
• Holiday schedule
• Multiple user interfaces: Menu mode
conversation with multiple options,
Quick keys
• Numeric access
• Operator assistance always available
• Personal secretary
• Subscriber controlled: Call screening,
Call holding, Directory listing, Groups,
Message delivery
• Voice detect
• Solid Dialogic® VoiceBrick
Hardware
• 6 Languages*
- US English
- UK English
- Australian English
- German
- Canadian French
- Mexican Spanish
• On-line reports
• Remote maintenance
• System Manager conversation
provider
messaging,
telephony,
of
unified
computer
and
voice
messaging solutions, powering
the communications infrastructure
of businesses worldwide. The Seattle-
• Auto Attendant
- Alpha & Numeric
Directories
- Call Screening
- Single Digit Dialing
Netherlands. Over 100,000 Active Voice
• Fax Detect & Routing
systems have been installed in more
• Priority Message Delivery
Options
- Urgent
- Private
- Future
• Scheduled Holiday Greetings
Installation and Maintenance
Active Voice is a global
• System Administrator
Reporting
• Analog and Serial
Integrations
* Max 3 simultaneous
languages supported
www.activevoice.com
United States & Canada +1 206 441 4700 • Australia +61 (0) 3 9581 3111
Netherlands +31 (0) 36 546 1212
© 2001 Active Voice, LLC . Specifications subject to change. Brand and product names used in this document are trademarks of their respective owners.
based company has offices in the
United States, Australia, and the
than 60 countries. Active Voice's products
are sold through a global network of
independent
telecommunications
manufacturers, dealers, computer resellers,
and strategic partners. For more
information, visit our Web site at
www.activevoice.com, or contact Active
Voice's Sales Support at 1-877-864-8948
or by e-mail at sales@activevoice.com.