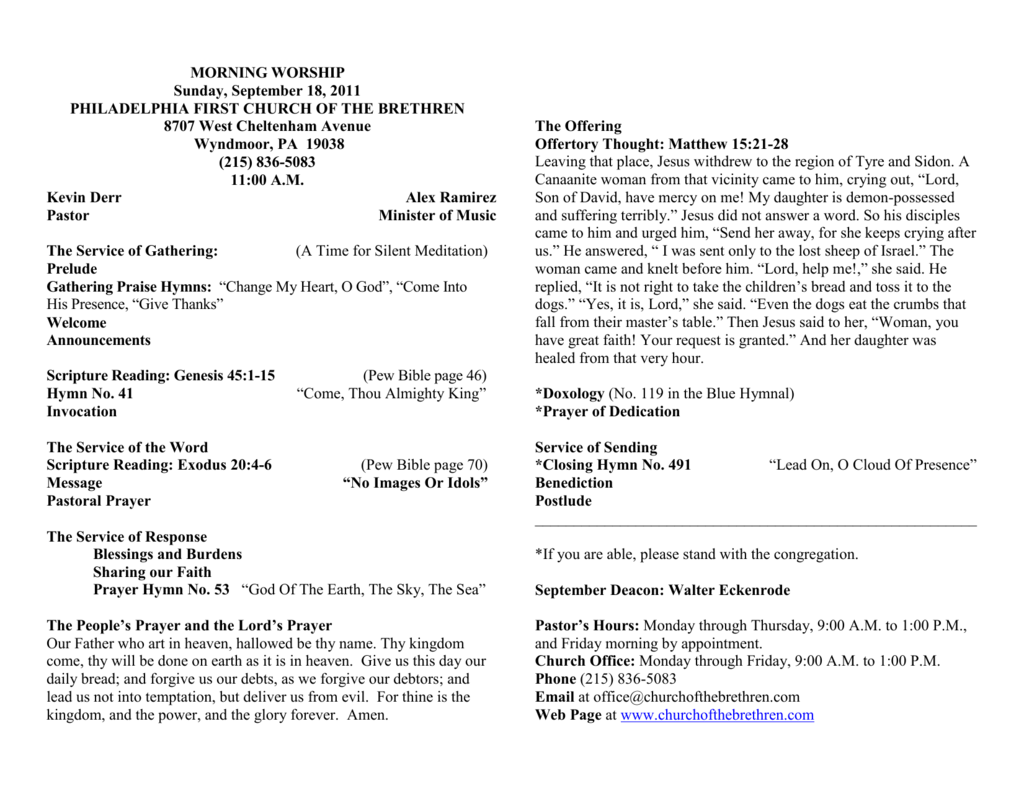 MORNING WORSHIP
Sunday, September 18, 2011
PHILADELPHIA FIRST CHURCH OF THE BRETHREN
8707 West Cheltenham Avenue
Wyndmoor, PA 19038
(215) 836-5083
11:00 A.M.
Kevin Derr
Alex Ramirez
Pastor
Minister of Music
The Service of Gathering:
(A Time for Silent Meditation)
Prelude
Gathering Praise Hymns: "Change My Heart, O God", "Come Into
His Presence, "Give Thanks"
Welcome
Announcements
Scripture Reading: Genesis 45:1-15
Hymn No. 41
Invocation
The Service of the Word
Scripture Reading: Exodus 20:4-6
Message
Pastoral Prayer
(Pew Bible page 46)
"Come, Thou Almighty King"
(Pew Bible page 70)
"No Images Or Idols"
The Service of Response
Blessings and Burdens
Sharing our Faith
Prayer Hymn No. 53 "God Of The Earth, The Sky, The Sea"
The People's Prayer and the Lord's Prayer
Our Father who art in heaven, hallowed be thy name. Thy kingdom
come, thy will be done on earth as it is in heaven. Give us this day our
daily bread; and forgive us our debts, as we forgive our debtors; and
lead us not into temptation, but deliver us from evil. For thine is the
kingdom, and the power, and the glory forever. Amen.
The Offering
Offertory Thought: Matthew 15:21-28
Leaving that place, Jesus withdrew to the region of Tyre and Sidon. A
Canaanite woman from that vicinity came to him, crying out, "Lord,
Son of David, have mercy on me! My daughter is demon-possessed
and suffering terribly." Jesus did not answer a word. So his disciples
came to him and urged him, "Send her away, for she keeps crying after
us." He answered, " I was sent only to the lost sheep of Israel." The
woman came and knelt before him. "Lord, help me!," she said. He
replied, "It is not right to take the children's bread and toss it to the
dogs." "Yes, it is, Lord," she said. "Even the dogs eat the crumbs that
fall from their master's table." Then Jesus said to her, "Woman, you
have great faith! Your request is granted." And her daughter was
healed from that very hour.
*Doxology (No. 119 in the Blue Hymnal)
*Prayer of Dedication
Service of Sending
*Closing Hymn No. 491
"Lead On, O Cloud Of Presence"
Benediction
Postlude
_________________________________________________________
*If you are able, please stand with the congregation.
September Deacon: Walter Eckenrode
Pastor's Hours: Monday through Thursday, 9:00 A.M. to 1:00 P.M.,
and Friday morning by appointment.
Church Office: Monday through Friday, 9:00 A.M. to 1:00 P.M.
Phone (215) 836-5083
Email at [email protected]
Web Page at www.churchofthebrethren.com
First Church Update
Sunday, September 18, 2011
Sunday:
9:00 A.M.
9:45 A.M.
11:00 A.M.
Wednesday:
Friday and
Saturday
Next Sunday:
1:30 P.M.
7:00 P.M.
Return to Regular Schedule
Rally Day Breakfast
Sunday School
Morning Worship
Deacons Meeting after Worship
Korean Worship
Bible Study Resumes
Atlantic Northeast District
Disaster Relief Auction
Special Congregational Business
Meeting after Morning Worshp
PRAYER CONCERNS
Adrienn Jones – friend of Ron Albert
David Quinn
Brenda and Miranda Ridgway
Svetlana Lunger – sister in-law of Rachel Johnston with stage 4 cancer
Megan Connolly- friend of Becky Bisset
The parents of Craig Bracy
People impacted by natural disasters
Mason – 4 ½ year old with leukemia
Jack Ramirez re-stationed to Afghanistan
Will Abbott – received a lung transplant
George Smith-friend of Ron Albert
Carl Baskin
Colleen Lyons
Pat Derr's parents
Michael F. Rafferty – doctor of Ron Albert with pancreatic cancer
Drason Reese
Jane Thurber
Helen and Henry Eckenrode
The Korean Fellowship
Bill Bracy – brother of Craig Bracy
Walter – friend of Craig Bracy
Protection and wisdom for President Barak Obama
Harold (Ike) Eisenhower – brother in-law of Bud Quay
Philadelphia First Church of the Brethren
The people and missionaries stationed in Guinea-Bisseau
Our missionaries: JoAnn Gladd, Brethren missionaries in the Dominican
Republic, Patricia Vander Waal and Brethren Missionaries and workers at
home and abroad.
Worship Attendance Last Sunday: 24
AND A REMINDER FOR COMMISSION CHAIRS-Your 2012
commission budgets are due today!
BIBLE STUDY-Will resume this Wednesday, September 21, at
7:00 P.M. We will continue our journey through the book of Matthew.
All are welcome to join us!
THERE WILL BE A SPECIAL CONGREGATIONAL
BUSINESS MEETING-Next Sunday, September 25, after the
morning Worship Service. The purpose of this meeting is to hear the
report of the Nominating Committee.
THANKS, AGAIN,TO LARRY HOOVER-For spending several
hours last week doing more concrete work on the entrance to the
basement. It was in poor condition with crumbling mortar, and now it
looks great! Thanks Lar!
ANOTHER NOTE ABOUT LARRY HOOVER-If you receive a
hard copy of the church newsletter, please disregard this. If you don't,
once again Larry was left off of the birthday list. His birthday is:
September 29. Ooooops!