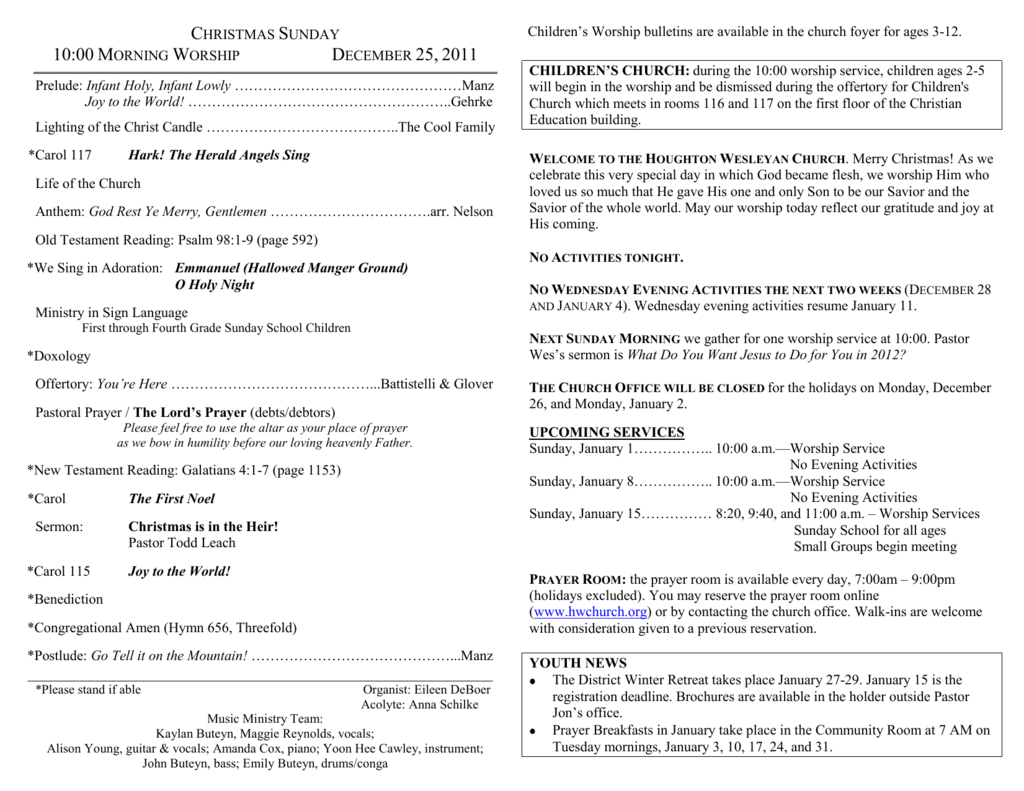 CHRISTMAS SUNDAY
10:00 MORNING WORSHIP
DECEMBER 25, 2011
Prelude: Infant Holy, Infant Lowly …………………………………………Manz
Joy to the World! ………………………………………………..Gehrke
Lighting of the Christ Candle …………………………………..The Cool Family
*Carol 117
Hark! The Herald Angels Sing
Life of the Church
Anthem: God Rest Ye Merry, Gentlemen …………………………….arr. Nelson
Children's Worship bulletins are available in the church foyer for ages 3-12.
CHILDREN'S CHURCH: during the 10:00 worship service, children ages 2-5
will begin in the worship and be dismissed during the offertory for Children's
Church which meets in rooms 116 and 117 on the first floor of the Christian
Education building.
WELCOME TO THE HOUGHTON WESLEYAN CHURCH. Merry Christmas! As we
celebrate this very special day in which God became flesh, we worship Him who
loved us so much that He gave His one and only Son to be our Savior and the
Savior of the whole world. May our worship today reflect our gratitude and joy at
His coming.
Old Testament Reading: Psalm 98:1-9 (page 592)
*We Sing in Adoration: Emmanuel (Hallowed Manger Ground)
O Holy Night
Ministry in Sign Language
First through Fourth Grade Sunday School Children
Offertory: You're Here ……………………………………...Battistelli & Glover
Pastoral Prayer / The Lord's Prayer (debts/debtors)
Please feel free to use the altar as your place of prayer
as we bow in humility before our loving heavenly Father.
*New Testament Reading: Galatians 4:1-7 (page 1153)
Sermon:
*Carol 115
The First Noel
Christmas is in the Heir!
Pastor Todd Leach
Joy to the World!
THE CHURCH OFFICE WILL BE CLOSED for the holidays on Monday, December
26, and Monday, January 2.
UPCOMING SERVICES
Sunday, January 1…………….. 10:00 a.m.—Worship Service
No Evening Activities
Sunday, January 8…………….. 10:00 a.m.—Worship Service
No Evening Activities
Sunday, January 15…………… 8:20, 9:40, and 11:00 a.m. – Worship Services
Sunday School for all ages
Small Groups begin meeting
PRAYER ROOM: the prayer room is available every day, 7:00am – 9:00pm
(holidays excluded). You may reserve the prayer room online
(www.hwchurch.org) or by contacting the church office. Walk-ins are welcome
with consideration given to a previous reservation.
*Benediction
*Congregational Amen (Hymn 656, Threefold)
*Postlude: Go Tell it on the Mountain! ……………………………………...Manz
____________________________________________________________
*Please stand if able
NO WEDNESDAY EVENING ACTIVITIES THE NEXT TWO WEEKS (DECEMBER 28
AND JANUARY 4). Wednesday evening activities resume January 11.
NEXT SUNDAY MORNING we gather for one worship service at 10:00. Pastor
Wes's sermon is What Do You Want Jesus to Do for You in 2012?
*Doxology
*Carol
NO ACTIVITIES TONIGHT.
Organist: Eileen DeBoer
Acolyte: Anna Schilke
Music Ministry Team:
Kaylan Buteyn, Maggie Reynolds, vocals;
Alison Young, guitar & vocals; Amanda Cox, piano; Yoon Hee Cawley, instrument;
John Buteyn, bass; Emily Buteyn, drums/conga
YOUTH NEWS
The District Winter Retreat takes place January 27-29. January 15 is the
registration deadline. Brochures are available in the holder outside Pastor
Jon's office.
Prayer Breakfasts in January take place in the Community Room at 7 AM on
Tuesday mornings, January 3, 10, 17, 24, and 31.
NOTE: Small Groups begin meeting January 15. More information will be
coming in Sunday bulletins.
NEWS FOR INVESTORS Last Week
Offerings Received
$ 16,782
Budget Needed
$ 13,751
Difference +/–
+ $ 3,031
Fiscal Year
$ 399,186
$ 398,779
+$
407
TOTAL FAITH PROMISES: $24,915
FAITH PROMISES GIVEN: $ 4,525
Reminder: Year-end donations must be either postmarked or delivered to the
church office on or before December 31 in order to be counted as a 2011
contribution.
PRAYER CONCERNS: for the Kevin and Cindy Austin family at the
sudden death of Kevin's mother on Wednesday and for all who are
grieving; for all with health concerns: Hannah Jennings, Tim Brittain, Bill
Roeske, Wayne and Bonnie MacBeth, Michelle Bower, Emily Crikelair,
Judy Gutekunst (Kayann Taylor's mother), Candy Wells (Christopher's
mother), John and Mary McCormick (Vicki King's parents), Clarence
Wagonblott (Audra Beardsley's father), Louis Case (Jon Case's father),
Doug Miller and family; for our men and women who serving in the
military; for people recovering from recent natural disasters and terrorist
attacks; for Christians around the world who face threats and persecution;
for short and long-term results from Operation Christmas Child; and for a
new awakening of God's miraculous presence among us.