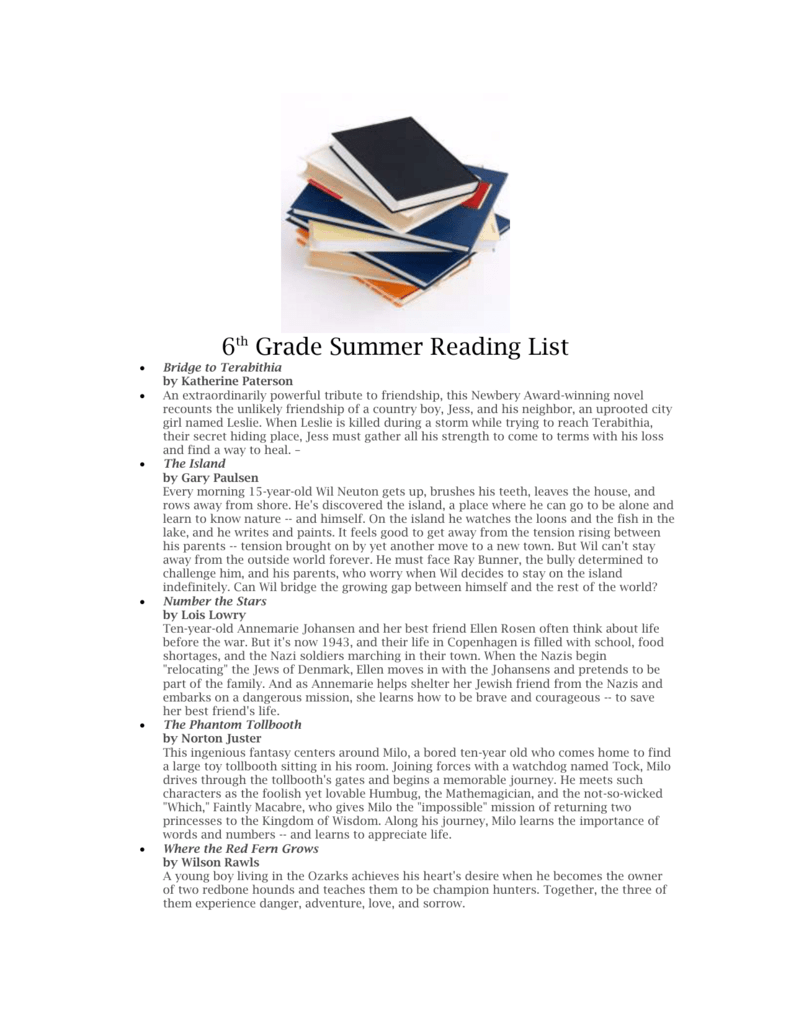 6th Grade Summer Reading List






Bridge to Terabithia
by Katherine Paterson
An extraordinarily powerful tribute to friendship, this Newbery Award-winning novel
recounts the unlikely friendship of a country boy, Jess, and his neighbor, an uprooted city
girl named Leslie. When Leslie is killed during a storm while trying to reach Terabithia,
their secret hiding place, Jess must gather all his strength to come to terms with his loss
and find a way to heal. –
The Island
by Gary Paulsen
Every morning 15-year-old Wil Neuton gets up, brushes his teeth, leaves the house, and
rows away from shore. He's discovered the island, a place where he can go to be alone and
learn to know nature -- and himself. On the island he watches the loons and the fish in the
lake, and he writes and paints. It feels good to get away from the tension rising between
his parents -- tension brought on by yet another move to a new town. But Wil can't stay
away from the outside world forever. He must face Ray Bunner, the bully determined to
challenge him, and his parents, who worry when Wil decides to stay on the island
indefinitely. Can Wil bridge the growing gap between himself and the rest of the world?
Number the Stars
by Lois Lowry
Ten-year-old Annemarie Johansen and her best friend Ellen Rosen often think about life
before the war. But it's now 1943, and their life in Copenhagen is filled with school, food
shortages, and the Nazi soldiers marching in their town. When the Nazis begin
"relocating" the Jews of Denmark, Ellen moves in with the Johansens and pretends to be
part of the family. And as Annemarie helps shelter her Jewish friend from the Nazis and
embarks on a dangerous mission, she learns how to be brave and courageous -- to save
her best friend's life.
The Phantom Tollbooth
by Norton Juster
This ingenious fantasy centers around Milo, a bored ten-year old who comes home to find
a large toy tollbooth sitting in his room. Joining forces with a watchdog named Tock, Milo
drives through the tollbooth's gates and begins a memorable journey. He meets such
characters as the foolish yet lovable Humbug, the Mathemagician, and the not-so-wicked
"Which," Faintly Macabre, who gives Milo the "impossible" mission of returning two
princesses to the Kingdom of Wisdom. Along his journey, Milo learns the importance of
words and numbers -- and learns to appreciate life.
Where the Red Fern Grows
by Wilson Rawls
A young boy living in the Ozarks achieves his heart's desire when he becomes the owner
of two redbone hounds and teaches them to be champion hunters. Together, the three of
them experience danger, adventure, love, and sorrow.






7th Grade Summer Reading List
The Hobbit
by J. R. R. Tolkien
Whisked away from his comfortable, unambitious life in his hobbit-hole in Bag End by
Gandalf the wizard and a company of dwarves, Bilbo Baggins finds himself caught up in a
plot to raid the treasure hoard of Smaug the Magnificent, a large and very dangerous
dragon. Although quite reluctant to take part in this quest, Bilbo surprises even himself
by his resourcefulness and his skill as a burglar! Written for J.R.R. Tolkien's own
children, The Hobbit met with instant success when published in 1937 and has remained a
timeless classic.
SADAKO AND THE THOUSAND PAPER CRANES
by Coerr, Eleanor.
This book tells the story of Sadako Sasaki, who was two when the atomic bomb was
dropped on Hiroshima, Japan. As a result of radiation from the bomb, Sadako developed
leukemia.
The Call of the Wild
by Jack London
Butch a family pet is sold to dog traffickers. He becomes a sled dog struggling for
survival during the Gold Rush. His primitive instincts surface, and ultimately he
transforms himself into the heroic ghost dog of the Klondike.
The Red Pony
by John Steinbeck
The Red Pony is divided into four stories. Each story centers on a boy named Jody; the
four together show him in a critical time of his childhood. The stories are close together
in chronological time; Steinbeck is careful to remind readers that Jody is a "little boy" at
the start of each story.
Shiloh
by Phyllis Reynolds Naylor
When he finds a lost beagle in the hills behind his West Virginia home, Marty tries to hide
it from his family and the dog's real owner, a mean-spirited man known to shoot deer out
of season and to mistreat his dogs.
The Westing Game
by Ellen Raskin
Sixteen interesting and bizarre characters, which live in a mysterious apartment building,
compete to become heir to the Westing millions.
8th Grade Summer Reading List






To Kill a Mockingbird
by Harper Lee
"Shoot all the blue jays you want, if you can hit 'em, but remember it's a sin to kill a
mockingbird." That is a lawyer's advice to his children as he defends the real mockingbird
of Harper Lee's classic novel -- a black man charged with the rape of a white girl. Through
the young eyes of Scout and Jem Finch, Harper Lee explores with rich humor and
unswerving honesty the irrationality of adult attitudes toward race and class in the Deep
South of the 1930s. The conscience of a town steeped in prejudice, violence, and
hypocrisy is pricked by the stamina and quiet heroism of one man's struggle for justice.
But the weight of history will only tolerate so much.
Of Mice and Men
by John Steinbeck
While the powerlessness of the laboring class is a recurring theme in Steinbeck's work of
the late 1930s, he narrowed his focus when composing Of Mice and Men, creating an
intimate portrait of two men facing a world marked by petty tyranny, misunderstanding,
jealousy, and callousness. But though the scope is narrow, the theme is universal; a
friendship and a shared dream that makes an individual's existence meaningful.
The Wizard of Oz
by L. Frank Baum
Here is the original book that started the wonderful series and inspired the famous movie!
After being transported by a cyclone to the magical land of Oz, Dorothy and her dog,
Toto, are befriended by a scarecrow, a tin man, and a cowardly lion who accompany her to
the Emerald City in search of a wizard who can help Dorothy return home to Kansas.
And Then There Were None
by Agatha Christie
The story of 10 strangers, each lured to Indian Island by a mysterious host. Once his
guests have arrived, the host accuses each person of murder. Unable to leave the island,
the guests begin to share their darkest secrets—until they begin to die.
The Count of Monte Cristo
By Alexandre Dumas
Handsome Edmond Dantes escapes from Chateau d'If after being wrongfully imprisoned
for 14 years. With knowledge he gained in prison, Edmond locates an immense treasure,
recreates himself as a count, and vows to reward those who were kind to him and to
punish the enemies who conspired to imprison him.
Marie Antoinette, Princess of Versailles
by Kathryn Lasky
In 1769, thirteen-year-old Maria Antonia Josepha Johanna, daughter of Empress Maria
Theresa, begins a journal chronicling her life at the Austrian court and her preparations
for her future role as queen of France.